---
August 31, 2012 5:24 PM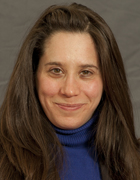 Profile: Lauren Horwitz
It's no accident that when we began thinking about launching a magazine, we decided to launch it at VMworld 2012. The show mirrors the trends and technologies that we see as so paramount to...
August 28, 2012 8:50 PM

Profile: Alex Barrett
This is my first blog post as Editor-in-Chief of the upcoming Modern Infrastructure e-zine, filed to you directly from VMworld 2012 in San Francisco. On my way to breakfast this morning, I grabbed a...
---