---
October 23, 2015 6:23 PM
The need for speedy development and deployment of applications is a real one -- which is why organizations shouldn't pass on PaaS. That was the gist of a talk on platform as a...
---
October 16, 2015 1:58 PM
Ram Krishnan has a big job in IT. He is the chief marketing officer (CMO) at Frito-Lay North America, a $14 billion division of PepsiCo. In addition to Fritos corn chips and Lay's "Betcha can't eat just one" potato chips, the company's products include Doritos, Tostitos, Cheetos, Ruffles and my...
---
---
October 7, 2015 8:11 AM
ORLANDO, Fla. -- At an event where predictions of tomorrow's technology held center stage -- algorithms operating cars, smart machines helping call center agents do their jobs better, "robo-bosses" evaluating our performance -- it's telling perhaps that the first speaker was Brian Krebs. Krebs,...
---
October 5, 2015 8:34 AM
The fear of being out-competed by a born-digital upstart is so strong in today's business climate, it requires a new verb. Businesses will do anything to keep from getting "Ubered" -- that is, falling victim to the kind of...
---
October 1, 2015 3:34 PM
Emily Mossburg, a principal at Deloitte & Touche LLP, provided information security leaders with some useful insight yesterday into why their jobs are so freaking hard. The occasion was the Mass TLC event on "The...
---
September 30, 2015 10:19 PM
NEW YORK CITY -- Decisions are oftentimes colored by environment. Consider the humble cafeteria. "When you walk into a cafeteria, something comes first, something comes last," Katherine L. Milkman, associate professor of operations,...
---
September 28, 2015 10:15 PM
By 2020, more than 7 billion people and businesses -- and close to 35 billion devices -- will be connected to the Internet. The prediction, from IT consultancy Gartner, helps make that current "It" girl of IT buzzwords -- "
---
September 28, 2015 2:02 PM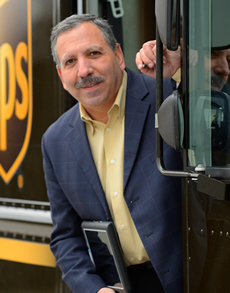 United Parcel Service...
---