---
May 31, 2018 8:44 PM
For CIOs and CTOs, asking which computing approaches add up to artificial intelligence and which are simply automation or BI is probably not a very useful question. The better question to think about: Do the latest developments in AI and machine learning provide a step change for solving problems...
May 31, 2018 4:49 PM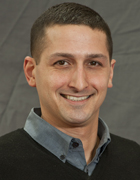 Profile: Ben Cole
Modern CIOs striving to develop and implement next-generation digital platforms face a difficult challenge: Construct these IT software applications as quickly as possible, but still provide adequate protections for both corporate and customer data. For Deutsche Bank's chief information officer...
---
May 31, 2018 11:54 AM

Profile: Linda Tucci
There's no easy formula for driving digital transformation at so-called pre-digital companies. But experts at the 2018 MIT Sloan CIO Symposium agreed that most organizations...
---
April 30, 2018 7:57 PM
Michael Ringman, CIO at TELUS International, has a unique vantage point on artificial intelligence and how the technologies under the AI umbrella are developing. He's...
---
April 30, 2018 5:43 PM
Sociologist and conversation analyst Bob Moore and artist and UX designer Raphael Arar -- researchers at IBM Research -- are working at the forefront of an emerging field: Conversational UX design. Their goal is simple: to get AI systems to converse more like humans. I had the...
---
April 27, 2018 11:11 AM
Gone are the days of simple, easily secured corporate networks. The proliferation of cloud computing, virtualization and containers means that the network is changing constantly, said Nate Palanov, solutions marketing manager, vulnerability management, at Rapid7. More employees work remotely on...
---
March 31, 2018 4:14 PM
Because of data and compute power requirements, training a deep learning algorithm doesn't typically happen on so-called edge devices such as smartphones or drones. But Neurala Inc., a
---
---
March 30, 2018 4:53 PM
Imagine asking Cortana about your revenue last quarter. That could be the future, according to Gartner analyst Svetlana Sicular. At the Gartner Data and Analytics Summit, Sicular discussed some of the
---
March 30, 2018 2:22 PM
It took a nation-state attack for Alan Levine to realize the importance of implementing a cyber awareness program. "I believed that cyber awareness training was useless because I...
---