---
March 31, 2018 4:14 PM
Because of data and compute power requirements, training a deep learning algorithm doesn't typically happen on so-called edge devices such as smartphones or drones. But Neurala Inc., a


RSS Feed

Email a friend
---
March 30, 2018 4:53 PM
Imagine asking Cortana about your revenue last quarter. That could be the future, according to Gartner analyst Svetlana Sicular. At the Gartner Data and Analytics Summit, Sicular discussed some of the
---
March 30, 2018 2:22 PM
It took a nation-state attack for Alan Levine to realize the importance of implementing a cyber awareness program. "I believed that cyber awareness training was useless because I...
---
March 9, 2018 9:58 AM
With more companies embarking on a digital transformation journey, enterprise data is being spread across devices, systems and even in the cloud. As a result, focusing security efforts on protecting network perimeters is no longer enough. "In digital transformation, as we move from the physical...
---
February 28, 2018 6:54 PM
The rapid development of artificial intelligence and machine learning is a double-edged sword. The technologies are becoming cheaper and easier to apply to the enterprise, which is also making it easier for bad actors to
---
February 28, 2018 5:36 PM
Security on Apple devices might not be as impenetrable as many thought. Forbes reported this week that Cellebrite, an Israel-based vendor and major U.S. government...
---
February 28, 2018 5:10 PM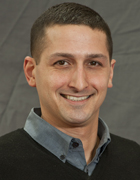 Profile: Ben Cole
E-discovery technology has become an integral -- and essential -- element of the modern legal process, but a new report suggests attorneys are still struggling to embrace the technology. A survey of 30 current or recently retired Federal Judges found that 60% said that the lack of cooperation...
---
February 27, 2018 1:51 PM
Developing an AI use case that lays out what the project will cost, the value it will provide and the potential risks it will bring can be a head scratcher for CIOs. AI in the enterprise is
---
February 26, 2018 5:12 PM
Digital threats pose a big challenge for organizations today, and cybercrime groups are only getting better at achieving their goals: In 2016, nearly one billion personal records and over one billion credentials were stolen, according to an FBI report. Such information is then often sold on the
---