---
September 21, 2012 5:25 PM
In this week's SearchCIO.com Searchlight we have  a bevvy, a big ol' bonanza — ok — a bunch of interesting bits you may have missed in your own web travels.  Read about why being brainy is beautiful when it comes to big data analytics; learn about a media project that puts the "big" in big data; enjoy a beautiful infografic depicting the role of the CIO in 2012 and more. Brilliant!
September 14, 2012 4:56 PM
Not all aspects of dealing with technology are fun. But sometimes technology itself can pep things up. This week, the SearchCIO.com Searchlight shines upon a few examples of the innovative thinking that keeps IT fresh. For example, did you know that refreshing your security policy knowledge could  be kinda fun? Well, with the gamification of HIPPA training, at least it's a lot less boring. Also this week, if you weren't particularly impressed by the Apple iPhone 5 announcement, perhaps you've just become too cynical to recognize something magical when you see it. Maybe Louis CK was right.
---
September 7, 2012 5:51 PM
For some folks the start of the fall season brings thoughts of  leaf peeping and apple picking. But  at SearchCIO.com Searchlight we can't help but think of competition. A presidential election, NFL football, a new school year – it's all noses to grindstones in order to come out on top as far as we're concerned!  This week we've stocked up on items about quests to be the best including  political Twitter battles, Amazon taking aim at Apple in the fight for tablet supremacy, a group of girls who dedicated their school vacation to tech innovation and more. Head over to Searchlight to check it out now – we'll race you to it!
Go to SearchCIO.com Searchlight
---
August 31, 2012 1:52 PM
Labor Day – the most bittersweet of the long weekends. Of course an extended weekend is always a good thing, but it's always a little sad to hit the unofficial end of summer. Everyone is taking it easy and relaxing, all the while knowing things are about to get a little more rigorous. Hence we invite you to check out this week's SearchCIO.com Searchlight in which we gently encourage you to break out your BYOD policy (a new Amazon device is coming – conveniently on the heels of the Kindle Fire selling out), consider whether your mobile app dev is up to par and maybe look into sprucing up that old data center.
---
August 24, 2012 8:19 PM
It's back to school time and, if you're picking up some crayons for the kiddies, maybe grab one of those 64-count Crayola boxes for yourself. In this week's SearchCIO.com Searchlight, graffiti artist Erik Wahl explains why a sniff of your old waxy friends can calm you down and lift up your creative spirit. Wahl's keynote address at this week's Gartner Inc. Catalyst conference in San Diego sought to convey the idea that tech innovation is rooted deeply in our crayon-art-scrawling youthful imaginations. To continue on the theme, this week's Searchlight brings you a roundup of  Web items focused on innovators — from the "idea monkey" to Pinterest pioneers.
Go to SearchCIO.com Searchlight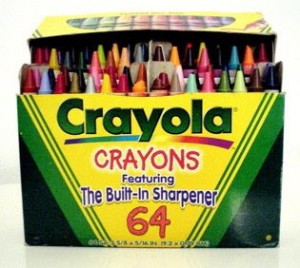 ---
August 17, 2012 3:11 PM
Mid-August is here, when the uptick in back injuries from lugging mini-fridges and long goodbye-hugs remind us it's college move-in time once again. And like so many wide-eyed, hot plate-toting freshmen, the weekly roundup is settling into new digs too – at SearchCIO.com Searchlight.  Click the link to join us at our new location where we've got interesting bits on social media skills, Google the bully and a bellwether of better times for tech.
---
August 10, 2012 6:36 PM
The summer games may be winding down in London, but we just can't let go of that whole go-for-the-gold-vibe. Hence, this week's roundup of news bits and analysis from around the web explodes out of the blocks with three items about creating competitive advantage. Find out why Bing may well be the smartest search engine in the room but is still no match for well-connected Google. Also included for your reading pleasure in this week's roundup: One expert's take on how to keep IT competitive with outside service providers and why big data analytics may ruin the fun for coupon clippers.
You may be the smartest candidate for the job, but sometimes it's all about social connections. This holds true in the Bing versus Google battle for search supremacy.  Despite having what may be the smartest computer learning system in the world, the Microsoft-owned search engine lags far behind Google. Why? It's all about the massive amount of personal information Big Brother Google captures about users.
If CIOs don't think they have to compete for the business of internal customers, chances are they've already lost them. Check out these expert tips on keeping IT competitive and relevant to the business. While you're at it, read why we think this just might be the new CIO benchmark.
What's a little privacy when there's money to be saved on diapers and coffee? In a quest to create competitive advantage supermarket chains put big data analytics into action by offering customers individualized pricing based on their shopping habits.
Instagram: It's not just for shoe-gazing hipsters anymore. Increasingly, big-name companies like Starbucks, GE and Nike are leveraging the popular photo app to gather customer data.
Finally, in case you missed it, check out this week's installment of CIO Matters in which news director Linda Tucci makes a case for the CIO's need to know just how "green" cloud computing really is and why it matters to us all.
---
August 4, 2012 4:44 PM
Every four years, it's the same thing. We sit and watch the summer Olympics in awe of human physical potential and our minds begin to wander. What if we'd kept up those swimming lessons? If only we didn't dump track for the school newspaper. Then we come back to reality, pop open another soda and wonder how those divers can be so darn synchronized. But Olympic-loving readers, take heart — CIOs can shine in the summer games.
Leading off this week's roundup, from our sister site SearchCIO-Midmarket.com, we have a CIO whose gold medal-worthy green tech innovation is truly energizing London's Olympic Park. Also, read about how speeding to market with software could kill a trading firm, and read about the CIO's role in IT transformation.
As chronicled on the SearchCIO-Midmarket.com blog, CIO Symmetry, the CIO of the London summer games scored big, lighting up Olympic Park with green tech innovation. And he didn't even have to put on a Speedo.
Speed is great for sprinters and the like but can be downright dangerous for makers of stock-trading software. Perhaps Wall Street's third stock-trading fiasco in five months will drive home this point.
Winning by changing the rules doesn't sound very sportsmanlike. Unless we're talking victory over network hackers — then by all means we ought to hear out the argument for changing the rules of writing code.
Think social collaboration is a frivolous pursuit? Perhaps this bar graph can convince you otherwise.
Finally, be sure to check out this week's CIO Matters column, in which SearchCIO.com's Editorial Director Scot Petersen looks at the role of the CIO in the midst of IT transformation.
---
July 27, 2012 7:53 PM
Can you believe what a disappointment these games are turning out to be? Oh, we're not talking about the Olympics. We're referring of course to Zynga's recent woes. Yes, in life, as in the Olympics, there are winners and there are losers. In this week's roundup we catch up with a few former tech world superstars who won't be up on a podium any time soon. Also up: the dark (Hat) side of tech innovation, some truly heroic leadership lessons and more.
Zynga may want to have a word with friends. Opinion is rife that Facebook doesn't have the company's best interests at heart.
We now know one outlet where BlackBerry users won't be reading more bad news for RIM.
Where there's money, there are criminals. Hot on the heels of tech innovation that makes your smartphone a virtual wallet comes a tech innovation that virtually steals that wallet.
Who doesn't like a good chart? We especially like this one which attempts to diagram the main routes to unified information access (UIA) across silos when dealing with big data.
Finally, be sure to check out this week's CIO Matters, wherein our crusading columnist Wendy Schuchart saves the day with awesomely powerful leadership lessons CIOs can glean from superheroes. Kapow!
---
July 20, 2012 7:55 PM
Is there anyone out there who didn't have the longest, hottest week since ever? We're going to keep this brief, as our brains are more melted than hoax-ified Canadian currency. Good thing this week's roundup includes some tips on reviving your gray matter. Also, we've discovered the only question you need ask to solve your big data analysis dilemma* and some enlightened opinions on why no one (except perhaps Target) should care what Marissa Mayer will be doing in October.
*Sorta.
Do you like your brain? Then stop being so mean to it. Check out these tips for preventing brain abuse — including dealing with the evils of the email inbox.
As soon as you finish reading this story about new research on the detrimental effects of too much interwebs, go outside. Please.
If, like so many, you too (U2?) still haven't found what you're looking for with big data analysis, maybe you failed to ask the most important question.
As with that Stephen King novel on our summer beach-read list,  we both love and are frightened by this infographic on how personalized sites use personal data.
Finally, in case you missed it, check out our latest CIO Matters column looking at how women in technology are looking at the hoopla over Yahoo CEO Marissa Mayer.
---