---
March 5, 2015 6:43 PM
CIO
The responsibility of securing the enterprise has been pushed onto the CIO, Linda Ban, the Global C-suite study director at IBM, said at the Fusion 2015 Conference of CEOs and CIOs in Madison, Wisconsin. The trend was one of the findings of IBM's recent Global C-suite Study, which surveyed over 4,000 people from all C-level positions.
Ban was not the only one at Fusion who addressed this issue of the CIO taking charge of security. Asif Naseem, President and CEO at PDS, an IT services, solutions and technologies provider, also spoke about how security now dominates the CIO's agenda because of unavoidable emerging technology trends and because cyberattacks are increasingly malicious.
Naseem added that each emerging technology trend brings more and new vulnerabilities and risks that the CIO has to address within his or her own organization.
IoRT (Internet of Right Things)
Of the ever-increasing number of mobile apps and devices being used by employees, for example, "no more than half of these devices entering the network are secure," he said.
Furthermore, the rise of Internet of Things (IoT) brings new security concerns with it, Naseem said, adding that "99% of the devices that can be connected, aren't." Yet.
But the statistic begs the question, Naseem said: "If a device can be connected should it be?"
Having hundreds of millions, even billions, of devices connected to the Internet creates a larger surface for attack, Naseem said.
He urged the audience to instead think of IoT as IoRT, or "Internet of Right Things", and only connect devices that will bring value from being connected to the Internet.
Avoiding these new trends, emerging digital technologies, and the risks that they bring with them is impossible, said Sean Wessman, senior manager for Ernst & Young (EY) Cyber Security, during his presentation on building new and competitive business models securely. This is especially the case as millennials increasingly enter the workforce.
To prove his point he cited Gartner's statistic that 30% of millennials would rather have an iPhone than a raise. In addition, Gartner also found that 46% of vehicle drivers aged 18 to 24 would choose Internet access over owning a car.
As C-suite leaders are forced to embrace digital technologies, Wessman said, they have to think about "systems of trust." That's really the challenge that's upon us as the CIOs and the leaders of IT… in our organizations, is how do we establish systems of trust?" he told the Fusion audience. One way is to think about security is in phases, he said.
The three phases of cybersecurity maturity
In a survey of CIOs and IT leaders EY Cyber Security has done for the past 18 years called the Global Information Security survey, the Ernst & Young security practice has found there are three phases of cyber security maturity companies must go through:
Activation is the first phase, Wessman said. "If we're doing secure software development, activation is defining a policy or standard for… secure application development. That's the early phases. It establishes the governance in the organization that allows us to do something of this nature."
Adaptation is the second phase. "How do we adapt our software development lifecycle to apply to the new areas where we may do software development?" Wessman said.
For example, the risks that come with development on a mobile device are different from the risks when developing for a on a web-enabled device or for an internal financial control system and so on, he said.
The challenge then is: "How do we adapt our policies and our standards to apply to these different environments that have clearly different requirements and different threat vectors and different threat outcomes?" Wessman said.
Anticipate is the final phase of cyber security maturity.
"If we have trouble managing thousands of devices today, how are we going to manage millions of devices?" Wessman said. "If we have to anticipate then all of a sudden maybe we can think about things differently."
Wessman used the example of James Roth, CISO at Aetna, a healthcare benefits company, and how Roth recognized it would be impossible to manage defects in his software development cycle on the backend. So Roth studied the way code was developed in his company and it turned out that "across all platforms, 90% of the code redevelopment was from open source code repositories and libraries because coders don't want to do the same thing twice," Wessman said.
Roth's innovation approach to solving the problem? Rather than focusing on managing defects on the backend, Roth decided to secure the base of code on the front end, namely: "Only allow [their]developers to leverage code that has been through security process so that at the backend [they] have far fewer defects to manage across the lifecycle of these many devices, bringing the cost down."
Wessman cited this as a prime example of how being forced to anticipate what will come next can help IT leaders to think differently and solve potential problems.
Let us know what you think about the story; email Kristen Lee, features writer, or find her on Twitter @Kristen_Lee_34.
March 2, 2015 9:20 PM
CIO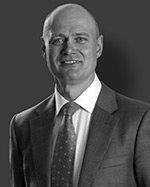 Myer, Australia's largest department store chain, said Monday that it has replaced its CEO of nine years, Bernie Brookes, with Richard Umbers, 48, who joined Myer as CIO and supply chain officer last September. The changing of the guard was characterized in the company's announcement as a fresh start intended to help the struggling retail chain reposition itself in a retail environment where shopping habits are increasingly shaped by technology.
"It has become clear that to thrive in a modern retail environment, Myer must adapt more quickly and be closer to its customers," Chairman Paul McClintock said, noting that Umbers will lead a "significant program of change" and calling out the former CIO's "success in leading business transformation."
Umbers, who prior to joining Myer held senior roles at Aldi in Europe and Woolworths in Australia and New Zealand, addressed the impact of technology directly. "The customer we've got is changing, and online and digital are creating new opportunities for us all the time," he said, describing the new strategy as "taking a blank sheet of paper and looking at the nature of people who shop with us."
The appointment, coming two weeks before the department store chain releases its first half-year results, got "a tough welcome from investors," as a Sydney Morning Herald headline put it, with shares down double-digits. Whether Umbers can turn around a company whose profits have reportedly plunged 40% over the past four years remains to be seen.
CIOs: Ideal gene pool for next-gen CEOs?
At SearchCIO, however, the appointment of Umbers points to a question I've recently explored with IT and business leaders on panels at SIMposium, the annual CIO event hosted by the Society for Information Management, and at last month's CIO conference in San Francisco hosted by Global Business Events: Do CIOs represent the ideal gene pool for the next generation of CEOs?
The argument in favor goes something like this: Every business, big and small, has in essence become digital. At the small end, the corner pizza shop, the local cab company, your local bank — businesses that used to be human-to-human have become digital machine-to-digital machine. At the big end, the customers and business processes at all of your companies are becoming big data repositories.
So, who knows enough to lead in the digital age?
Is it the CFO, who crunches numbers and plots financial strategy? Is it the CMO, who knows all about marketing? It would seem that CIOs understand, almost certainly better than any other member of the traditional C-suite, how their companies operate in the digital domain.
It also can be argued that CIOs are best-poised to anticipate the impact that information technology will have on the organizations moving forward. Many CIOs believe that's so: In a recent Gartner survey of 2,810 IT leaders, 47% see digital leadership as their responsibility.  And CIOs are not the only ones who think so. A Harvard Business Review survey of 750 business executives found that 41% said they're looking to the CIO to lead their company's digital transformation, versus just 20% who think the CEO could do the job.
I posed the question of CIO as CEO heir apparent to Dave Aron of Gartner, who specializes in IT strategy and the CIO role and has written about the new breed of "digital CIOs."
"I guess the truth of the matter is, it seems to be very much a bifurcation. There are some CIOs — my guess is it would be the majority — who are much more tied to the discipline of IT than to being a C-leader," Aron told me.  "It's a little cheesy, but you could almost look at who's more tied to the C in CIO and who's more tied to the I."
CIOs constitutionally unsuited to be CEOs?
As for the naysayers? The arguments against such a transition, as you might imagine, tend to focus on the personality types that gravitate toward the CIO role — or at least the stereotypical CIO. A recent ZDNet article entitled "From CIO to CEO: Why it's time to give up the impossible dream" captured the sentiment in the following anonymous quote by an IT leader:
"By and large, CIOs are not entrepreneurial. Most CIOs are analysts — and the first four letters of that word pretty much sum up the skills of many CIOs today."
Your thoughts? Let me know — email me or find me on Twitter @ltucci.
---
February 28, 2015 7:51 PM
CIO
The job of the CIO has always been a big topic for us on SearchCIO. Over the years we've kept close tabs on what the CIO job entails and read the tea leaves on where it is headed, examining, among other parameters: reporting structures (Remember when it was considered the kiss of death to report to the CFO?); salaries; bonuses; C-suite alliances (e.g, the current notion that CMOs and CIOs should be best friends); potential rivals for the top IT job (chief data officer, chief digital officer); career blunders (talking about uptime using the numeral 9).
In recent months, chatter about the role of the CIO has reached fever pitch, and not just in industry publications like ours where you'd expect such discussions but in the mainstream business press as well. I think this is because it has dawned on many of us how really difficult (maybe impossible?) the role of chief information officer has become. The traditional purview of the CIO — to ensure reliable, secure, efficient and cost-effective IT systems — is still a requirement of the job ("table stakes," as the hotshot CIOs like to say), but with the digitization of businesses (and that's every business, from the corner pizza shop to the industry giants) many new responsibilities now come with the job. How are CIOs dealing with their ever-expanding set of duties?
Bi-modal IT
One trend that IT consultancy Gartner Inc. is seeing is an approach it's dubbed bi-modal IT: on the one side, the safe, industrialized IT that delivers services and enables the business; and on the other, the fast, experimental, exploratory IT that helps the business compete in the digital domain.
"More and more of our clients are moving in that direction," Dave Aron, a Gartner fellow and VP specializing in IT strategy, told me.
Under this structure, the CIO typically has put in place a deputy of IT. "The title very much varies, but what we're talking about is a chief operating officer of IT. And the relationship is very much like a CEO-COO relationship," Aron said. The CIO is freed up to look at digital business and the COO of IT, or deputy, "runs everything, the whole show, day to day."
In Gartner's recent CIO survey of some 2800 IT leaders, 47% said they have that "kind of COO under them," Aron said, but added that the survey result strikes him as high. "Anecdotally, I feel like it's a smaller number, maybe a third of CIOs who have this arrangement," he said.
Three components of the digital CIO role
So what does the digital CIO actually do? Gartner breaks the role down into three components: outside-in thinking; inside-out thinking; and IT integration.
Outside-in: In this role, the digital CIO is not thinking about the current business, Aron said, but about what is happening in the digital world and the risks and opportunities it represents for the business. This is the kind of thinking that often results in "very unusual business extensions," Aron said, such as mobile phone operators becoming banks, or drugstore chains becoming large healthcare providers. In this aspect of their jobs, digital CIOs might ponder, for example, what Bitcoin means for financial transactions or 3-D printing means for supply chains.
Inside-out: While these digital CIOs are busy figuring out where the digital world is taking their companies, they simultaneously must be thinking about what this digital evolution means for their companies' internal capabilities. Aron gave me the example of a large bank whose infrastructure was designed for a few million customers who used to visit their branch banks maybe once a month to conduct business. Today, any one of those millions could be transacting with their bank 10 times a day from their smart phones. Part of accommodating this new business paradigm may involve hiring for new skill sets, for example, and using the cloud and other new IT infrastructure, Aron said. Digital CIOs need to be on top of this.
Digital integration role: "This is making sure that as the world gets digital, and we are using all sorts of omnichannels, we don't make a big mess," Aron said.
Beware the CSO (chief strategy officer)
For the record, I asked Aron which of these three aspects of the new CIO job are today's CIOs best prepared for. Not surprisingly, he said the second and third aspects of the role (inside-out and integration) are probably more in the traditional CIO's wheelhouse than that "outside-in" role.
"That aspect of the role feels more like an extension of the chief strategy officer role than the CIO role," Aron said.
My questions for you: Have you hired a deputy CIO? Do you consider yourself a digital CIO?
---
February 27, 2015 11:25 PM
CIO
The CIO conferences put on by Global Business Events (GBE) are closed-door affairs intended to give IT leaders an opportunity to hear how their peers are solving problems and breaking new ground with IT. These are peer-to-peer forums where the emphasis is on a candid exchange of ideas. As a condition of listening in, SearchCIO doesn't name names but does report back to our readers on the issues. IT business transformation, for example,  was a hot topic at GBE's October event in Chicago.
At GBE's most recent CIO event in San Francisco, the T-word again loomed large. Transformation — of the business, IT organizations, of security strategies, and of a personal nature (the panel I moderated explored whether CIOs are next in line to be CEOs) — was the theme, if not the title, of just about every session on the agenda. One talk, in particular, hit me hard, because it suggested that for CIOs to use technology to drive real change they may well have to fire a large portion of their IT workforces.
The case study involved a large healthcare company that depends heavily on technology. It has the largest EMR implementation outside of the U.S. government. In recent years — thanks in large part to technology — this company has seen a 57% reduction in medical errors, 26% fewer office visits, made 37.4 million test results available online to its patients and helped drive a 27% increase in patient self-management of chronic diseases. When the now SVP of infrastructure joined the company six years ago, however, he said he and fellow executives "faced a difficult decision."
"We decided that IT could not improve quickly enough … and implemented a large-scale IBM outsourcing," he told the audience.
Business agility no matter what
For the first two years post-IBM outsourcing the internal IT focus was "all foundational," he said. He brought in ITIL best practices to improve IT availability and reliability. The "next frontier" was speed and service, with the lofty vision of one day being able make technology provisioning "as easy as Amazon does."
So, with the help of its outsourcing partner, IT embarked on a major private cloud initiative that automates a lot of IT infrastructure provisioning — "Computers can build computers much better than people can," as he put it — and this private cloud is already transforming the healthcare's business processes. He said he's now looking to do the same for app dev by implementing Agile methodologies.
So, a great story and triumph for an IT leader — that also required a massive shakeup of the internal IT organization, the loss of hundreds of IT jobs and some fierce maneuvering to transform IT services.
In order to pull off the cloud provisioning, for example, he built a small team of people — half from IBM and half from internal IT — and said he made sure he had their backs. "I walled this team off and protected them all the way up to implementation," he said.
The ripple effects on IT jobs of this IT business transformation continue to this day. For example, the move to the cloud and agile software development is proving to be the death knell for project managers. "The projects go right through and we do not need project managers," he said.
But without these personnel and process changes, IT departments cannot possibly compete against the big public IT providers, he told his peers. "If we don't provide that level of service, IT departments will be out of business."
Et tu?
So, as CIOs and business leaders, are you facing the same difficult decision? Can your IT team improve fast enough to drive IT business transformation, or are layoffs in the offing? I would like to know —  and understand that this is confidential information.
---
February 12, 2015 5:27 PM
CIO
As of yet, no company has cracked the mobile wallet space. But that doesn't mean it won't happen eventually. The tipping point, according to Forrester Research Inc., hinges on seeing mobile wallets as a marketing platform. In a new report, "The Future of Mobile Wallets Lies Beyond Payments," the Cambridge, Mass.-based research and consulting firm argues that companies that can successfully build a mobile wallet that also doubles as a marketing platform will "win" because they actually will be giving consumers what we want: a better, more personalized shopping experience.
The thesis resonated with me. I first heard of this concept of mobile wallets being about more than just payments when I visited Paydiant, a Boston-based startup which provides the technology behind the mobile pay app CurrentC. I was there to film for my Startup Spotlight series (check out Paydiant's video here). Paydiant's co-founder and head of products and marketing, Chris Gardner, in fact, said this is one of his company's big missions: "We have to prove what we've been saying for the last three or four years. [And that] is that mobile's a marketing platform; it's a very powerful way to interact with your consumers and it's not just about payment."
Companies like PayPal, Apple, and Google have seen the light, according to the Forrester report.
"Apple Pay is critical in that it offers consumers a more secure and convenient checkout experience. However, the key to Apple's wallet lies in the central role of Passbook, where consumers can easily save and organize branded content," the report said, referring to the content that blurs conventional advertising content with editorial content, or other content, making it difficult to differentiate what is advertising and what is not.
Google, for its part, is not focusing on payments but instead is more interested in the transaction data in order to use that information to strengthen its advertising business.
Forrester predicts that brand name companies will have to figure out how to partner up with mobile wallets if they want to keep their marketing messaging front and center with the mobile device-carrying-hoards.
How companies can take advantage of mobile wallets
Forrester advises marketing leaders to take advantage of this emerging opportunity regardless of who wins the mobile wallet war.
"Marketing leaders will benefit from mobile wallets if they tie together loyalty programs, coupons, product discovery, gift cards, and promotions to create powerful and new brand experiences in the mobile moments of their customers," the report said.
Here's Forrester's advice for marketing leaders to make the most out of what mobile wallets have to offer:
Test existing mobile wallets' marketing capabilities. Players like Urban Airship, Passkit, Passworks, and Vibes, all mobile marketing solution companies, can help marketers manage mobile wallet campaigns by driving foot traffic, and updating content and offers, the report said. These campaigns are valuable because they "will let marketers know the most efficient distribution channels (e.g., SMS, email, direct mail, or mobile ads) to engage customers within mobile wallets," the report said.
Plan for relevant, location-based, real-time offerings. To make the most of mobile wallets, the report said, marketers will need to strike a balance of adding location and time-sensitive offers to their approach without being too invasive or intrusive. Unfortunately, more often than not, brands tend to have imprecise location information about their stores, the report said. Marketing leaders need to be very precise and know what notifications to send when and based on the customer's location. For example, sending push notifications once a consumer is at the entrance to the mall, the front door of the store itself, or even in specific areas of the store. The report said that some startups, like Tapcentive, can help marketers achieve this.
Mobilize loyalty program and regularly update branded content. Marketers should pay attention to how mobile is changing customer loyalty, the report said. This is because access to loyalty rewards is in high demand from consumers and happens to be the one that is the least integrated in mobile wallets today. The report said that third-party mobile wallets will offer the opportunity and can help to integrate basic rewards features for frequent shoppers. A key success driver, the report said, is the ability to update brand content and make it socially available.
Let us know what you think about the story; email Kristen Lee, features writer, or find her on Twitter @Kristen_Lee_34.
---
February 11, 2015 9:30 PM
CIO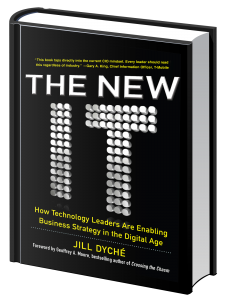 In her recently published book The New IT: How Technology Leaders are Enabling Business Strategy in the Digital Age, author Jill Dyché lists the characteristics of an innovation-ready company. One of those characteristics? Building strategic partnerships.
These partnerships aren't like the partnerships of yesteryear where a project was chunked by task and then assigned to whoever might do that work best. Strategic partnerships are built on collaboration, Dyché said. "The quid pro quos are different," she said. "It's not just about financial quid pro quos anymore like classic partnerships. It's more about new ideas, product improvements and incubation of new functionality as well."
By way of example, Dyché pointed to Ron Guerrier, vice president and chief information officer at Toyota Financial Services (TFS). "Ron has an innovation lab where his vendor partners are invited to come in and essentially do what they do best," Dyché said. They can test out a new application by loading it onto one of the tablets in the innovation laboratory, and the business folks can give the app a test drive.
Guerrier will get feedback from the business through an automatic Q&A on where the application succeeds and where it falls down, but so will the vendor, who can use the feedback to drive bigger improvements. "The partnership is not only a delivery partnership, it's also an incubation partnership, if you will, a product roadmap partnership," Dyché said.
Tapping talent outside the four walls
Building strategic partnerships means recognizing that the internal ecosystem isn't enough if businesses want to remain competitive. Here's how Karen Dahut, vice president of the strategic innovation group at the consultancy Booz Allen Hamilton, put it at the recent Chief Innovation Officer Summit in New York City: "Companies that believe that the best ideas only reside in their brick and mortar will not be successful. You have to engage in the broader global ecosystem."
Booz Allen did just that when it partnered with Microsoft and Intel and Allscripts to build Allscripts Wand, a Windows 8 tablet-based application for the medical records organization. "Great innovation happens when great companies work together, partner together and collaborate in meaningful ways," Dahut said.
And it means tackling big questions and paving the way for new markets. Cathryn Gunther, vice president of strategy and commercial model innovation at Merck & Co. Inc., talked about how the pharmaceutical giant is trying to improve customer engagement. "We're working with a variety of different technology companies," she said at the Chief Innovation Summit. "[The list includes] vendors to design some platforms to improve the engagement of consumers and their health in conjunction with their healthcare providers."
---
January 27, 2015 5:06 PM
CIO
CIOs and IT professionals have been slow to adopt software-defined networks for a number of reasons: security concerns, lack of familiarity, and the lack of skill sets required of employees. But attitudes are changing, according to a new survey from Logicalis, the international IT solutions and managed services provider.
The firm's second annual Optimal Services Study, a survey of top IT pros spanning 24 countries, found that 61% of the CIOs who responded said they expect software-defined solutions to impact their IT services and delivery strategies over the next three years, 34% said over the next two years, and 10% said over the next 12 months.
"Using the kind of policy-driven, programmable toolsets made available through software-defined solutions, CIOs can free time and resources that can be better spent focused on IT service delivery and management throughout the enterprise and can both reduce cost and complexity as well as increase the speed and flexibility with which they can respond to IT requests going forward," Mike Martin, senior vice president of Solutions and Services at Logicalis, said in the report.
According to various articles, there are many benefits to utilizing SDNs. It can help lower costs because SDN eliminates the necessity to buy expensive hardware that is needed when it comes to traditional network upkeep. SDN also means the network administrator or engineer can simply add more virtual switches or routers instead of physically visiting each switch router. And it also allows for the flexibility to move to the cloud, whether public or private, as well as allows network engineers and administrators to respond quickly to changing business requirements.
However, this move towards utilizing SDNs does require a new set of skills from IT, and  it seems CIOs are willing to pay a premium for these skills. The survey found that 65% of the CIOs who responded to the survey said they are prepared to pay more for the skills required to make the most of SDN solutions; a fourth of the CIOs said they would pay 5% to 10% more and a fifth said they'd pay 10% to 20% more.
Even better, SDN skills paired with business acumen
Want to be even more valuable in a CIO's eyes? Then, according to the report, pairing IT skills such as SDN knowledge, with business acumen is the way to go.
"CIOs are recognizing that, as they transform their IT departments to be internal service providers, they will need to embrace the move from technology management to business service delivery, something that requires a new type of skill set with an emphasis on melding technological understanding with business acumen," Martin said.
This value of business acumen coupled with IT skills was apparent in the survey with 64% of the CIOs responding that they first look at business skills like communication, service management, and business analysis.
"Each CIO will be examining the organization's staff, investing in and cultivating the business skills of existing IT team members as well as replacing outdated technology skills and people with those that understand the shift to a world where business needs now dictate technology decisions," Martin said.
---
January 22, 2015 7:13 PM
CIO
After five decades of enterprise application bloat, it's finally happened: The business is getting on board with IT and agrees that there needs to be fewer applications. That's what Forrester analyst Phil Murphy writes in "The Secret to Rationalizing Applications: Start With the End in Mind".
For years IT has had to live with disorganized and bloated application portfolios that have sucked up time and money because the business side hasn't fully understood the depth of the problem. But that is starting to change.
The reason the business is starting to wake up and see that a bloated application portfolio is an expensive problem, Murphy writes, is because of the elephant in the room: the "keep-the-lights-on" expense of existing application portfolios. In some firms, these portfolios exceed 90% of the technology budgets, leaving just 10% for innovation, meaning application bloat is a business problem now. If rationalization is done and done correctly, he writes, then this "keeping-the-lights-on"-to-innovation ratio can be brought back to a more acceptable level — for example 80/20 or, even better, 50/50 — and therefore can free up funding and people resources so that more innovation can happen.
Still, wanting to do something doesn't make it so. Although companies have realized it's in their best interest to rationalize their application portfolios, Murphy writes that, unfortunately, many rationalize incorrectly. Based on hundreds of client inquiries, Murphy has found that most companies attempt to rationalize their application portfolios two or more times before seeing any real success. Others just give up after the first failure.
How to incorrectly rationalize applications
Murphy writes that Application Development and Delivery (AD&D) leaders that fail often follow a predictable series of steps:
– They create a list of application names.
– They gather metrics about each application over several months. For example, technical make-up such as platform, language, database, vendor, user satisfaction, and some indication of the applications' business purpose.
– After this information is collected, it is dumped into a spreadsheet. However, spreadsheets have limitations and at this point companies begin to struggle to relate data elements together to compose a meaningful view.
– Then companies try to draw some insight from the data they have collected and this is where a "Eureka!"-type moment should happen. The depth of the problem should become clear, and the data should point business leaders to an obvious redirection of resources.
But it often doesn't.
So why does this strategy not work? AD&D leaders often step into this process without first figuring out what they are going to do with the data they've collected, leaving them with data that yields little usable information.
This is the point where AD&D either simply gives up or they try again. The only problem is that people who were onboard with the project before are now skeptical and so the project may receive some opposition.
How to successfully rationalize applications
So how do you successfully rationalize your applications? Murphy's suggestion to AD&D leaders is to start with the end in mind.  Here's his four step process:
– Define the goal. Murphy writes that portfolio management and app rationalization share the same goal: transparency into resource allocation and consumption. He argues that transparency into consumption patterns will bring insight into how consumption may need to change.
– Define the problem. Why do you need more transparency into resource allocation and consumption? What problem might this solve? Is it to reduce operation costs, reduce waste, eliminate redundant apps, increase resources for innovation?
– Define the audience. Who are you trying to convince that applications need to be winnowed? Are you talking to developers? Technology management professionals? The data you collect on application bloat and the insight you provide needs to be tailored to your audience. If your audience is business leaders or executive management, Murphy advises avoiding technical jargon and metrics to try to win them over.
– Define (and collect) the data that will resonate with your audience. Figure out which data (or combinations of data) will create a compelling story for whomever it is you are presenting to. Then go out and get it, working with other departments, such as finance and internal audit, if need be, to get it.
Though in the past this has been solely an IT issue, it is no longer that way. Successfully cleaning out your application portfolio will not only save money but allow IT more time to innovate — two important features if you want your business to thrive.
Let us know what you think about the story; email Kristen Lee, features writer, or find her on Twitter @Kristen_Lee_34.
---
January 21, 2015 6:10 PM
CIO
Digital trends are transforming how businesses work, Abbie Lundberg, president of Lundberg Media, a content and engagement company specializing in CIOs and digital business, said at the Oracle CloudWorld Conference in Boston last month.
In order to make the transformation to digital business and remain competitive, Lundberg said companies must recognize that traditional IT leadership isn't enough anymore. Businesses must foster digital leadership, which requires IT and the business to work together to make technology decisions.
Lundberg's advice stems from a 2014 survey of 750 business and IT leaders conducted with Harvard Business Review and Oracle probing IT leadership roles in the digital age. One interesting statistic she found was that 60% of respondents said they were directly involved in making IT decisions. However, only 27% of those respondents actually worked in IT.
"So this is a real shift that we're seeing today. If we'd asked this question a few years ago we never would have seen these kinds of numbers," Lundberg said.
For example, nearly half of respondents said that within their companies cloud management is now a blended responsibility between IT and the business. (The more technical aspects of cloud, such as deployment and integration, remain more the domain of IT.) Specifically:
26% of respondents said that IT and the business were equally responsible for cloud deployment.
27% said IT and the business were equally responsible for integration.
46% said IT and the business were equally responsible for vendor selection.
47% said IT and the business were equally responsible for cloud requirements.
"There was almost unanimous support for this idea that collaboration is really critical to getting value from IT investments," Lundberg said, adding that she is starting to see more crossover roles in IT and the business.
For example, the head of marketing at a major credit card company is in the process of getting his master's in information system process management. "He sees that as his future. The future of marketing is technology," Lundberg said.
Emerson recalibrates to serve digital customers
Emerson, a St. Louis-based global manufacturing and technology company that is one of the largest power equipment manufacturers in the United States, is an example of an old-school business that is taking digital leadership seriously, Lundberg said, citing a talk she heard by the company's  president and COO, Edward Monser.
"He said something that really made me sit up. He said changing models for customer engagement because of digitization was one of the top three risk factors that they discussed with their board of directors," she said.
The 125-year-old Emerson has built its business on cultivating long-standing relationships with certain companies. However, those customers are now bringing new people in who have different needs and a different way of working. Emerson needed to adjust.
Recognizing that collaboration within the company was needed, Monser along with Kathy McElligot, the CIO of Emerson, and head of strategy, created a business IT strategy board comprised of 25 leaders, with McElligott as the only board member from IT, Lundberg relayed. This board meets four times a year to discuss business strategy and dive deeply into specific topics such as information security, and the digital customer.
McElligott told Lundberg that traditional business and IT "lines have blurred. IT is extending into marketing and engineering… The business now has to learn about IT and how it works."
Let us know what you think about the story; email Kristen Lee, features writer, or find her on Twitter @Kristen_Lee_34.
---
January 14, 2015 5:12 PM
CIO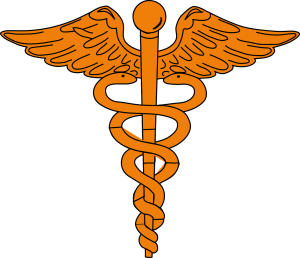 Intel Corp. really, really wants to drive the wearables bus. At the International Consumer Electronics Show (CES) earlier this month, the chip company unveiled Curie, a "system on a chip" or SoC that's no bigger than a button. The tiny computer chip can be fitted into things like bracelets and bags and sunglasses  and was designed specifically for wearable device developers.
Jewelry and sunglasses and even wearable cameras that can fly aside, Intel's wearable interests are bigger — and much more interesting — than just retail. Last August, the company announced it was forming a new partnership with The Michael J. Fox Foundation for Parkinson's Research. To help advance the understanding of the neurodegenerative disorder, Intel outfitted 16 patients and nine control volunteers with wearable devices that collected data 24 hours a day, seven days a week, to track things like sleep quality and tremors.
These smart watches are "generating 300 measurements per second — roughly a gigabyte of data per day, per patient," Ron Kasabian, vice president of big data solutions at Intel, said at Strata + Hadoop World in New York City last fall. "We take that data, take it from the device through the patient's handheld or cellphone and load it into a cloud-based infrastructure we built."
The streams of data are ingested and cleansed. ("The accelerometers in some of the devices occasionally emit inaccurate measurements, so we clean those out," he said.) And then the data is loaded into Hadoop, a distributed computing framework that can process large data sets, for analysis.
Compared to the information collected from the traditional dexterity tests given every three to six months to Parkinson's patients, the streams of sensor data are a potential goldmine Kasabian said. In the future, researchers are hoping to profit from the power of big data by combining de-identified patient data to uncover correlations that can answer questions such as why the disease progresses faster in some than in others.
---