---
January 29, 2016 4:49 PM
Terry Kline is a proponent of innovation contests because he's seen how they can change the work dynamic. "What's made me do it everywhere I've ever worked is that I've had employees who say, 'Hey, I've got this great idea, but no one will listen to me,'" Kline, senior vice president and CIO at Navistar International Co. in Lisle, Ill., said in an interview with SearchCIO. So Kline creates opportunities for employees to pursue those great ideas right in the workplace.
Innovation contests or hackathons are a way to crowdsource ideas for new products or new ways of doing things. In the last few years, as the engineering talent wars rage on and as new competitors continue to emerge from unexpected places, innovation contests have become popular in the enterprise and beyond. Kline has used the technique for years, even before taking up his IT post at Navistar, a manufacturer of industrial vehicles and engines, in 2013.
Kline hosts innovation contests at least once a quarter, but he doesn't do so on a set schedule. Instead, he uses innovation contests as a leadership tool when he either needs to find the most efficient way to execute on an idea or he's interested in teasing out new ideas. One critical component? He doesn't limit innovation contests to the IT department.
Instead, with the backing of the CEO to whom he reports, he encourages cross-functional teams to work together whenever possible. "IT by itself is back office, under the covers," he said. "So if you don't have a business problem or a solution, [the results are] not as attractive," he said.
Top ideas are awarded prizes. (Kline has been known to gift his spot in the executive parking area for a month. "I give things away that you can't buy," he said.) And the very best ideas are implemented. Over-the-air re-programming, a feature in some Navistar engines that will enable drivers and fleet owners to update engine control modules over a Wi-Fi connection rather than having to return to a service bay, came out of an innovation contest. "It started off as a 1.5-page idea that was then turned into a prototype," Kline said. "Now it's a real project, funded, and everyone in the company knows about it."
Innovation contests are just another process
Innovation contests have the potential to yield great results, but to get there, CIOs should think about them in a basic way: At the core, innovation contests are just another  process, according to Tim Kastelle, a teacher of innovation management at the University of Queensland Business School.
In a column he penned for the Harvard Business Review, he wrote that idea generation is the easy part. It's all of the steps required to turn an idea into practice that's hard. Ideas have to be sorted, employees have to be given a chance to execute on the selected ideas, cheerleaders have to keep the organization enthusiastic about the idea, and marketers are needed to "get your great new idea to spread," he wrote.
Kastelle provided readers with a couple of tips on how to build a successful innovation practice: First, evaluate the organization's innovation strengths and weaknesses; second, invest in improving those weaknesses, he said. "It will likely involve making genuine changes in the way things are managed," he wrote. After six months to a year, Kastelle recommends repeating the evaluation process.
January 27, 2016 5:01 PM
Selecting the right big data use case is on every expert's list of big data best practices. Another? Getting the right stakeholders involved.
Before CIOs can take a big data pilot into production, they'll need to figure out who to get involved and when. Those two questions may be tough to answer, especially for CIOs at companies that have a siloed approach to the work they do, according to Micheline Casey, former chief data officer at the Federal Reserve who is now an advisory board member for the big data analytics company ClearStory Data.
Big data projects often end up requiring input from across business functions. Getting stakeholders involved early means CIOs could tap into that input and lean on them to generate support for the larger project. But knowing when to bring people in can be tricky.
Too many cooks in the kitchen can be a big data pilot killer, and so some CIOs may decide to hold off involving the chief privacy, risk or security officer or legal counsel in an effort to give their teams room to experiment. At other organizations, doing so could ultimately backfire. "You could have a really successful pilot or a first attempt at a big data project, and then realize you totally forgot to do something vis-a-vis your security or privacy policies, and you have to go back and start from the beginning," Casey said.
That's especially true for highly regulated industries such as pharma, health care or insurance where a privacy, risk or security officer can ensure strict data governance policies are being met — even for a pilot project, Casey said. And she speaks from experience. When working for a health care company ("who will remain nameless," she said), one of its first big data pilot efforts focused on customer engagement.
It was the early days of big data when businesses weren't as scrupulous about anonymizing personally identifiable information (PII) as they are today. Casey and the team (composed of business intelligence and technology employees) kicked the pilot project up to the next senior level to vet, and that person rang the anonymization alarm bell.
"We realized we needed to have a privacy officer involved and things had to be tweaked," she said. The discovery didn't eat up too much time, setting Casey and the team back only about a month. Nor did it put the company at risk because the flaw was caught at an early stage. "Making sure you have a wide array of stakeholders at the table from the very beginning is really important to the long-term sustainability for these projects," she said.
Getting a privacy, security or risk officer or legal counsel isn't a de facto step. For a big data pilot doesn't utilize PII, "these folks aren't needed," she said.
---
January 27, 2016 9:47 AM
Shawn Banerji cringes when he hears someone called a "rock star CIO."
"I can't stand the term," he said during a recent phone call from his offices in New York City. "The CIO job or equivalent is bigger than any one person, and it's been going that way for a long time," he said.
Banerji is the managing director of the technology officers practice at Russell Reynolds Associates, the executive search firm. We touch base a couple times a year to trade information on technology trends. He tells me what companies are looking for in IT executive talent.
Look behind the curtain at companies with dynamic CIOs, Banerji said  — a Dana Deasy at JP Morgan Chase, formerly CIO at BP; or Eash Sundaram at Jet Blue. "What you'll see is a team of people who work together exceptionally well, who understand their roles and goals, and have a terrific leader who's able to ensure that people are in the right place and properly empowered — that's how you get the best results."
Moreover, talk to so-called rock star CIOs, he said, and most will tell you their success is not about them but about surrounding themselves with excellent people.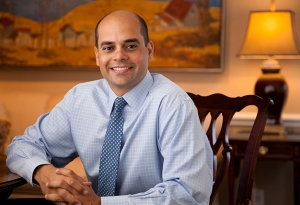 "Do you think Tom Brady would be half the success he is if he did not have an organization behind him — coaching staff, receivers, lineman, all those people?" Banerji said, with a nod to SearchCIO's Boston base.
"This is a guy who succeeds no matter what the changing parts are, because they have a great system in place in Foxboro." If something happens, the organization is able to reach down to the next level on its bench and bring up another capable person. So too, with IT organizations.
(His sports analogy, made a couple weeks before the fateful matchup at Mile High, indeed shows that a rock star is still just one member of a team.)
Corporate values vs. corporate culture
Besides a deep bench, great CIOs often have another thing going for them, Banerji said: They work for companies that live by a set of core corporate values.
Not culture, mind you — values.
"Culture is tribal. Culture is esprit de corps, the tenure of your daily interactions," Banerji said. The same company can have many subcultures. Marketing has its culture, IT another, the New York office has a different culture from the Boston office. And that's perfectly OK, he said.
But cultural independence shouldn't be mistaken for core corporate values.
"Values transcend function, they transcend geographies and times zones and business lines. They are the irrefutable tenets companies put forward to define who they are," he said. It could be the corporate philosophy revolves around integrity, or creativity, or putting the client first. "But whatever the corporate values, it doesn't matter whether you're in the Mumbai office in finance or in the New York office in marketing, they are the things you all have to embrace."
At Russell Reynolds, people call it living the Lucite, he said, because the values that founder Russ Reynolds infused in the firm often show up behind plastic on a lot of people's desks and in conference rooms. "Russ believed that if you don't have a core set of values, you can never create a company. He was a little old school that way, but on to something, I think," Banerji said.
 Email Linda Tucci, executive editor, or find her on Twitter @ltucci.
---
January 21, 2016 2:53 PM
Cloud Computing
,
Cloud costs
,
Private Cloud
,
SaaS
Alan Waite, an analyst at Gartner, asked an audience at the market researcher's Catalyst convention in San Diego last year whether anyone had chartered a private jet to get there. Of course, no one had. Airlines specialize in air transport and usually can do it better and cheaper than private jets.
"Well, guess what?" Waite said. "There are organizations who can do cloud probably more effectively and more efficiently than you can do it yourself, no matter what size organization you are."
It's a sound argument. But vendors that sell products to build private clouds often rely on a provocative thesis: that there comes a point when it's cheaper to use a private cloud infrastructure over a public cloud provider. One vendor-sponsored report I read said when your costs reach $7,644 a month on services in Amazon Web Services — the largest public cloud vendor — it's time to think about going private.
Who's got it right?
"I don't think there's a hard-and-fast rule," said Judith Hurwitz, president of consulting company Hurwitz & Associates and an author of many books on technology, including Cloud Computing for Dummies. "I think it depends what you're actually doing with that cloud."
There's a lot to consider, she said. If a company has a commercial product in the cloud that it plans on offering to a lot more customers, cost is a huge consideration — especially if a lot of data will be moved around.
"As things scale, the costs go up," Hurwitz said. "A public vendor is not in the business as a charity. They're there to make as much money as they can."
If it's a small, contained workload and you can control the costs of managing it, then public cloud is fine. But if a company already has huge investments in data center technology, public cloud will often end up being more expensive. It may have sensitive data it wants control over no matter how much cheaper the public cloud is – or customers may demand a "significant level of accountability" – including security and compliance. In such cases, private cloud infrastructure wins out.
John Burke, an analyst at Nemertes Research, agreed that if a company has the "sunk expenses" of corporate data centers, then making use of them can be considerably less expensive than going with a public cloud provider — especially if it has "a baseline load of work that gets done and there's not a lot of fluctuation and consumption so they don't need to rapidly scale up or down."
That said, Burke and other Nemertes folks are "pretty bullish" on prepackaged cloud applications, namely software as a service. In fact, that they are close to recommending SaaS before any other type of cloud product. Before they get there, Burke said, more data is needed to complete SaaS cost models, which are used to estimate how much the apps will run people.
"We're dancing with that one right now," he said.
Let us know what you think of this post; email Jason Sparapani, features writer, or find him on Twitter @jmsparapani.
---
January 21, 2016 2:42 PM
Big Data
,
Cloud Computing
,
Private Cloud
,
Public Cloud
If you're about to take an analytic crack at unfiltered terabytes or even petabytes of complex, unstructured data, it can stay in a public cloud provider like Amazon Web Services, said Judith Hurwitz.
The consultant and author of numerous IT books, including several in the For Dummies instructional series, said analyzing big data in the cloud often works "because you're still in the process of separating the wheat from the chaff," so there's no reason for the extra security of keeping it in-house.
"It has not become mission-critical at that point," Hurwitz said.
But once you complete your analysis and have your unique, core data, bring it back on terra firma. Private cloud computing, especially the sort that is built in a company's data center, is the preferred place, she said.
"Companies will be more likely to then move their data into a private environment, into the data center, into a private cloud, because those are now the crown jewels."
John Burke, an analyst at Nemertes Research, said if you have data in several places — some in on-premises systems and some in the public cloud, "you have to look carefully at whether or not it would make more sense to either leave the data where it sits or bring it all into one of the cloud environments from others and do the analysis there."
There are lots of variables, Burke said, from the method and cost of connectivity to the infrastructure you have on-site to how varied your big data workloads are.
"Is it something where you're running roughly the same volume of information through your system and you're maintaining roughly the same volume of data in storage all the time — or does it fluctuate wildly?" Burke said.
Let us know what you think of this post; email Jason Sparapani, features writer, or find him on Twitter @jmsparapani.
---
January 21, 2016 2:36 PM
Cloud Computing
,
Private Cloud
,
Public Cloud
,
ROI
When mulling whether to go to a public cloud provider like Amazon Web Services or rely on private cloud computing, the letters R-O-I may appear before you like a vision. How can you figure it out?
Judith Hurwitz, president of IT consulting company Hurwitz & Associates, said there is no boilerplate analysis for determining the return on investment on cloud infrastructure, public or private. It depends on lots of different metrics.
"Maybe a metric is, 'Are you meeting the requirements of partners?'" Hurwitz said. "Maybe you're not in a highly regulated market, but your customers are and they have certain requirements that they expect you to fulfill before they'll do business with you."
Questions first — ROI later
That could push you toward a private cloud model — either a cloud built on the foundation of your company's data center or a cordoned-off corner in a cloud vendor's data center. So could a bill from a cloud provider that balloons from one month to another.
"It really depends on taking a step back and looking at, 'OK, what am I doing here? What's critical to me? What's critical to my customers?'" Hurwitz said.
Then start asking more questions, she said, but swap the word cloud with infrastructure. Does the infrastructure you have in place meet the needs of your customers?
"If the answer is no, you've got to change," Hurwitz said.
The human side
John Burke, an analyst at Nemertes Research, suggested a brute-force approach for determining cloud ROI. Just calculate it.
"There's nothing particularly mysterious about the cost structures for systems of the data center," he said. "You've got infrastructure, you've got staff, you've got services — and you can assign costs to each."
Burke said IT shops can figure out — with a good deal of precision — costs for cloud services and infrastructure like hardware and software. Where they sometimes get fuzzy is "the human side of their expense structures," he said.
"Something that they often miss when they're modeling a shift to [software as a service] or some other external variety of service is the ongoing staff cost of making use of that external service, which may be dramatically less than using the inside service or may not be depending on the specifics of the situation."
Let us know what you think of this post; email Jason Sparapani, features writer, or find him on Twitter @jmsparapani.
---
January 19, 2016 10:12 AM
Cloud Computing
,
Private Cloud
Does your organization have a private cloud? Are you sure?
The definition of private cloud is a fraught issue. John Burke, an analyst at Nemertes Research, said a survey a year and a half ago asked whether organizations had deployed one.
"Nearly 60% of the folks that we spoke to were happy to say that they had a private cloud," Burke said. "But when you started to pick it apart and get to what the actual functional aspect of it was, you'd wind up with maybe 10% to 15% having an actual cloud of any sort internally."
What is private cloud? According to National Institute of Standards and Technology, a private cloud is "provisioned for exclusive use by a single organization comprising multiple consumers (e.g., business units). It may be owned, managed and operated by the organization, a third party or some combination of them, and it may exist on or off premises."
There are two main types of private cloud. One is what's called hosted private cloud: An organization rents exclusive infrastructure space in a provider's data center and the managing and maintenance is done by the provider. The other is internal private cloud, which an organization builds in its own data center and manages it itself.
Private clouds also must have characteristics NIST calls essential to be called cloud — they need to have elasticity, for example, so resources can be scaled up or down to meet demand. They also need to be available on-demand without having to contact the service provider — what is called self-service — and resources need to be measured, like electricity or other utilities are, so users know exactly what they have used.
In the Nemertes study, Burke said most respondents had a "well-virtualized data center" in which they can spin up new computing environments quickly but which required some manual network task — so not meeting the self-service requirement. These so-called private clouds lacked other cloud features, like metering capabilities such as chargeback and showback.
Naveen Chhabra, an analyst at Forrester Research, said there are various reasons CIOs and other IT leaders might say that noncloud environments are cloud, including internal politics or fear that competitors might be ahead on the latest technology.
"Who would want to say that 'I do not have a cloud,' right?" Chhabra said.
Let us know what you think of this post; email Jason Sparapani, features writer, or find him on Twitter @jmsparapani.
---
January 14, 2016 6:50 PM
During his keynote talk, Nigel Travis, CEO at Dunkin' Brands Group Inc., provided a handful of leadership tips to the CIOs and senior IT leaders who attended the recent SIM Boston Technology Leadership Summit. Here's one: When CIOs get a seat at the leadership table, he said, "be strategic, not technical."
His advice comes from years of working in customer-facing organizations from likes of Blockbuster, where he learned the value of customer data, to Papa John's, where he served as CEO and president and helped build the company's online ordering sales from 6% to 30% in four years, to Burger King, which included a brief stint in IT.
Some of his most detailed leadership tips focused on how to manage teams effectively, what he called his "tenets for success."
They include:
Avoid turnover, invest in your people. Travis recommended two ways to build greatIT teams: First, provide avenues for extra training or additional benefits. Second, pay to get the best. "If you've got great people, reward them well," he said. "Because the cost of losing them is unbelievable."
Communication is key. As the CEO of a global company, Travis can't be everywhere at once, so he regularly uses technology to communicate with employees and franchisees — from quarterly webcasts to weekly voicemails to in-person coffee talks. "You can never communicate enough," he said.
Inspire your employees. IT leaders have a reputation for "being dull and unexciting," he said after asking attendees not be offended by the comment. Good leadership, he went on to say, means motivating the troops. "Do you truly inspire your department? That's a question you should think about," he said.
Create the right culture. Culture is "absolutely critical," especially as markets become increasingly competitive, Travis said. What the culture looks like is less important than how the culture functions; he suggested CIOs build a culture "that engages people, that encourages people, that makes people feel good."
---
December 31, 2015 5:02 PM
CIO
Out with the old, in with the new. Many of us will be thinking about what we will do differently in 2016. Will we tackle our jobs anew? Can we be creative?
At the Society for Information Management's recent SIM Boston Technology Leadership Summit, three veteran CIOs were asked to talk about IT innovation — not about the buzzword but about the nuts and bolts of doing new things in IT.
The panelists' charge from moderator Mark Staples, CIO at the Wentworth Institute of Technology in Boston, was to dig into their own experiences for the structures, practices, and leadership tactics they've used over the years to keep innovation alive and to help their IT teams be creative.
In their own words, here are some of the tips from the three panelists.
Brian Shield is vice president of IT, for the Boston Red Sox and before that the CIO at The Weather Channel. Ray Pawlicki, recently retired, is the former CIO at Novartis and Biogen. Steve Morin is CIO at Demandware, an e-commerce software platform vendor in Burlington, Mass. The quotes have been edited for clarity.
Innovation mind-set: Committed vs. compliant
We used to make a distinction about working in a compliant fashion and working in a committed fashion. If you are committed about something, you talk from the heart; when you are compliant about your job, you are going through the motions a little bit.
When you are working on something that you're committed to, that is when innovation happens. You have that intellectual curiosity that pulls things through.
In my career, I spent a lot of time on trying to help make that distinction between commitment and compliance and to encourage people to work in a committed fashion. If they were not in a place where they could commit, then they needed to do raise their hand and go to their boss and say, 'Hey, I need to do something else.' And that is OK.  — Ray Pawlicki
Innovation structures: 'Unconferences' and an internal VC fund
There is an interesting balance and dichotomy between unstructured innovation and the need for structure. You want to use both. Here's how we do it: Innovation is in our goals and a core competency for everyone. Then at the leadership level, three or four times a year, we have unconferences: The top 60 people in the company, business and IT, unstructured. The CEO might frame it up by describing some challenges facing the company, and we have an open session. Some good ideas have come from that.
 Then you also need a structured process. We have just gone through budgeting for 2016, and I am being asked to put numbers to a vehicle for innovation. We're basically putting an internal venture capital fund — that is what we are calling it — into the budget, so if something requires some outside expertise, some technology investment, the seed money is there to fund it. — Steve Morin
 Bi-modal IT to ensure innovative and reliable IT
What is emerging now, as opposed to five or 10 years ago, is actually structuring the IT organization where you have somebody running the operations and then a separate group — whether it is a chief digital officer or head of innovation — but somebody who is taking accountability for what a pilot is, for defining how long a pilot lasts, and determining the funding for it. You have a person driving that and who has the correct title.
One of the organizations I work with as a CIO and a deputy CIO. The deputy CIO runs most of the operations and reports to the CIO. That seems to be emerging model because technology has become so core to the business.  — Ray Pawlicki
No matter how successful you have been at your company and no matter how good your reputation is for delivering solutions, external input is always going to be valuable.
Every year [at the Weather Channel] we had a conversation — internally and externally — asking: How would you compete with our company? What would you do right now, if you started a new company to compete with our company? What would you do differently? It is sort of a fascinating exercise. All the things we are talking about — mad-scientist ideas — are frivolous unless you are aware of the business metrics and drivers around you and can align your solutions to those metrics. — Brian Shield
---
December 31, 2015 1:04 PM
Corporate culture
,
Education
,
language
A day after I went to the Watertown, Mass., campus of Perkins School for the Blind to interview Bill Oates, the former CIO at the City of Boston and the Commonwealth of Massachusetts who now heads the school's business and technology division, Perkins Solutions, I got a phone call. It was Marilyn Rea Beyer, director of public relations for the school.
Before I wrote a profile on Oates and his new role at Perkins, she wanted to make sure of something. Did I use people-first language?
People-first? I didn't know what she meant.
Person before condition
"People-first" language, explained Beyer, is a way of speaking and writing about people with disabilities that aims to emphasize the person and de-emphasize the condition the person has. Preferable to blind person is person who is blind.
It's about showing respect, Beyer said, and it's the official line of the school.
"Perkins, from a communications viewpoint, wants to model the most respectful language possible when talking about our students, graduates and the community at large and that would go for any person of any description," she said.
As a journalist, I thought immediately about the linguistic twists and turns I might have to do when writing my article. The traditional English syntax of adjective-noun is simpler and shorter than noun-relative clause. But the reasoning behind people-first language made sense to me. It was accurate and more expansive than the usual shorthand: a short man, an overweight woman, illegal immigrants. (Plus, there's a journalistic tradition embraced by many, including the Associated Press — whose guide on style and usage SearchCIO uses as a resource — that sources should be described the way they'd like to be.)
Oates follows the school's policy on people-first language. In an hourlong conversation about his new role and the transition from being a CIO at state and city government to a business manager looking to technology to help his user population, he used the adjective-noun construction (blind person) just once.
No one is keeping tabs, Beyer said (though for the purposes of this article, I just did). What's important is that people begin their references with people-first language.
And though the blind is not a term Perkins uses, the historical name of the school isn't changing.
Conflicting views on people-first
Though people-first language is widely encouraged and used across the U.S by advocacy groups and government organizations like Centers for Disease Control and Prevention, it has its detractors. Sociologist C. Edwin Vaughan says the use of people-first language is awkward and repetitious and "calls attention to a person as having some type of 'marred identity.'"
The National Federation of the Blind adopted a resolution against people-first language in 1993, saying it amounts to politically correct euphemisms that are "unacceptable and pernicious."
Strong words indeed, especially when considering the mission of an organization like Perkins: "to prepare children and young adults who are blind with the education, confidence and skills they need to realize their potential." Certainly, it's a mission advocates on either side of the debate would stand by.
Let us know what you think of this post; email Jason Sparapani, features writer, or find him on Twitter @jmsparapani.
---