---
May 21, 2014 2:00 PM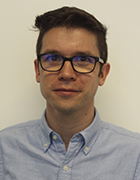 Profile: Alex Scroxton
Buzzard
,
EE
,
Wi-Fi
As a frequent cyclist around London I have to be extremely sensitive to what the drivers around me are doing in order to guarantee my own safety. Indeed, I always try to ask myself what is the most stupid thing a nearby driver could do right now, and react as if they have just done it. It's called...
December 9, 2013 12:02 PM
EE
,
Hampshire
---
September 20, 2013 11:38 AM
3G
,
4G
,
Android
,
Devicescape
,
EE
,
Wi-Fi
,
Wireless
Mobile operators may be arch enemies most of the time, but if there is one thing that brings them together onto the same side it is the threat of Wi-Fi.
When a user chooses to leap onto a wireless...
---
September 9, 2013 4:21 PM
4G
,
EE
,
Ofcom
,
Vodafone
,
YouGov
I was both surprised and impressed when I opened my email this morning. EE was shouting from the rooftops - through text form of course - that it had...
---
---
March 11, 2013 11:19 AM
Calais
,
EE
,
Mobile
,
Roaming
,
T-Mobile
---
February 19, 2013 11:47 AM
4G
,
EE
,
results
I have been eagerly awaiting the first set of results from EE after it came to market with 4G offerings. No, it is not just because I need to get out more, but because all our contacts at the firm have been so tight lipped about the number of users paying up for 4G contracts....
---
November 13, 2012 11:12 AM
4G
,
EE
,
London
,
Plymouth
There has been endless coverage of EE and its 4G roll out hitting the UK, but who can blame us? It seems to have taken forever for the UK to get on the 4G train and it is exciting that it is now possible to get the much speedier connections.
---
October 23, 2012 12:59 PM
4G
,
Ceefax
,
EE
,
Freeview
,
television
Today is a memorable day in the worlds of television and mobile. It may not be one celebrated with balloons or mourned with Robbie Williams' songs but it does mark a significant change in the technological landscape of the UK.
The last analogue...
---