---
July 26, 2013 1:10 PM
BBC
,
filtering
,
Huawei
,
Porn
,
TalkTalk
English: Huawei Technology in Shenzhen, China (Photo credit: Wikipedia)
The BBC today 'revealed' Huawei was the company behind TalkTalk's net filtering system known as HomeSafe. The service allows customers of the ISP to choose to block certain types of content from their homes, from pornography to social networking sites, and has been available since 2011.
Although praised by Prime Minister David Cameron, there is a fundamental difference in the system compared to what he has been touting this week. HomeSafe is voluntary. Cameron, however, is saying he wants content deemed as porn to automatically be blocked unless the household can face the embarrassment of saying they want to receive it – an automatic opt in to blocking in other words.
Now, I have a lot of problems with this proposal, even ignoring the technological issues surrounding it. If this actually makes it through to being legislated, I won't be blocking anything to my internet connection, not because of some insatiable need for adult films (hush you dirty minded lot) but because I don't trust what will be deemed pornographic by those making the rules.
The fact our government seems to keep mistaking child abuse and porn in their current rhetoric proves the extreme one way, but how extreme will it go the other? The Daily Mail online? Page 3? Anything with a Kardashian – OK, now the blocking isn't seeming so bad…
But also, I don't feel comfortable with the list of things blocked under these new rules. For example, I don't condone extreme violence but that doesn't mean I don't want to see it in news reports exposing horrendous activity that should have a spotlight shone on it.
So in my opinion, the only hope of these proposals being taken seriously and having a chance to be accepted will hang on who decides on the definition of the content.
Right now, Huawei makes that choice for TalkTalk. This has caused some nervous reactions as the firm is still facing questions over links with the Chinese government and, no matter how many times they say they can be trusted, fears in the UK have yet to be sated – although the reaction has been much more proportional than the US for example.
But I think everyone needs to calm down. TalkTalk is happy with Huawei's database of which sites should be blocked and which shouldn't, the service is voluntary and although all requests to the internet over TalkTalk routers go through the system, it doesn't stop people viewing website unless they have chosen to do so.
It is of no surprise to me that one of the leading technology companies from the country most renowned for blocking content has been deemed the one with the best software to do this for a voluntary scheme.
Now, if the automatic opt in proposals come into force, more questions would need to be asked if Huawei was used. Not because it is a Chinese firm, but because I don't think a private sector company should be making the moral decisions for UK households. Admittedly I don't think the state should either, but interest groups from both sides, academics, media representatives, a huge array of society should have a say on what is blocked or not blocked, not one company or one Prime Minister.
I remain somewhat sceptical about Huawei as I have yet to see proof either way of its guilt or innocence when it comes to sharing information with the state. What I do know is its technology is highly thought of within the telecoms sector and if these experts continue to choose it, there must be a reason.
What I don't like seeing is yet another fear mongering article about the Chinese getting into our networks, distracting from the real issue – the UK government getting into our networks. Let's worry about the results of Downing Street's latest ploy to win votes first before we get het up about things that haven't even happened yet, or may not even come to fruition.
July 11, 2013 2:52 PM
4G
,
Broadband
,
consumer
,
Ofcom
,
YouGov
The operators argued until they were blue in the face, Ofcom kept us waiting and waiting, and EE put all of its investment squarely behind the technology – but it seems the person on the street couldn't give two hoots about 4G.
A report released by YouGov today shows 33% of consumers "can't see the point" of 4G, whilst 31% have no idea of the benefits it offers, despite the mobile providers making such a fuss about the speedier mobile networks.
It reminds me of the obsession with superfast broadband. Whilst governments and ISPs all rant and rave about speeds of up to 300Mbps, take up is still incredibly low – just two for every 100 broadband connections, according to Ofcom.
Let's face it, the geekier amongst us may long for these dreamy speeds but the average consumer just wants capacity to stream iPlayer without any buffering.
The only way we can measure adoption of 4G is through EE as the only operator in the UK offering the technology, but it has always been a bit shifty about revealing adoption figures too, signalling a lack of appetite for the speeds.
At least with 4G the wait for roll-out has been relatively small compared to fibre. All the operators should have their services live by the end of the year, meaning competition will be improved and hopefully the premium prices will come down, perhaps attracting some more people on-board.
But what this report shows is the technology industry is failing to get the message out about what 4G brings to the user and their device. Maybe we should all stop arguing with each other and start showing the world what faster networks can do.
---
July 8, 2013 2:25 PM
Networking
,
User groups
At Computer Weekly, we like to bring you the real stories of how your peers are using technology in their businesses and organisations, not just what the vendor wants you to hear about their latest solution.
But the key to these stories is not the journalist or even the technology, it is you and your experiences, and we think it is time those working with the networks were given more of a voice.
We are seeking networking managers or IT managers with a strong focus or passion for networks to form the first Computer Weekly user group for networking.
We plan on starting small, getting a few of us together over dinner to talk strictly off the record about issues important to you and trends within the industry you are excited about.
But from there, who knows. We hope to grow the group and start having regular events with interesting speakers talking on the topics you care about, as well as giving you a chance to network with your peers and share your thoughts and experience.
So, if you want to be involved from the start or be kept up to date with progress as the user group grows, get in touch with me at jscott@techtarget.com.
I cannot wait to hear from you and learn more about what you are going through as the leading networking managers in the UK.
---
July 5, 2013 11:02 AM
BDUK
,
Brussels
,
DCMS
,
European Union
,
NAO
English: Parliament buildings London UK (Photo credit: Wikipedia)
Yesterday, I received the National Audit Office's report on the BDUK project for rolling out fibre broadband.
The report sought to answer whether the scheme represented value for money f
r the taxpayer and how it was progressing so far, and there is no other way to describe it than painful reading.
The NAO slammed the government – specifically the department for culture, media and sport – for limiting competition with the process it put in place and not being strict enough on checking whether the figures the incumbent provider BT put forward for the project were fair. But the headline grabbing story is how far behind schedule BDUK is.
Rather than 90% of the UK having access to superfast broadband – which the government defined as 24Mbps and above – by 2015, now we will have to wait until 2017 to reach this goal – albeit with an extra 5% of the population promised coverage.
That is 22 months late. The DCMS has tried to blame agreeing state aid funding with the EU but, as the report points out, this only took six months longer than the initial planned period of five months, so it is a joke to try and place the blame solely at Brussels' door.
I spoke to the DCMS yesterday and asked for more reasoning – or excuses – as to why this hold-up had happened and they told me: "This is a major programme and the timetable depends on a number of factors including procurement timescales, readiness of local bodies, and supplier capacity. It will also rely on capacity being released from the commercial deployment."
The spokesman said now the department had clarity on the procurement and implementation timetables they could make "a better assessment of the necessary timescale than was the case when the programme was first announced."
I'm sorry, but shouldn't the DCMS have done this in the first place? It has been in talks with industry for years about this project and it should have taken the advice and technical nous of these partners to identify how realistic the roll-out was.
I can't help but think this is still a money issue. I know I have ranted along these lines before but why are we spending so many billions on other elements of infrastructure in the UK when our internet connectivity is so far behind?
The web is the modern equivalent of roads and rail; it is as the old phrase states the internet super highway! What it can bring in services to the public, economic benefit to companies able to present on a global scale and even just communication between one another should not be put second to a high speed rail line that no-one seems too bothered about and won't be completed for 20 years.
The government promised £100bn for infrastructure projects last week. Of that, just 0.25% is going to broadband whilst around 40% is planned to be spent on HS2. This makes no sense! Yes, things like the National Programme for IT (NPfIT) show that just throwing money at the problem doesn't always work, but there is no doubt in my mind better funding would speed the roll-out and put some of the original goals back on track, plus you cannot argue austerity when there is £100bn in the pot.
Both in Europe and the wider world, speeds are shooting through the roof and governments are accepting the need for superfast internet connections. Here we are now saying everyone will have 2Mbps by 2017. That goal might have been ok when labour touted it for 2012 but with the EU setting a target of 30Mbps for all by 2020, it is just embarrassing how far behind the curve we are.
In the end, it is the UK that will suffer for this dawdling and the mistakes made by the DCMS. We cannot compete on the global stage in business and innovation with the basic technological foundations missing and rather than pushing back deadlines and crying about the deficit, the government should stand up, open the public purse and start pushing this project forward at the rate it should have been from the beginning.
---
July 4, 2013 10:31 AM
Internet access
,
Lemmy
,
petition
example of a riff of traditional heavy metal (Photo credit: Wikipedia)
It is no secret to regular readers of my blog that my heart is filled with music of the somewhat heavier persuasion. Whilst technology is a passion, heavy metal is and always will be my first love, from the beginnings of Black Sabbath to the Black Metal of Behemoth.
So, as you can imagine, when the two combine into a campaign I agree wholeheartedly with, that blast beat filled heart of mine skips one and I stand to attention.
A new radio station named Team Rock – something my friend and I refer to as Team JSco as the tracks look like my Spotify playlist – has launched a campaign calling for free Wi-Fi networks to be set up across the UK.
Such connections are available in South Korea so the founders of the station are asking, and rightly so, why can't we have it in the UK? And let's face it, with announcements in recent weeks of the government back tracking on its 2015 targets for rolling out fibre broadband and only putting 0.25% of its extra £100bn investment into infrastructure towards the roll-out, we need to think how we are going to get this country connected.
Team Rock has started a petition on the Number 10 website to try and rally support, not just from rockers like me but any part of society that believes internet connections are needed and needed now.
"Aside from providing new opportunities for businesses, it would spur a massive boom in innovation," it reads. "It would also bring connectivity to remote areas of the country which suffer from poor internet access."
Whether you appreciate the dulcet tones of Trent Reznor or not, you can't disagree with that.
With 100,000 signatures, we can get this debated in parliament so come on, sign up, or I'll send Lemmy round to persuade you…
---
July 3, 2013 10:50 AM
4G
,
BT
,
OTT
,
Wi-Fi
BT Ireland logo (2005 – Present) (Photo credit: Wikipedia)
Last night, I had the pleasure of sharing dinner with the CEO of BT Global Services Luis Alvarez. And yes, that isn't me being facetious; he was actually very pleasant company and very affable – not something always associated with BT execs in my previous experience.
We chatted for a few hours on topics from cyber security to his son's jukebox mobile phone app, but I was intrigued about his revelations on the 4G space.
BT bought into 4G as the surprise bidder in Ofcom's spectrum auction earlier this year. Going under the name of Niche Spectrum Ventures, it got a bargain compared to other operators, winning 2 x 15MHz of 2.6GHz and 1 x 20MHz of 2.6GHz for just £186m.
But the outgoing CEO, Ian Livingston, promised BT would not be re-entering the mobile market – even if I can't help but think the firm has been kicking itself for years for letting go of its assets that now sit under the O2 brand.
Alvarez revealed last night the firm's plans of plugging 4G into its wireless routers, giving more connection options to its customers. But what perked my interest was this wasn't just a data option in his eyes.
"Around 80% of mobile calls are made inside buildings," he said. "By offering 4G connectivity through our routers, customers can use our 4G network to make calls, seamlessly switching between Wi-Fi to the 4G connection."
The CEO denied it was directly competing with mobile operators. However, he said BT was working on applications that could be used as "over the top" services – IP-based solutions like Skype or WhatsApp that use the hardware but circumnavigate the mobile network – for making phone calls, meaning it would be taking revenue from the other providers.
It doesn't seem like we will have long to wait either. Alvarez said the technology was already being tested and roll-out could happen this year, which would coincide with the other winners in the 4G auction launching their own services.
The move seems like a smart one by BT. It may not have a mobile network in the UK but its growing Wi-Fi offering, alongside the superfast broadband reaching out to all areas of the country and now its new sports channel gaining traction, it needed some sort of mobile option.
Its success, however, will depend on pricing. The appeal of BT Sport is you get to see premium content for free. Will we get premium connections for similar? I highly doubt it, but if they make it price competitive, it could stop users from upgrading to 4G contracts with the likes of EE, Vodafone, 3 or O2 and instead plump for having fixed 4G on their home router or when roaming from hotspot to hotspot.
What is clear is BT won't make any friends in the mobile marketplace, but who needs friends when you have 4G?
---
June 12, 2013 12:03 PM
Huawei
,
Whitehall
Banqueting House, London (Photo credit: Wikipedia)
Yesterday was possibly the most awkwardly timed summer party I have ever attended, and not just because of the ironic grey clouds hanging around outside the window.
Just a week after the publication of the ISC's report into allowing certain vendors' equipment into our critical national infrastructure, Huawei hired out Banqueting House, smack bang in the middle of Whitehall, for its annual bash.
The event was mostly for customers and high profile ones at that – I had a very nice chat with representatives from Telefonica Digital and EE – but there was also a smattering of intrigued MPs, such as Stephen Timms, and, of course, a few journalists like me.
Huawei's PR team told me the event was planned months ago to coincide with the opening of its new UK headquarters down in Reading, but they couldn't keep the sad expressions from their faces that any event this close to the ISC report would focus on the more controversial topic of whether the Chinese firm could be trusted by the British, not a shiny new building.
David Willetts, minister for universities and science, gave the opening address, which showed what a different attitude the UK had to the US for example, which has damned using Huawei as a threat to national security.
Instead WIlletts was very focused on the economic growth we could gain from the firm's investment, not just with jobs at home but with exchange programmes, research sponsorship and SME partnerships all tied in with this growing company.
The cynic in me is unsurprised that the Tory politician thinks of profit and private markets before safety and security, but in all honesty, there is still yet to be any proof Huawei's equipment is capable of leaking information to the Chinese government, unlike its proven track record of booming results and growth across the world.
The only thing that laid it on too thick for me was the speech by Huawei's CFO, Cathy Meng, who whilst a calming influence, used the word trust around seven or eight times in her three minute delivery, and I really don't think even the cabinet are that trusting of Chine telecoms firms.
What we need is some categorical proof either way about Huawei's equipment, not scaremongering US politicians or incredibly British reports that focus on the process rather than the technology.
If it is shown on paper the kit is safe, maybe next
year's summer party won't be such a nervewracking experience for everyone involved and words like 'trust' and 'transparency' from MPs and CFOs will be more believable.
---
June 11, 2013 3:47 PM
BT
,
Fujitsu
,
NAO
Late last week, the NAO revealed it was looking into the government's BDUK project to roll-out broadband across the country and whether the £530m being invested was value for money.
Today, Whitehall insiders told the Financial Times that the BDUK process was "a train crash waiting to happen" and the report from the NAO – due out next month – would attack the lack of competition and transparency.
I just keep thinking, what has taken everyone so long???
The 'process' – and I used those inverted commas deliberately – was established back when Jeremy Hunt was the Culture Secretary in 2011; the days when we used to look forward to hearing him on Radio 4 in case another spoonerism popped out.
In my opinion, it was clear then that the incumbent BT was going to be favoured by the government who had an on-going relationship with the provide – look at how much it has left BT to its own devices during the Huawei affair. Also, as many of its rival bidders said, BT was the only company with the scale to do what the BDUK plans proposed, as it was designed for big contracts, not local providers.
It was of no surprise to me that only BT and one other – Fujitsu – got accredited and I experienced even contracts, making it a waste of their time getting involved.
The only place I tend to disagree is the value for money aspect. I still find the £530m figure for rolling out infrastructure across the UK that is so important to both our cultural and economic progression a pitiful amount and feel when we can throw millions at a new railway line that won't even be operational for a decade, we could easily put more into the pot.
However, if alongside the investment from BT and the funds from local councils, we can actually achieve superfast access for 90% of the country and a minimum of 2Mbps for all by 2015, I will be pretty impressed.
But that is the final bullet in the gun that is going to damn the government. The NAO clearly doesn't think this target will be met. Rumour has it even David Cameron is grilling the current culture secretary Maria Miller about the likelihood of hitting the deadline in cabinet today, following a recent audit that showed the scheme was under pressure.
There is no doubt in my mind that more money and more operators involved would have made for a better process. With more competition, more openness about the contenders and more bucks to spend, everyone could have benefited.
Now, we are stuck at the half way mark of the project, unsure if we are to complete in time and, with the state of the current administration, whether those in charge will be there to see it.
Needless to say, the NAO report will be a tough read for all those involved and may bring up some home truths the DCMS have been sticking their head in the sand to hide from.
Until July then…
---
June 10, 2013 12:15 PM
HTC
,
samsung
,
twitter
We all like a good squabble, especially when watching from the sidelines. Trust me, had you been part of my friendship group in the past few weeks you would have had quite a floor show! But, I always feel a tad uncomfortable when that line is crossed in the business world…
The end of last week saw HTC winning a gong at a mobile awards ceremony for 'hottest phone of 2013' for its HTC One device. Nicely done HTC… or that's what I would have said until the firm's UK PR team decided to show off on Twitter.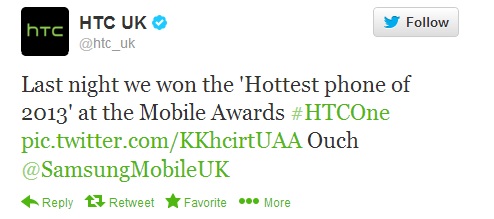 Now, was that necessary guys? I know you tweeted it at 3:44am, so you must have had a few shandies by then, but no-one likes a bad winner and that was the textbook definition of one.
Unsurprisingly, Samsung's UK PR team returned the favour over the social network, rather than being the bigger company and walking away. It, unlike HTC, has now deleted the comment, but it said…
"@htc_uk That's okay guys, our arms were full with the other three awards we took home last night. You can have that one!"
Up until this point, I could have just shrugged and thought "silly drunk PRs being silly on Twitter" – trust me, I know a fair few drunk PRs – but then things turned nasty and HTC accused its rival of much more than unsportsman-like behavior.
This tweet has now also been deleted but it read: "@SamsungMobileUK all those students you paid to write fake reviews of your competitors finally paid off. Pay rise, maybe?"
Eeek, that is one serious accusation to make, especially during these rather fraught and litigious times in the mobile industry.
But, upcoming law suits put to one side, it is just a pathetic way for mobile manufacturers of these guys' size to act. Childish banter can be saved for the awards ceremony or down the pub with colleagues, not on the feeds that represent you to your customers, not just in this region but around the world.
Between the two firms they have almost 100,000 followers. That is 100,000 people they have shown their lack of professionalism to and that they just care about cheap shots after too much Tattinger.
Twitter has become the customer service tool to answer many prayers, but you must tweet with respect if you expect to garner any. Put your toys back in your prams HTC and Samsung, it ain't big and it ain't clever.
---
June 7, 2013 1:29 PM
Wi-Fi
,
Wireless
Wi-Fi Signal logo (Photo credit: Wikipedia)
Earlier this week I had the pleasure of visiting a sun soaked Spain to talk all things Wi-Fi with Aruba Networks.
Ok, as the conference was based just outside of Benidorm, I can't pretend the flights were particularly joyful – not often I get my bottom pinched 35,000ft in the air by members of a singing rugby team from Doncaster – but once we had arrived at the venue, there was clearly a lot of knowledge and enthusiasm for the subject, bordering on the infectious.
That is why one conversation left me a little dumbfounded. I interviewed the head of IT for TGI Friday's, Jeremy Dunderdale, and he gave me lots of details around how the chain of restaurants was taking advantage of wireless technologies. Yet, he had little to no passion for offering this service out to customers.
"Some people put it in to try and attract guests but we are [already] a busy restaurant," he exclaimed, with a slight arrogance that shouldn't be present in the current economic climate.
TGI Friday's trialled customer Wi-Fi back in 2010 but Dunderdale claimed staff were using it more than visitors. He then said it just hadn't been a priority for the business with more important networking issues to face.
But we are now in 2013. Nearly every week I am writing about a new chain restaurant, coffee shop, even sports venue that thinks Wi-Fi is a necessity and public facing businesses are rolling it out thick and fast across their venues. Why on earth would TGI Friday's want to be behind?
The fact is mobile device adoption has exploded. You can't go anywhere without seeing a smartphone, tablet or other connected gadget, even if you are out for dinner with a loved one. Customers want Wi-Fi and want it everywhere, with retailers at the forefront of trying to keep them happy.
Dunderdale said TGI's hadn't deployed it because it wasn't "business critical" and, despite admitting it was starting to edge that way, didn't believe we were yet at the point customers would make decisions about eating somewhere around connectivity. But I think we are closer than he believes.
If I am going out for a romantic meal then no, Wi-Fi would not be my priority, but then neither would a chain restaurant like TGI's. I use places like that when I am on business trips, ensuring I can get a reliable meal and some work done at the same time.
When I am in such places, I often notice the other clientele are like me or younger crowds who want something cheap, quick and fun on a night out. These are the same people who are surgically attached to their iPhones.
If these are the two groups of people making up the bread and butter business of a place like TGI's, I already think offering them reliable, and free, connectivity is the right move to make and one that needs to be done as quick as possible. Fall behind now and they will just go to one of the other high street names that gives them everything they want.
I understand there were bigger fish to fry when Dunderdale took over in 2007 and now they have a superb sounding wireless network for a number of business applications. But in the service industry, your business is your customers, and having an all singing, all dancing wireless EPOS system will become pretty redundant if you don't have the people buying the meals.
---