May 27 2009 5:06PM GMT

Profile: WPeterson
Despite gloomy news for BT execs (BT CEO Ian Livingston was the only one to get a bonus), Fierce Telecom's Dan O'Shea predicts telecom upper management will be safe from shareholder pay activism:
Still, as Washington Technology recently reported, "say on pay" measures and other shareholder activism moves have yet to find sustained footing at many telecom firms. For example, the publication said that proposals related to shareholder input on executive compensation failed to find enough support from Qwest Communications shareholders. A similar proposal misfired at Frontier Communications. Also, while Verizon has its "say on pay" advisory vote, a proposal that would require shareholder approval of death benefits for executives failed to garner enough support.

… It also is not clear how seriously corporate boards might take "say on pay" votes as they actually address the issue of executive compensation. To date, there doesn't appear to be such a thing as a binding "say on pay" vote.
Are the industry's shareholders really all bark and no bite, even as executive counterparts in finance and the auto industry bite the dust daily? Maybe, and if so, it's probably due to the fact that with all the doom and gloom, telecom remains a relatively stable bet.
Just compare stock prices from some major service providers vs. major auto manufacturers the past few months: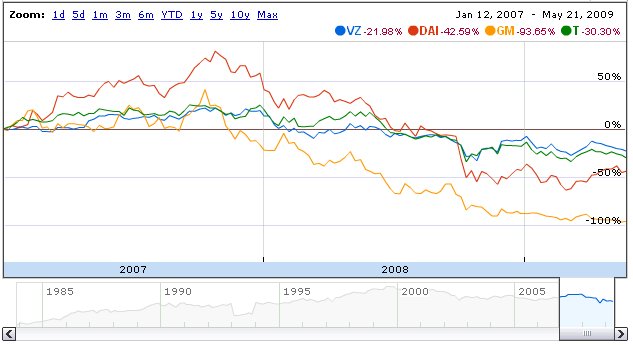 While oversized executive pay is still definitely a topic worthy of conversation, it seems like telecom, at least as far as shareholders are concerned, might be treading relatively safe waters.
BT's own employees, however, might be a more skeptical audience. As the Times Online reported:
The telecoms group, which recently announced plans to shed 15,000 jobs after huge losses in its IT unit, said that the award was based on "non-financial" elements, including improved customer service and "environmental and social measures". … the move is bound to anger unions and workers who have been shed by the group.