Jun 16 2009 1:28PM GMT

Profile: WPeterson
How do you find your customers when trade shows start drying up? Take the show booth to the customer. That's Ciena's idea, anyway, and while we know they're not alone, they were the only ones to invite us aboard their 16-wheel demonstration booth when it recently stopped near SearchTelecom.com's Needham, Mass. offices.
Inside, potential customers (as well as SearchTelecom.com's Editorial Director Susan Fogarty and I) were presented with fairly standard racks to inspect Ciena's latest (and classic) offerings, like the CN 3920 (pictured far right bottom on rack) and the CN 4200.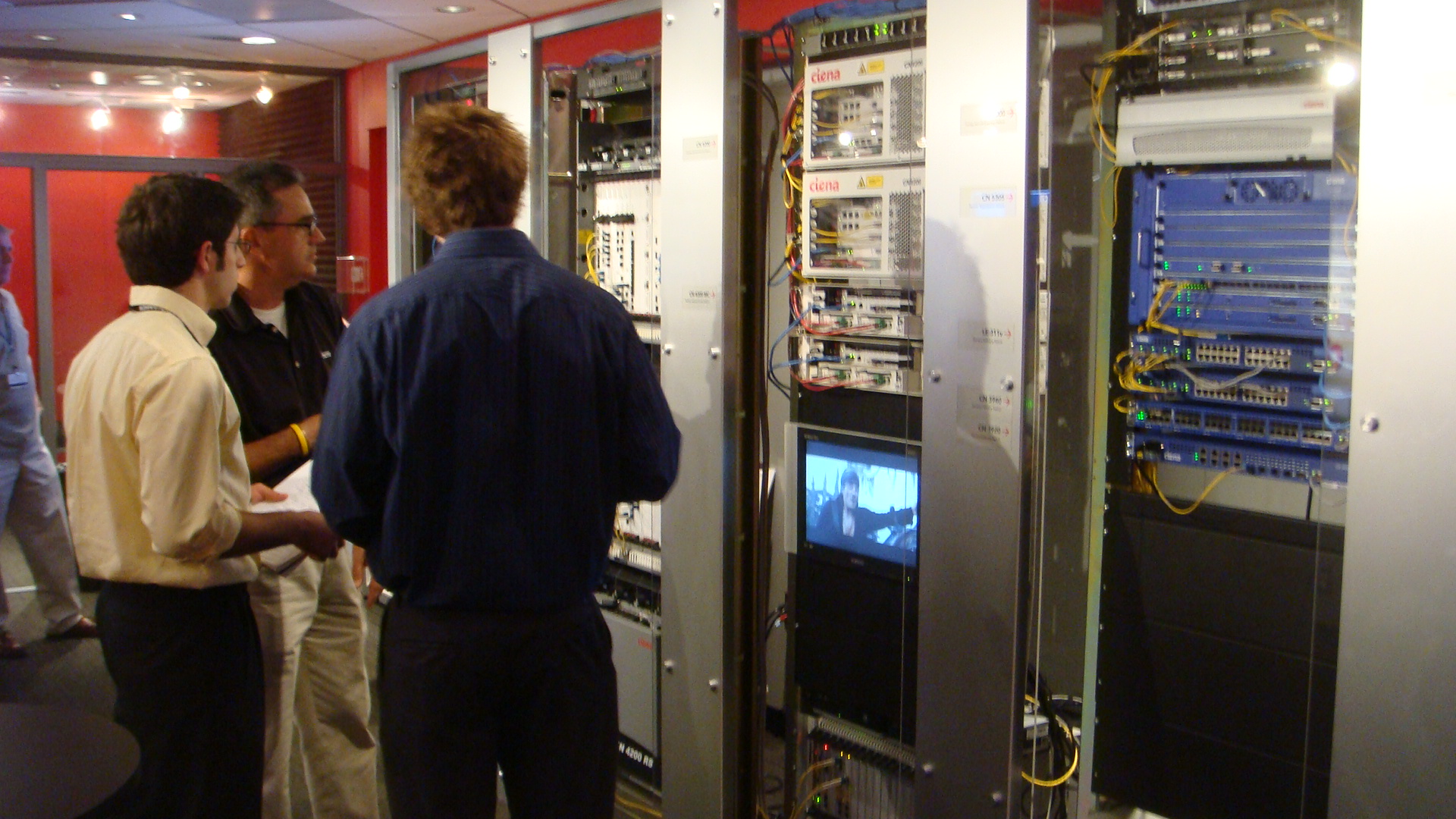 The truck roll gave Ray Patalano, Ciena's senior manager of field marketing, a chance to showcase various features of Ciena's hardware, but beyond walking us through a spec-sheet presentation, Ray shared some of his thoughts on telecom growth opportunities.
And where are these early green shoots to be found? No place other than the financial services industry, according to Ray.
"We lost some orders, no question about it," he admitted, saying that even now sales are not near the heady pre-recession days. But he said Ciena is seeing an uptick again, particularly as the remaining finance players seek every possible advantage to stay afloat in tough times.
"Now what we're seeing is small hedge funds in Connecticut saying 'we want dark fiber,'" he said. "What do they need dark fiber for? They don't even know what dark fiber is, but they know they want the shortest, fastest route. Anything where you see reduced latency is always in demand."
Ray said healthcare has also been "very, very busy," particularly as some institutions investigate bandwidth intensive, latency sensitive applications like tele-surgery. Even for those medical institutions that are a little behind that curve, archiving and transmitting medical imagery takes up huge amounts of bandwidth with little room for data distortion.
Ray was a little less upbeat, however, about the prospect that the broadband stimulus would drive a whole lot of new business, or even be that good for the industry or country as a whole.
"I'm nervous it's going to shake out poorly, where we have these pockets [of connectivity] again," he said. He cited the slow, halting pace of the grant process, estimated that it would be at least 12-to-16 months before any stimulus-driven telecom work was actually done.
Further Reading: