Jan 28 2011 12:58PM GMT

Profile: Jessica Scarpati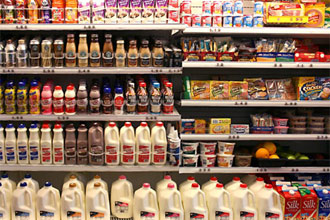 I used to have an editor that often made this crackpot comparison of the news industry to dairy farming. People always need milk, he said. They could either buy the cows themselves, raise them, feed them and milk them every morning — which took more time and money but usually delivered a better product — or they could swing by 7-Eleven and pick up a half-gallon for a fraction of the time, energy and price (and quality, most likely). No matter how they got it, people needed milk. He felt this way about print and online journalism. I'm not sure the metaphor translated perfectly, but his point was that although our method of delivery might change, news would always be in demand.
I think Verizon just showed today that it's going to 7-Eleven.
With the announcement of its pending acquisition of Terremark Worldwide Inc, a global managed IT service and cloud provider, Verizon signaled that its cloud strategy will be focused more on building services on top of the cloud than wasting time and money on building clouds themselves.
Verizon COO Lowell McAdam indicated as much on a conference call with analysts Friday morning, as reported by Steven Russolillo of Dow Jones Newswires:
Verizon said it sees a tremendous growth opportunity in Latin America, particularly in Brazil where Terremark already has a strong presence.

"This is a classic make or buy decision," McAdam said. "By the time you build data centers and then outfit them… it takes time. And to be honest, that's not our core competency," which led to Verizon's decision to pursue Terremark.
SearchTelecom site editor Kate Gerwig and I recently spoke with Verizon about its cloud strategy for 2011 (though now I wish we had waited a week). Patrick Verhoeven, manager of cloud services at Verizon Business, emphasized Verizon's two decades of experience in the data center — but not from an infrastructure perspective. Telecom operators will differentiate and succeed in the cloud by adding value on top it, through products such as Verizon's application and security management services, Verhoeven told us.
"Unlike some of the other pure-play cloud service providers out there, like Amazon and others, we view cloud as a means to an end. The end game is not cloud," he said. "We own the network. We have one of the most robust security practices in the industry,  and now we have one of the most robust IT practices…. That's what's unique about the telcos."
As we recently reported, telecom outsourcing for cloud infrastructure may also make sense for some operators, depending on whether their needs are greater in build-out or day-to-day management. But I think at least for now, the market's eye is on which cloud provider is next to be gobbled up in, as Forbes' Eric Savitz puts it, telecom's data center feeding frenzy.