---
January 8, 2009 3:27 PM

Profile: Kate Gerwig
The recession feels like it will go on and on, yet so does the demand for bandwidth. So when it comes to the optical networking market, service providers need to put their recession anxiety on hold and move bravely forward.
Yes, analyst firms have huddled and are now predicting declines for the global optical equipment industry, but this is definitely not the abandon ship mode of the 2001 optical networking crash. Analyst firms are still pointing to bright spots where growth will occur anyway, despite dismal financial credit markets and capital investment projections. It all depends on what segment of the optical market you look at.
Right before the new year, Ovum revised its optical equipment forecast downward, so rather than 11% growth in 2009, Ovum says a 5% decline is more realistic. Even so, Ovum believes the optical market will start healthy growth again in 2010 to create a market worth more than $23 billion in 2013.
It's no surprise that Ovum sees the smallest decline in metro wavelength division multiplexing (WDM) gear since metro networking is front and center for service providers this year as they gear up – literally – to handle more high-bandwidth traffic like video closer to users.
On the very long-distance end of the market, the submarine systems submarket may actually grow this year, due to transoceanic investment from traditional telecom players, as well as companies like Google. And it's worth mentioning that submarine systems require a whole lot of optical components.
Infonetics Research is on the same page in terms of optical segment inclines and declines. Global sales of packet optical transport systems equipment should continue to grow, which means there will be gradual decreases in SONET/SDH equipment sales, according to Infonetics Research President Michael Howard, who calls the recession's impact on the global optical network market "minimal." Consumers and businesses are contending with more bandwidth-intensive applications, and service providers aren't abandoning their IP transformation projects as much as maybe delaying certain expenditures for a quarter or two, but not cancelling them.
The 2009 outlook for the optical market could be called the best of the worst.
January 7, 2009 8:39 PM
The United States continues to lead the world in broadband revenues even as the U.S.'s subscription rate rank continues to drop, according to a new report by Pyramid Research.
According to data compiled for the report, Global Fixed and Mobile Broadband Outlook, the U.S. generated more than $32 billion in broadband revenues in 2008, a long way ahead of second-place Japan, which generated $23 billion in broadband revenues.

Germany was third in the chart, with more than $11 billion in revenues, followed by China with $7.9 billion.
The per-capita revenues, when thrown against total country population numbers, was quite a different story, with Japan's revenues almost 80% higher per citizen than in the United States, while China's per-person revenue came in at just $5.91 per person, a number that will likely rise dramatically as the country works to improve on its broadband penetration of just 3.7%.
Finally, I ran Pyramid Research's numbers against the total of number of actual broadband subscribers and came up against some really surprising trends: While the complaint is often leveled that U.S. telecoms are gouging customers for less service, service providers in Japan and Germany, particularly the former, are seeing much higher annual revenues per user.
---
January 5, 2009 5:07 PM
Exchange Server ActiveSync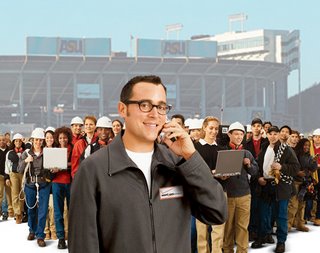 As DSL Reports notes, Verizon will close the Alltel acquisition on January 9th, creating the United States' largest wireless carrier with a combined 83 million customers, 13 million of which come from Alltel.
It's a big day for Verizon, which will be finally surpassing AT&T but also taking on $22.2 billion in Alltel's debt as well as selling off assets in 22 states, per deals with the Justice Department and FCC.
"The Department said that the transaction as originally proposed would have substantially lessened competition to the detriment of consumers of mobile wireless telecommunications services in those areas," the Justice Department stated in release last year, "and likely would result in higher prices, lower quality and reduced network investments."
Verizon managed to work out a deal that satisfied both bodies, however, and was upbeat about the partnership's prospects. Lowell McAdam, Verizon Wireless president and chief executive officer, released a statement:
"This move will create an enhanced platform of network coverage, spectrum and customer care to better serve the growing needs of both Alltel and Verizon Wireless customers for reliable basic and advanced broadband wireless services."
---