---
April 17, 2009 3:00 PM
Time Warner Cable is canceling its trial plans for what the company termed "consumption based billing," citing consumer confusion, as DSLReports.com notes. I think a likelier culprit is the threat of legislation from the likes of Senator Chuck Schumer and Congressman Eric Massa, as well as a heap of bad publicity Time Warner Cable got as a result.
Is it really Time Warner Cable's fault?
"The issue here is that 90% of the people writing about this topic are writing stupid, self-serving, cowardly bull," Tom Nolle, president of CIMI Corp. and SearchTelecom blogger, told me when I first began interviewing him on the subject. In Tom's eyes, and the eyes of much of the industry, the current model is simply not going to work, and it's not fair to either the majority of customers or the carriers that some "freeloaders" can drain as much bandwidth as they want, while paying the same amount as the proverbial grandmother who checks her e-mail twice a week for pics of her grandkids. Continued »
April 16, 2009 5:46 PM
Even as The New York Times Magazine sees the end of the Cuban revolution at hand, Obama is strengthening long-severed ties with the lone Communist country in the Americas by loosening trade restrictions, particularly those related to communications.
As the Miami Herald reports, service providers are now free to build communication links to the island nation of over 11 million people, including fiber and satellite links, as well as develop cellular roaming agreements within the country.
The Herald notes that at least some service providers are weighing the opportunity:
"We will look at any change in U.S. policy very closely, and should a new market opportunity arise in Cuba, carefully consider our options," said DirecTV senior vice president Jon Gieselman.

AT&T, Verizon and Sirius Radio had no immediate comments. Enrique Lopez, who runs AKL Group, an international telecommunications company in Coral Gables, doubted that the Cuban government would allow much in the way of more open communications.

"Anything that attempts to bypass government control will be politely rejected," he said.

Eight U.S. companies are licensed by the Federal Communication Commission to provide long-distance service to Cuba through cable or satellite, including AT&T and Verizon. It's not clear how many actually provide the service, however.
While the Cuban government can be difficult to work with, particularly if a company wants to offer unfettered communication , those 11 million potential customers (only an estimated 200,000 of which have cell phones) could make it hard for carriers to resist Havana Nights.
---
April 10, 2009 4:15 PM
Time Warner Cable has been experimenting with metered service in select markets, and recently decided to expand into four more markets after tweaking some policies, BusinessWeek reported.
Unfortunately for Time Warner, policies aren't the only thing being tweaked. DSLReports.com summarizes much of the backlash from customers, press, and even legislators:
Earlier this week [Time Warner Cable CEO Landel Hobbs] insisted consumers wanted metered billing, despite obvious indicators to the contrary. In the [New York] Times he's lost in sort of a public relations purgatory, trying to soothe investor worries by saying finances are fine, yet at the same time trying to tell consumers that they have to pay by the byte because the entire billing model the company is currently built on is utterly unsound. At no time is supporting data (network or fiscal) introduced.
That Time Warner Cable's business model is unsound may be absolutely true, given the drastic drop in the price-per-bit, but Time Warner is drinking its own Kool-Ade if it thinks customers will happily move to a metered billing plan. Time Warner would better spend its time to think of another plan or watch its customers go elsewhere. Maybe Time Warner is on the bleeding edge of this trend, but in this case, it won't be good for business.
---
April 3, 2009 9:35 PM
Just last week, I wrote that despite little direct revenue, app stores are critical for telecoms' success in reducing churn and selling more data.
AT&T seems to agree. Already, the company is tied into the most prominent application store with Apple's iTunes, but it's a partnership that leaves AT&T with none of the application revenues and little control.
As MediaPost reports, however, AT&T is getting more proactive serving applications to their millions of non-iPhone using customers. Continued »
---
April 2, 2009 9:26 PM
OK, so maybe Juniper Networks has been busier than it lets on, but the company is hoping its latest product push will help make telecom providers' lives a little easier, and its own business a little more profitable.
The company introduced StreamScope eRM, a version of Triveni Digital's popular video monitoring platform that sits directly on Juniper routers, rather than needing a new appliance or probe.
It's the first time Juniper has done video analysis, but that didn't worry Tom DiMicelli, Juniper's product marketing manager in the Edge and Aggregation Business Unit, when I talked to him about the launch.
"We really feel [our solution] goes to market with the most comprehensive set of features and capabilities in video monitoring," he said, basing that assertion on the company's decision to pair with Triveni. Juniper even provided a handy graph showing where Juniper thought its product trumped the competition.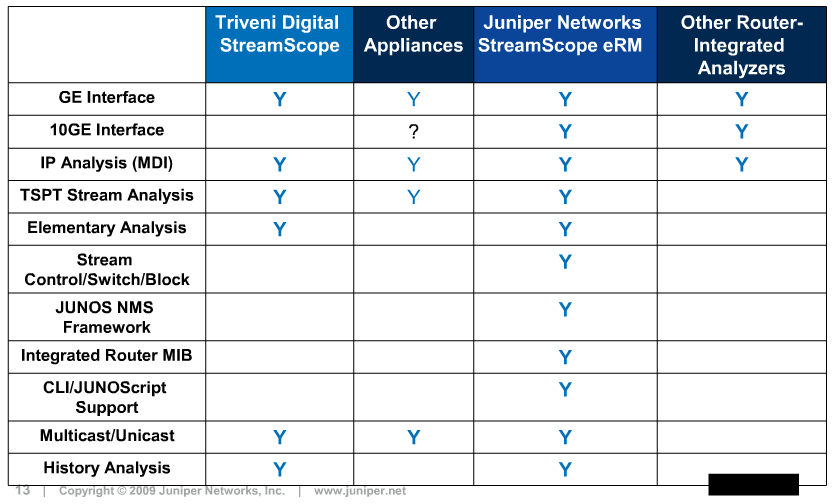 DiMicelli said embedding the capabilities was possible because of Juniper's Partner Solution Development Platform, announced about three months ago, which allows select partners (Triveni is the first) to embed their applications directly on the company's routers.
---
March 27, 2009 2:57 PM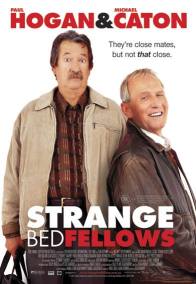 Well, maybe not that strange. In his commentary on the recent Vodafone/Telefonica network sharing agreement in Europe, Ovum Analyst Julian Grivolas noted that network sharing is nothing new, but a down economy might make such deals – particularly complicated in this case because it spans four countries – more common.
Grivolas wrote in the commentary Ovum sent over:
This announcement further confirms Vodafone's positive inclination towards passive network sharing.
In developed countries, 3G coverage requirements and the impact of mobile broadband adoption, in particular on backhaul, are among the main drivers for the adoption of network sharing. On the 2G front, the well-established operators already offer 99% population coverage so there is not much difference in coverage, meaning it makes sense to rationalise costs as much as possible in this domain.
And as FierceTelecom reports, some carriers are trying to push the practice domestically.
Announced in a press release on Thursday, Verizon said it is using its fiber-optic network to provide links to cell towers and mobile switching offices across the country at "ultra-high-quality-levels that are difficult to achieve when using traditional copper-based or microwave links."
Verizon has plenty of FiOS to go around, apparently, but the article speculates that Cox might be the most likely major buyer as it builds out is own 3G network, but even then Cox has options (primarily, Sprint, who it's already partnered with on roaming rates).
How else have you seen carriers pushing past their traditionally go-it-alone boundaries during these tough economic times?
---
March 26, 2009 10:37 PM

Profile: Kate Gerwig
The good news, according to global consulting firm Ovum, may be that users accessing mobile broadband-enabled laptops and handsets will increase revenue by more than 450% in 2014 compared to 2008. Mobile broadband adoption, of course, means 3G and 4G mobile data technology adoption. Projected revenue? $137 billion globally.
But wait, there's a downside. Mobile broadband growth refers to increases in the number of users and the amount of data traffic. But the joy doesn't spread to average revenue per user (ARPU), Ovum says. Instead wireless ARPU is expected to drop significantly during mobile broadband's meteoric rise, with projected growth of only 44% of the rate of total users — a dilemma also faced by wireline network carriers.
---
March 26, 2009 7:44 PM

Profile: MichaelDKelly
[kml_flashembed movie="http://www.youtube.com/v/7CrE9CC3saM" width="425" height="350" wmode="transparent" /]
Telecom Timeout: Video Investments covers the latest on Nortel's application delivery business sale to Radware, Cisco's lay offs, a continued evaluation of Alcatel-Lucent's future plans, as well as AT&T's self-investment and the beginning of the process to distribute the broadband stimulus grants. Futher coverage also highlights the future plans involving IPTV by service providers, as unified communications, development of the 802.11v standard and new legislation for an updated Internet Safety Act.
Keeping you up-to-date on the latest in telecommunications industry news, views and strategy, Telecom Timeout and its weekly video blog track the highs and lows of the industry. Join us daily on Telecom Timeout for conversations on developing telecom trends and in-depth analysis of service providers, VoIP, wireless, IPTV, telecom regulation, and more.
---
March 20, 2009 2:40 PM
Service providers aren't the only one's interested in network optimization.
As I'm continuing work on our telecom network optimization series, I came across a piece TelephonyOnline about how "demand for WAN optimization as a managed service is growing in an enterprise market," driven by companies seeking to better utilize the bandwidth they're paying for, along with reducing latency in their business processes.
WAN optimization is particularly popular with large enterprises and firms that pass around huge data files, like medical researchers, architects, and engineers.
And while carriers get to charge for the service, TelephonyOnline also pointed out some side benefits for the service provider.
WAN optimization also frees up capacity on the service provider's network. "It helps the service provider, and they're able to [sell it] as a premium service they can charge more for," said Matthias Machowinski, directing analyst for enterprise voice and data for Infonetics Research.
If you want to know more about the enterprise demand for WAN acceleration, we've recently launched a whole site devoted to the WAN with special sub-categories that will be particularly useful: SearchEnterpriseWAN.com's section on Telecom Services and on WAN Optimization and Performance.
Further Reading:
---
March 13, 2009 2:27 PM
Telecom
Can Congress handle the truth?
[kml_flashembed movie="http://www.youtube.com/v/8hGvQtumNAY" width="425" height="350" wmode="transparent" /]
Or more importantly, does the House Subcommittee on Communications, Technology and the Internet have any chance of finding the truth?
As debate continues over what role broadband initiatives will play in our economic recovery, at least someone is speaking up for the little guys, even if anger over former FCC economist Michael Katz's dismissal of rural life simmers.
Greg Hale, general manager of Logan Telephone Cooperative (Auburn, Ky.) and member of the board of directors of the National Telecommunications Cooperative Association (NTCA), testified that cost recovery is a critical issue when it comes to ensuring universal broadband access, and outlined some specific policy recommendations for the Subcommittee to take up.
"Without adequate cost recovery there will be no network for any communications service to reach rural consumers be it wireline, wireless or other medium," Hale said, according to a transcript provided by the NCTA. "We may well need to modify the program periodically, but the key is to have the network in existence and operational in the first place."
Hales' recommendations, almost as eloquent as Jack Nicholson's self-defense, are after the jump. Hopefully they'll win rural telecoms a happier verdict.
---