---
June 16, 2009 1:28 PM
How do you find your customers when trade shows start drying up? Take the show booth to the customer. That's Ciena's idea, anyway, and while we know they're not alone, they were the only ones to invite us aboard their 16-wheel demonstration booth when it recently stopped near SearchTelecom.com's Needham, Mass. offices.
Inside, potential customers (as well as SearchTelecom.com's Editorial Director Susan Fogarty and I) were presented with fairly standard racks to inspect Ciena's latest (and classic) offerings, like the CN 3920 (pictured far right bottom on rack) and the CN 4200.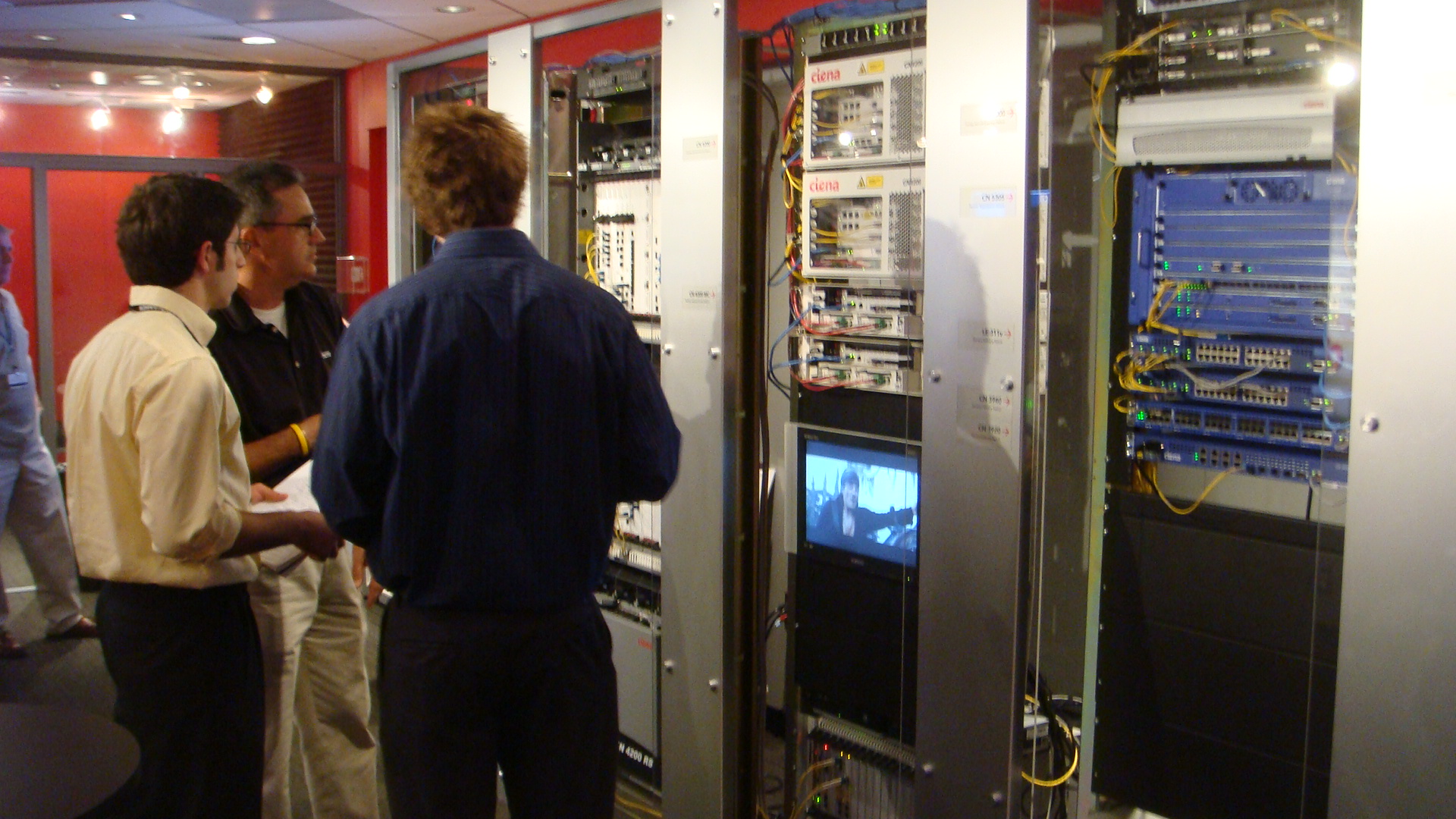 The truck roll gave Ray Patalano, Ciena's senior manager of field marketing, a chance to showcase various features of Ciena's hardware, but beyond walking us through a spec-sheet presentation, Ray shared some of his thoughts on telecom growth opportunities.
And where are these early green shoots to be found? No place other than the financial services industry, according to Ray.
"We lost some orders, no question about it," he admitted, saying that even now sales are not near the heady pre-recession days. But he said Ciena is seeing an uptick again, particularly as the remaining finance players seek every possible advantage to stay afloat in tough times.
June 14, 2009 8:57 PM
BT wants content providers to share the cost of providing their content, which makes total sense from BT's point of view and doesn't much interest content providers. As my mother always said: Why buy the cow when you can get the milk for free? (a handy metaphorical construct for so many occasions).
In the last few weeks, BT faced accusations that it was limiting download speeds for the BBC's video content player, the iPlayer. After some stalling, a BT spokesman came clean to silicon.com: Yes, BT was limiting video-steaming content on its basic service package. In truth, the truth makes a better point on BT's behalf than keeping it quiet.
---
June 12, 2009 7:23 PM
I know, I know, it's just the natural tides of media coverage chasing after the latest buzz, but really: AT&T, Verizon and Sprint are more than their headline-grabbing devices.
As I blogged previously, the Palm Pre and Sprint aren't fated together. Now we're being told that AT&T's iPhone fumbles are killing the carrier. Please.
The Apple iPhone and Palm Pre are amazing devices, even "game changing," as long as we're delving into marketing buzzwords. But they aren't going to single-handedly decide the fate of a $155 billion dollar industry.
Just look at Verizon: The BlackBerry Storm has received the worst reviews of the three headlining devices (even T-Mobile's G1 has gotten much more favorable coverage!) yet the company's still in great shape. Point made.
---
June 12, 2009 1:17 AM
For an interesting spin on who sells services to whom, Sprint will begin wholesaling femtocell solutions to wireless resale partners that include mobile virtual network operators (MNVOs), as well as its wireline brethren, which means landline telecom service providers and particularly cable companies that want to offer quadruple-play services and provide wireless coverage inside customer's homes.
---
June 8, 2009 7:49 PM
If I weren't such a fan of kitschy 50's send-ups and if the economy weren't so tough I might be less forgiving, but Cisco's special Father's Day ASR 9000 advert is still good for a geeky telecom equipment chuckle, even if it is a little too reminiscent of the Valentine's Day ASR 9000 ad. At least it beats the bizarre flash game-vertisements network administrators get. For your viewing pleasure:
[kml_flashembed movie="http://www.youtube.com/v/83jQVxaEII8" width="425" height="350" wmode="transparent" /]
And just for comparison's sake, here's the original Valentine's Day spot:
[kml_flashembed movie="http://www.youtube.com/v/3pffeMdDSoY" width="425" height="350" wmode="transparent" /]
Further Reading:
---
June 8, 2009 1:30 PM
Last week Qwest's long-distance business was for sale. This week it's not. Such is the way of plummeting long-distance values and another chapter in the saga of the number-three U.S. phone company.
There was a time long ago and far away that Qwest's nationwide IP network was the envy of the industry. But when Qwest then bought regional Bell company US West to create a full-service traditional-ish carrier, it never regained its former glory.
Qwest put the long-distance piece on the block last week for $3 billion and got tepid interest at half that amount. So off the block it came. There was some discount-level interest from Level 3 Communications, as well as XO Communications and TW Telecom, but none of those companies is looking for a full-price investment. It's bargain basement or nothing.
"The bids were so far below the level they wanted. Their problem is that they may not be able to monetize the long-distance network (which serves enterprise and government customers) even to the level of competing with a bid of half their goal," according to CIMI President Tom Nolle.
According to the Wall Street Journal:
Qwest's long-distance business has struggled as an excess of capacity of long-haul networks has led to a collapse in pricing. Meanwhile, in its 14-state local access territory, Qwest is facing increasing competition from cable providers.
When US West was new and full of itself, it's slogan was "If you don't make dust, you eat dust." Guess it's time to eat dust.
---
June 3, 2009 6:13 PM
How closely tied are Sprint's fortunes to the success of the Palm Pre? Look around and it would seem the two are indistinguishable. The device has been appearing (unnamed but unmistakable) at the end of all Sprint's Now Network commercials, in a full page ad Sprint bought in the Wall Street Journal, and in almost all blog chatter about Sprint's future. SeekingAlpha.com has a post entitled Why Sprint Needs the Palm Pre to Succeed which outlines the case succinctly:
During the quarter, Sprint lost another 1.3 million subscribers with the vast majority being the highly sought after "postpaid" variety. This brings the total number of subscribers down to 49.3 million an 8.4% decline over fiscal 2007's year end. With Sprint's main competitor's AT&T (T) and Verizon (VZ) gaining subscribers through the downturn, the gap between the "have's" and the "have not's" continues to expand. The wireline (mostly internet) business was not much better as revenues in that area dropped 6%.

It is clear that Sprint needs something to make customers stick around, and they believe that they have that silver bullet with their exclusive deal with Palm (PALM) to provide the new Pre handset. Continued »
---
May 27, 2009 6:58 PM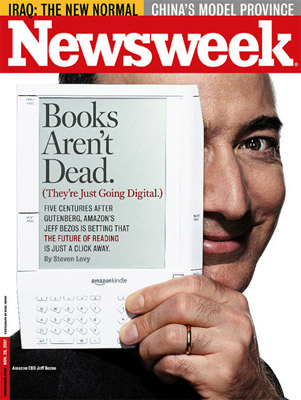 Sprint's been happy to boast about WhisperNet subscriber additions to its network that come in the form of Amazon Kindle users, but those same metrics don't look so pretty when Nielson breaks down the estimated Kindle ARPU for Sprint: Just $2, compared to approximately $56 to Sprint's average post-paid phone service subscriber.
Ouch! Is Sprint breaking even on this thing? All the while, Amazon is using the Kindle as an Oprah-endorsed money mint, profiting not only on every Kindle book sale, but on the pricey eReader itself.
Looks like Jeff Bezos can drive almost as hard a bargain as Steve Jobs. Why can't service providers negotiate a reasonable cut with these gadget superstars? (Let's make that a rhetorical question)
What's most worrying to me, as Kate noted previously, is that telcos are racing to duplicate the Kindle's "success". Are carriers in a mad dash to the bottom? Am I missing part of the picture here, or is Sprint somewhat crazy for touting its success in rock bottom-ARPU services? Why not just sell an extra couple ringtones and call it a day?
[Via FierceTelecom]
---
May 27, 2009 5:06 PM
Despite gloomy news for BT execs (BT CEO Ian Livingston was the only one to get a bonus), Fierce Telecom's Dan O'Shea predicts telecom upper management will be safe from shareholder pay activism:
Still, as Washington Technology recently reported, "say on pay" measures and other shareholder activism moves have yet to find sustained footing at many telecom firms. For example, the publication said that proposals related to shareholder input on executive compensation failed to find enough support from Qwest Communications shareholders. A similar proposal misfired at Frontier Communications. Also, while Verizon has its "say on pay" advisory vote, a proposal that would require shareholder approval of death benefits for executives failed to garner enough support.

… It also is not clear how seriously corporate boards might take "say on pay" votes as they actually address the issue of executive compensation. To date, there doesn't appear to be such a thing as a binding "say on pay" vote.
Are the industry's shareholders really all bark and no bite, even as executive counterparts in finance and the auto industry bite the dust daily? Maybe, and if so, it's probably due to the fact that with all the doom and gloom, telecom remains a relatively stable bet.
Just compare stock prices from some major service providers vs. major auto manufacturers the past few months: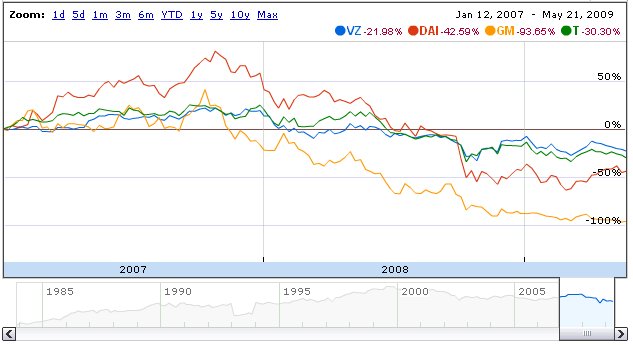 While oversized executive pay is still definitely a topic worthy of conversation, it seems like telecom, at least as far as shareholders are concerned, might be treading relatively safe waters.
BT's own employees, however, might be a more skeptical audience. As the Times Online reported:
The telecoms group, which recently announced plans to shed 15,000 jobs after huge losses in its IT unit, said that the award was based on "non-financial" elements, including improved customer service and "environmental and social measures". … the move is bound to anger unions and workers who have been shed by the group.
---
May 26, 2009 2:30 PM
After months of speculation, this promises to be the week that Washington and security experts have been waiting for – the announcement of President Obama's cyber czar, along with a 40-page report that evaluates the government's cybersecurity initiatives and policies, according to The Washington Post. The report is expected to take a broad-brush approach to the issue rather than delving into details, which will no doubt lead to an intense security industry debate.
Rumor is that the security adviser will report both to the National Security Council, as well as the senior White House economic adviser. And while no one is against network security, there's a legal and political hot potato here: What role with the adviser have in protecting private-sector networks? The word "protecting" has become politically charged because the real question is what kind of authority the National Security agency will have over "protecting" private email and phone calls.
Continued »
---