Apr 15 2010 12:44PM GMT

Profile: Jessica Scarpati
Not everythin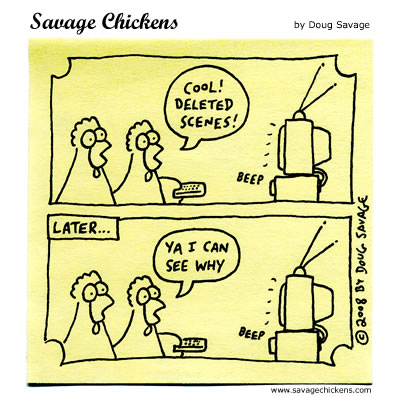 g that goes into a SearchTelecom news story makes it off the cutting room floor. Unlike our exhaustive guides and point-by-point primers, you can read our news in under 10 minutes and get all the key insight into broader market trends.
The bad news is this means not everything makes the cut. But the good news is twofold: 1) Because we try to give you the most interesting and relevant news and analysis, a lot of what gets left out is extraneous and boring (PowerPoint presentations make your eyelids droop? Yup, us too, so we thought we'd spare you); and 2) When we do have some of the cool stuff that maybe got cut for space, you can catch them on the blog.
When I sat down with Ruckus Wireless CEO Selina Lo at CTIA Wireless a few weeks ago to talk Wi-Fi and 3G offload, we covered a lot of ground (and I finally learned the story behind that Ruckus dog). Without further ado, here's some "deleted scenes" from our conversation that you won't find in this week's Q&A…
Q: Your first Wi-Fi product was marketed to IPTV service providers. What has changed since then, in terms of how carriers use Wi-Fi hotspots?
Selina Lo: In 2008, we branched out and introduced an enterprise product line with the same fundamental technology. We found that other than the enterprises embracing our product, carriers started knocking on our doors, asking if they could use our product for much more infrastructural types of applications.
Today, there are two kinds of solutions that we provide to carriers other than the IPTV, which is really more residential Wi-Fi. We also provide Wi-Fi equipment for broadband wireless. This is much more of an emerging-market application, but we also found a lot of townships in North America and in Europe in developed markets that are now putting up Wi-Fi everywhere.
In emerging markets like India and South America and parts of Southeast Asia and Africa, the one big problem they have is the last mile. The availability of fixed line to the home is just horrible, and so as a result, people were accessing the Internet using either cellular 2G technology or they are using fixed line DSL at 128K or 256K. [Carriers] came to us and said, 'We want to use your outdoor Wi-Fi product to actually build out a nationwide network that can provide somewhere between 500K to a couple megabits of broadband wireless service to residents.'  The first carrier that did that actually is in India, Tikona Digital Networks, and today they actually have a network with more than 20,000 Ruckus outdoor APs … in the densest populated cities like Mumbai and Delhi. They just mount our access points on rooftops … and they can add capacity by adding access points. Then, they just mesh the access points in nearby areas and then they backhaul all of that back to where they have fiber at the train stations.
Q: In regions where wireline infrastructure is more robust, such as North America and Western Europe, how are mobile operators responding to the use of smartphone Wi-FI?
Lo: For developed markets, this application is actually also being deployed in places like Swindon, UK. There are towns that basically already have fixed lines to the home, but now with all the handsets having Wi-Fi, they want to build an infrastructure that would offer next-generation services to all these smartphones … also, [carriers] are putting Wi-Fi out in all public areas — whether it's indoors or outdoors — and they are now also looking at putting Wi-Fi on the towers when they have space.
Q: Infrastructure investment is driven by revenue and not necessarily traffic, so it seems carriers won't invest in something from which they won't profit. How do you see the business model for this working?
Lo: Three years ago, you talked to any hotspot operator and they looked at the hotspot as an P&L — a profit and loss on its own, so they need to generate revenue. But now the carriers are looking at it differently. Wi-Fi is a way for them to reduce cost of the infrastructure. If you look at the 3G operators, yes, their data revenue is definitely growing but it's not growing as fast as traffic, which means for them to continue to keep up with their user demand, they're going to have to build more base stations, they're going to have to upgrade all their backhaul, they're going to have to add capacity continuously to the core. That's all very expensive, and to them, by adding Wi-Fi and making that available to users they're actually creating more capacity so users don't always have to get on and take capacity from the 3G network. If you look at the overall infrastructure in terms of cost per bit carried, Wi-Fi is actually reducing the cost of the infrastructure — that's the whole new way of looking at the business model now.
Q: Do you see yourself in competition with femtocells?
Lo: Yes and no. The yes part is that femtocells are also trying to offer the same value proposition as Wi-Fi, which is indoors a lot of times mobile signals cannot penetrate building walls and so, a femtocell would allow the operator to provide an extension of that mobile network inside the home and shops. Wi-Fi already does that. The second thing is that femtocells are being viewed as a way to offload 3G traffic — and in the future, 4G traffic — and Wi-Fi does the same thing. In that way it is in competition, but then on the other hand, it is really not. If you look at data applications in your home, there are plenty of devices that have Wi-Fi that won't ever have a 3G plug [such as] your PC [and] your printers…. Cellular carriers like the simplicity of just extending the cellular network, so there's also inertia for that technology and I think they'll coexist.