Feb 13 2018 6:20PM GMT

Profile: Jonathan Brown
Tags:
Welcome to the TechTarget Research Blog. TechTarget, since its very inception, has recognized that enterprise technology buyers need definitive guidance and insight when researching purchases and we have delivered on that promise for over 20 years. Now, we offer information and insight to technology vendors via our newest offering – TechTarget Research.  I encourage you to visit TechTarget Research  and to follow us on Twitter @TTGT_Insights.
This blog is a place to share insights from our ongoing research that will be of interest to product management, sales and marketing leadership, strategy teams, win/loss and competitive intelligence within firms actively engaged in creating and selling new enterprise technology products and services.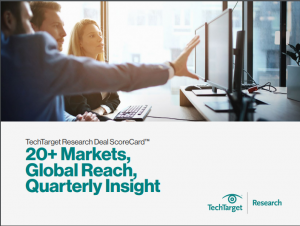 We cover more than 20 specialist markets important to vendors in the data center infrastructure, cloud computing, and primary / secondary storage management markets with our premium research offering – Deal ScoreCard  (press release, sample report). Within these markets, we measure how product features, pricing, and promotional efforts, and pricing are driving product consideration ("making short lists") and final product selection. We do this through the entire purchase life cycle using a combination of online surveys and direct buyer interviews. With an audience of over 18 million buyers, we're able to see exactly what drives IT purchase decisions in your market.