---
April 30, 2018 7:16 PM
The Deal ScoreCard on Enterprise Mobility Management is a comprehensive report of a complex market – representing over 300 transactions completed or initiated during the 6 months leading up to January 2018.  The report was published in March 2018.  Another is scheduled for publication in June...
April 26, 2018 8:27 PM
This post is by: Krista Macomber, Director of Market Intelligence, TechTarget Adoption of converged and
---
April 12, 2018 4:17 PM
The latest Deal ScoreCard - Cloud Backup, one of 20 IT storage, cloud, and data center markets we publish,  analyzes over 400 recent deals to tell the story of a market in transition.  While dominated by Amazon (1st in consideration for purchase by buyers, 1st in number of cloud...
---
April 9, 2018 10:12 PM
[caption id="attachment_39" align="aligncenter" width="600"]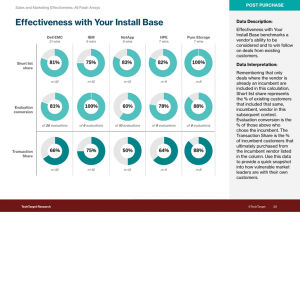 Measuring how effective All Flash Array vendors are...
---