---
April 12, 2018 4:17 PM
The latest Deal ScoreCard – Cloud Backup, one of 20 IT storage, cloud, and data center markets we publish,  analyzes over 400 recent deals to tell the story of a market in transition.  While dominated by Amazon (1st in consideration for purchase by buyers, 1st in number of cloud backup transactions, 1st in revenue – as reported by buyers) and Microsoft (2nd in all of the above), we are seeing increased consideration of Veeam, Google, IBM, Commvault, Acronis, RackSpace, HPE, Barracuda, Arcserve, Sungard, and others by buyers entering the funnel today.  Notably Commvault has the fastest increasing consideration rate, meaning that their messaging around cloud backup is turning into new selling opportunities for them in this highly competitive field.  Whatever they are doing seems to be working.
What matters to cloud backup storage buyers?
Cost – still a big factor here. There is a clear desire for 'disaster recovery for less', and cost is top of mind for 60% plus of buyers. This is an indicator of an early stage market.
Encryption – 42% care about encryption and this number is rising… BUT, for buyers, this drops to the bottom half, indicating it is a non-differentiating checkbox feature that is important to address early in the buy cycle.
Support for VM's  – being able to restart virtual machines in the cloud is important to 31% of buyers early in their evaluation cycle, and remains high (28%) in late stages.
How to cloud backup storage buyers differentiate between vendors?
Price – 31% say price is the top way to differentiate between solutions – both before purchase and after purchase.  When we see this, it means that this is being approached as a commodity buy.  As confirmation, buyers who completed purchases were twice as likely to say that price was the determining feature for their cloud backup storage purchase. This trend toward price being the top differentiation attribute is increasing.
Brand and reputation – Brand definitely influences who makes the short list early in the cycle. Leaders Amazon & Microsoft, no doubt, get a lift from this.
Previous experience with vendor – early in the buy cycle, experience with vendor doesn't seem to matter much, only registering as a factor in 10% of the deals, BUT when it comes to buy time, previous experience with vendor matters to 20% of buyers. Reasons for this include:

Contracting /billing difficulties
In-house Employee skills
Other workloads being housed with those vendors
What is the state of the market and how does that affect vendors?
58% of buyers are 'open' to competition from new vendors.  This group includes 1st time buyers, buyers looking to add a second vendor, and buyers looking to replace their primary vendor.  42% intend to purchase from an existing supplier.  This is relatively wide-open space and one that will respond well to marketing efforts.
37% of buyers of cloud backup storage are first time buyers.  Keep in mind that the information needs of first time buyers ("newbies") are very different from those looking to replace an existing product ("burn victims").  The former needs education on what to care about.  The latter needs information on how you and your product are different.
A Closing Question for you
Have you seen Deal ScoreCard?  All of the observations above come from Deal ScoreCard.  It is the quarterly research product designed specifically for product management, product marketing, sales leadership, competitive intelligence, and c-level strategists from the media company with the largest audience in the world.  You will learn where you and your competitors are strong, weak, and where the opportunities arise in this changing marketplace… delivered 4x per year from the worlds' largest IT media audience.
Visit our website – https://www.techtarget.com/products/techtarget-research/
April 9, 2018 10:12 PM
TechTarget Research is pleased to announce the release of Deal ScoreCard – All Flash Arrays.  The report is now available for subscription.  Based on the results of over 300 recently confirmed buying projects, Deal ScoreCard – All Flash Arrays delivers insight to all-flash array vendors – the marketers, product strategists, competitive intelligence teams, and C-level leaders who are responsible and accountable for outcomes… winning and losing in the All Flash Array marketplace.
This Deal ScoreCard – All Flash Array report is a very significant view of a complex market. You'll gain access to over 300 detailed responses in the 50-page report all drawn from buying projects started or completed in the last 6 months.
Why not schedule a preview today?
A few observations in all-flash arrays
Fully, 2/3 (67%) of the all flash array deals witnessed were intended to go to a buyer's existing vendor, but 3 vendors, Netapp , HDS , and Oracle, have win rates from existing customers that suggest their customers may be more likely to purchase from competitors than customers of other brands.  Deal ScoreCard – All Flash Arrays measures effectiveness with existing customers at three (3) levels (pre-sales consideration, evaluation outcomes, overall effectiveness)  so that leaders can understand where weaknesses or gaps in messaging, sales execution, product features, pricing, or other contest variables are causing existing customers to "vote with their feet".  This is the type of insight that Deal ScoreCard provides to subscribers.
Pure Storage led in influence – this strong market challenger delivered content to the market that resonated and was popular with buyers.
Buyers of all-flash arrays are most likely to read content about cloud storage, backup hardware, all flash arrays, and disaster recovery – in that order!  Smart Deal ScoreCard subscribers know that these topics are all valid points of entry, top of mind topics to buyers, and are areas available for marketing to buyers.
NVMe is the most popular emerging topic for this group.  They're learning about this now.
This edition of Deal ScoreCard – All Flash Array – solicited and collected data on the following vendors.  Bold indicates that vendor charts as a leader or notable challenger.
Avere
DataDirect Networks
Dell EMC
Hitachi Ventara (Hitachi Data Systems)
HPE
IBM
Kaminario
NetApp
Nimble Storage
Oracle
Pure Storage
Qumulo
SanDisk
Tegile Systems
Tintri
Schedule a discussion today.  We'd love to show you what you can do with insights from TechTarget Research, Deal ScoreCard All Flash Arrays and browse our other storage market coverage.
---
March 14, 2018 5:40 PM
The results are in.  The analysis is complete.  Now you can answer competitive market questions
What tactics, discounts and feature differentiation did challengers like Rackspace or Virtustream use to win competitive deals against larger rivals like Amazon & Microsoft Azure?
Which Infrastructure as a Service vendors get the most boost from buyers who place security at the top of their evaluation criteria? (Hint: It's not Amazon)
Is Microsoft Azure successfully challenging AWS for new and repeat customers?
Deal ScoreCard – Infrastructure as a Service report is an analysis of 300+  confirmed IT purchasing projects that offers insight into the purchase drivers, product features, marketing presence, and sales tactics, that determine:
Shortlists – who gets on the short list before the purchase
Winners – reasons why the winner was chosen
Losers – reasons why the loser(s) were not chosen
In the forthcoming report, scheduled for general release in late March 2018, we ask over 25 questions from both recent buyers and in-funnel, pre-purchase (with budgeted projects < 12 months) buyers that have not yet closed a transaction for new or additional IaaS.
The report solicited observations on interactions with the following vendors/products, specific to their offerings and involvement in infrastructure as a service.
Amazon Web Services
CloudSigma
Cyxtera Technologies (incl. CenturyLink)
DigitalOcean
Dimension Data
DXC Technology (incl. CSC)
Fujitsu
Google
IBM
Interoute
Joyent
Microsoft
NTT Communications
Oracle
Rackspace
Verizon Communications
Virtustream
VMware Cloud Foundation
The result is a comprehensive report with 35+ pages of charts, designed to tell a clear story on the current competitive dynamic in the infrastructure as a service market .  Selected Charts from the report include:
Pre-Purchase Consideration (see chart above)– Who is getting into the deals?  Market leaders and challengers can measure whether their relative consideration rate (% of buyer shortlists that include a given vendor)  is on the incline, decline or flat over several quarters. Challengers can gauge where recent investments in education, awareness and enticement marketing activities are proving productive.
Product Buying Features – Understanding which features buyers seek is fundamental to marketing.  Being able to understand quantitatively which features matter and whether those features are increasing in importance to buyers is valuable insight for marketers, product managers, and sales teams.  Uniquely, TechTarget Research measures the importance of features at two critical junctures along the buyers journey – at the time of project initiation and then again just after the sale.  The first measurement really is about how products will be evaluated for inclusion on the shortlist – valuable for marketers responsible for demand generation and brand presence.  The second measurement, just after the sale speaks to what the deciding factors were that differentiated one offering from another.
In a market like Infrastructure as a Service (above), the topic of security is top of mind. 55% of confirmed buyers list "Meets our security compliance needs" it as a top concern, before they make a purchase.  This means that shortlists for 55% of confirmed projects hinge on having adequate product features and messaging around security from you.  What's more, the blue arrow indicates that this security and compliance need is showing up more frequently as a requirement than it did 6 months ago.
Deal ScoreCard takes this one step further.  The report shows you that when it comes to buyers wanting  "Meets our security compliance needs" as a feature, Microsoft gets an advantage of about 6% in consideration.
I hope you enjoyed the sneak peek into Deal ScoreCard – Infrastructure as a Service.  If you'd like to get a preview of these reports or schedule a briefing, please contact us via the TechTarget Research website – https://www.techtarget.com/products/techtarget-research/
---
February 28, 2018 4:33 PM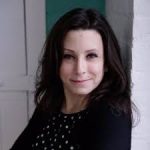 Krista Macomber, Director of Market Intelligence, TechTarget
The pressure on IT to deliver higher levels of agility, productivity and cost efficiency is driving an ongoing migration to cloud-based IT delivery models.  The trend is clear, but, is on-premises hardware really dead? The answer, based on TechTarget research, is "no." From the perspectives of portfolio and positioning, however, future survival of on-premises infrastructure is predicated on the ability to enable a cloud-like experience and to integrate with off-premises resources as seamlessly as possible.
Today's application-driven economy and the need for agile elasticity that responds in real time to changing business requirements is driving a shift in industry focus to software-as-a-service (SaaS) delivery. That being said, not all workloads are suitable for a SaaS or fully public cloud-delivered models.
For workloads that must retain an on-premises footprint for reasons such as latency and security, buyers are investing in virtualization to build private and hybrid cloud environments that afford some of the benefits of SaaS and public cloud infrastructure-as-a-service (IaaS), such as scalability and cost efficiency. Per TechTarget's 2018 IT Priorities survey, the percentage of data center buyers planning to create new private clouds is up 6% year-to-year 22%, and the percentage of data center buyers planning to invest in hyperconverged infrastructure as a streamlined onramp to private cloud is up 42% year-to-year to 20%.
TechTarget's 2H17 Data Center Market Landscape study shows that utilization of traditional on-premises data center infrastructure will decline significantly over the next 12 months. Deployment models will vary as IT organizations seek the most effective blend of control, security, performance, scalability and cost efficiency on an application-specific basis. As a result, it's important for vendors to keep a regular pulse on evolving workload deployment patters for effective prioritization and messaging.
Custom applications, relational databases and ERP applications are the most likely to remain on-premises – with private cloud growing significantly in popularity compared to traditional architectures.
Even so, the ability to integrate with and burst into off-premises resources remains important. Relational database and custom applications join BI and analytics as the most popular applications in plans for deployment on hybrid cloud.
CRM and productivity and collaboration workloads are leading targets for migration to SaaS.
Web and ecommerce and test and dev, including DevOps, workloads are the most popular targets for public cloud IaaS.
To get a preview of the Market Landscape Report, please contact us.
---
February 21, 2018 6:38 PM
Using Market Intelligence to Challenge Leaders in your market
Why companies need market intelligence when they aren't the primary feature of the research?
Challenger vendors don't often show up in true market data at a level to draw any statistically significant insights because they currently constitute only a small part of a very significant existing market.
Deal ScoreCard quantitative insights can have a real impact on the quality and confidence of a challenger's market strategy and help multiple roles within the company get on the same page with regard to "market needs."

Find places to attack – Deal ScoreCard highlights the specific features, project types and workloads where existing, large vendors are weak. It also highlights the reasons why buyers say leading vendors lose deals.
See the types of deals you are not currently competing for – Deal ScoreCard shows the nature, volume and characteristics of deals which your company could compete in with marketing targeted to these segments.
Quantify where the market is going – Deal ScoreCard shows what issues are the most prevalent with buyers (at the shortlist and product evaluation phases) and which of those issues are increasing or decreasing in importance in buyers' eyes.
Know what's coming in must-win deals – Deal ScoreCard exposes the pricing, packaging and other sales tactics that leading vendors use to close deals
Know market issues for your partners – Many vendors ride into a market on the back of a hardware or service provider. DSC helps these companies understand better the specific issues driving the market and fortunes of their partners. This insight can helps challengers be a much better partner.

Remember when you thought market research was primarily to help you understand what was actually going on in the market (as opposed to a vehicle to prove you were viable)?  Deal ScoreCard provides reliable data, and data visualizations about your market, your competitors and your buyers – whether you are a market leader like Microsoft, Dell EMC, Cisco, or a market challenger looking for objective ways to unseat established brands.  Deal ScoreCard can help you.
---
February 13, 2018 6:20 PM
Welcome to the TechTarget Research Blog. TechTarget, since its very inception, has recognized that enterprise technology buyers need definitive guidance and insight when researching purchases and we have delivered on that promise for over 20 years. Now, we offer information and insight to technology vendors via our newest offering – TechTarget Research.  I encourage you to visit TechTarget Research  and to follow us on Twitter @TTGT_Insights.
This blog is a place to share insights from our ongoing research that will be of interest to product management, sales and marketing leadership, strategy teams, win/loss and competitive intelligence within firms actively engaged in creating and selling new enterprise technology products and services.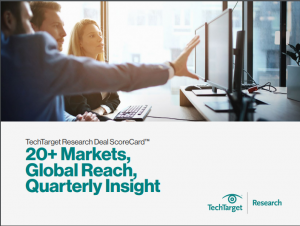 We cover more than 20 specialist markets important to vendors in the data center infrastructure, cloud computing, and primary / secondary storage management markets with our premium research offering – Deal ScoreCard  (press release, sample report). Within these markets, we measure how product features, pricing, and promotional efforts, and pricing are driving product consideration ("making short lists") and final product selection. We do this through the entire purchase life cycle using a combination of online surveys and direct buyer interviews. With an audience of over 18 million buyers, we're able to see exactly what drives IT purchase decisions in your market.
---