---
July 9, 2018 8:56 PM
In this 2:00 minute video, TechTarget Senior Vice President, Bill Crowley, briefly discusses how current, objective insights lead to better decisions for leaders at software, hardware, and cloud computing providers that sell to enterprise technology buyers.  If you sell to storage, compute, or cloud buyers this video is for you.
If you'd like to understand what coverage we have on your market segment – we have over 190 – please drop us a line here.
---
June 19, 2018 3:21 PM
In hyper converged infrastructure we see a market that is still in the early phases of maturity but one that is going through significant change. Our recent Deal ScoreCard on HyperConverged Infrastructure showed that 31% of IT organizations have hyper converged infrastructure in place and another 31% to have either pilots near term or long term plans to implement the architecture within the next 24 months.
We see Dell EMC as the number one considered vendor in the space and holding relatively steady participating in anywhere between 40 and 54% of the deals that we saw over the last year.  Recent announcements by Dell EMC for NVMe support in VxRail appliances leveraging VSAN software bodes well for buyers looking to leverage the latest and greatest in an integrated solution.  This sets up a contrast to the software based direction Nutanix has announced.
In the study, Dell EMC captured the majority of transactions that we collected data on and tops our leaderboard.  We are seeing increasing steady gains from Nutanix and increasing gains in pre-purchase consideration from HPE.  We aren't seeing nearly as favorable results from Cisco Systems, from SuperMicro, nor Lenovo, who are either holding flat or declining in closed business transactions amongst those surveyed.  We have previews available of these charts and data.  If you'd like to get a look at them, schedule a walkthrough.
Size of Typical Deals
41% of the hyper converged infrastructure purchases included somewhere between 10 and 100 TB of storage.  Understanding the scope of the deals is useful for product management modeling and is a standard part of every Deal ScoreCard report – along with detailed win / loss transaction data.
Reseller Involvement
We see a significant percentage of transactions that involve the manufacturer and the value added reseller. 65% of deals that we saw had manufacturer involvement. This is high for an infrastructure category. If you're a channel manager at an HCI vendor, you have fuel for your argument that you need more MDF and training dollars for your resellers.
Buyer Experience Level
Of all of the hardware markets we cover (Converged, Blades, Rack/Tower, All-Flash Arrays, Backup Hardware) Hyperconverged Infrastructure is the one with the least amount of buyer experience. Notably, 41% of the buyers in the space we interviewed have just made  their very first purchase.  That same percentage of buyers, 41%, are making secondary buys from their primary, existing hyperconverged infrastructure provider. We track this important metric to see which customers are most satisfied and which vendors have the widest band of solutions to address business is evolving compute storage and networking meetings.
Workloads
Despite VDI being played down as a workload, when we look at the topics that HCI buyers are most interested in as evidenced by what they read we of course find servers at the top of the list but the number to topic that this group is interested in is virtual desktop infrastructure. Interestingly, hyper converged infrastructure which is certainly popular stands in the pack along with enterprise mobility management virtualization software and converged infrastructure. One can reasonably conclude that these are data center people who care about data center things.
Here is the list in order that we saw in terms of number of transactions we witnessed over the last six months leading up until January 2018.
Dell EMC
Nutanix
HPE
VMware
Cisco systems
SuperMicro Computer
Lenovo
NetApp
Pivot3
Nutanix and repeat buyers
From the latest Deal ScoreCard, one vendor, Nutanix, has over 90% of its existing customers returning for second purchases. This is the highest that we see in our study. It will be interesting to track this metric as Nutanix shifts their strategy from being a hardware provider to being a software play.   From the survey, pre-buyers give Nutanix the edge for server performance and storage capacity that can scale independently – it's top of mind and important to organizations that evaluate Nutanix based solutions.
A new version of the Deal ScoreCard will be published at the end of June.  To schedule a walkthrough of the Deal ScoreCard on HyperConverged Infrastructure – follow this link.
---
May 22, 2018 8:06 PM
Q: Are You Spending Enough on Marketing?
A word problem for marketers
Let's say the analysts who make market forecasts believe your category in the technology market will be $1B next year.  Most markets that analysts cover are larger than that, but we will keep the example simple and our numbers round.
Let's say that your consideration rate, the percentage of in-market buyers that are evaluating your product for purchase, 10%.  This is typical of a competent challenger in a market with a diverse set of competitors.
Let's say that your close rate is 40%.  Your sales team is competent and are able to close 2 out of 5 deals where your product/service is shortlisted as a candidate for purchase.  In this scenario, your product is pretty good and doesn't have any glaring technical deficiencies.

Now, let's say that the average sized deal is $100,000 of revenue to your firm.
Are you still with me?
In this scenario, you are the marketing leader of a $40,000,000 business.  Congratulations!
What would a 1% increase mean to me?
A 1% increase in consideration would mean $4,000,000 of additional revenue
A 1% increase in close rate would mean $1,000,000 of additional revenue
A 1% increase in average deal size would mean $400,000 of additional revenue
So, the question you've got to ask yourself is "Are we spending enough on marketing?"  The question is, can I achieve a 1% increase in consideration, accounting for risk and reason, for an investment closer to 10-20% of the expected $4,000,000 revenue contribution – $400,000 – 800,000.  Of course, your results and estimates may vary and there are lots of variables to consider including market maturity & growth rate, prevalence of repeat purchases, and disruption.  One easy way to see if there is sufficient market available to you is to look at the consideration rate of your nearest, winnable competitor.  If their number is bigger than yours, you've probably got room to invest more in marketing.
How do I measure consideration rate?
Deal ScoreCard (brochure) measures each vendor's consideration rate, evaluation conversion rate, and resultant transaction share by gathering the results from recently initiated and executed purchases.  Those results, collected directly from hundreds of buyers, provide answers to these questions:
Consideration:  How often are we included on the shortlists we should be on in our market?

Effectiveness:  How well do we convert in deals we are involved in where there is an actual purchase made?

Observed Outcomes:  What percentage of the deals in the segment did we win?

Areas for Competition:  Where are my competitors weak and strong in the eyes of buyers?  What features, business project drivers, and vendor attributes resonate at the at the top of the funnel?
Is there anything I can do for less than $800,000?
Could you increase your marketing effectiveness by 1% by investing in the Deal ScoreCard segments that cover your core markets?  While we can't guarantee that your revenue will increase by 1%, I can guarantee that the annual segment subscriptions will cost less than $400,000.  Deal ScoreCards are filled with data that our customers say "you just can't get this insight anywhere else."
We may be able to help you be a better technology marketer by arming you with objective, fresh, first-party data.  Review the vendor & market list or  visit the TechTarget Research website now.
---
May 22, 2018 4:59 PM
For Marketers, Product Management, and Sales Leaders – Deal ScoreCard from TechTarget Research offers first hand data from buyers that are looking for solutions now.  Not based on panels, captive respondents or cultivated members, Deal ScoreCard draws from the largest IT buying audience on the planet – some 18 million registered members who offer up details on 30,000 in-process and recently completed purchases to give you insight into what features, drivers, influences, and competitions are defining the current marketplace.
In this blog installment, we'll look at Backup – first hardware, then software.  As always, if you'd like to preview the full report, reach out to me jonathan_brown (at) techtarget (dot) com and we'll set up a briefing / review.
Deal ScoreCard – Data Protection – Backup Hardware – In hardware based backup we looked at and charted 14 vendor solutions – gathering details from recent buyers who'd purchased in the segment.
The Top 5 winning vendors (by number of transactions reported) in this space are;
Dell EMC – recorded the most deals, is currently being considered in 42% of the deals
HPE – being considered in 37% of the deals. HPE's consideration in new backup deals is increasing.
IBM – being considered in 31% of the deals
NetApp – being considered in 7% of the deals
Veritas Technologies – being considered in 7% of the deals
The next 5 challengers are
Oracle
Quantum
Hitachi (Vantara)
Fujitsu
Unitrends
This group all gets below 10% consideration in the new opportunities we see.
And finally, we also saw transactions involving
Barracuda Networks
ExaGrid Systems
Arcserve
StorageCraft
Rubrik
In total, over 370 transactions were analyzed for the report.  2/3rds (64%) of the buying opportunities are from buyers with existing solutions in place that are intending to upgrade or purchase more from their existing primary supplier.  Interestingly, however, only leader Dell EMC and non-leader StorageCraft charted above 50% in sellback to their install bases.
Deal ScoreCard – Backup Software
In software based backup, transaction winning leader Veeam has steadily increased its consideration amongst buyers as well as its effectiveness at closing opportunities.  Customers seem happy as well, with 98% of Veeam's customers returning to Veeam for additional backup purchases and 86% making a repeat purchase.  Only one other vendor, Commvault,  approaches this level of repeat purchasing, currently.
The Top 5 winning vendors in backup software (by number of reported transactions) and what their current consideration from buyers in market now are:
Veeam – recorded the most deals and is being considered in 34% of the existing deals.
Dell EMC –is being considered in 32% of the existing deals.
Microsoft – is being considered in 28% of the deals.
Commvault – is being considered in 22% of the deals.
IBM – is being considered in 18% of the deals.
These vendors, our challengers group, were involved in numerous buying transactions included in the report.  Most of them have current consideration with 2-12% of current buyers.
Acronis
Unitrends
HPE
Veritas (Backup Exec)
Veritas (NetBackup)
We also saw these vendors involved in both shortlists / evaluations and in closed business.
Arcserve
Datto
Actifio
StorageCraft
Both Commvault and Unitrends have shown an uptick in their transactions won percentages over the last few quarters.  This is generally good news for those vendors.
Marketers in this space should keep in mind that cloud storage is actually top of mind for these buyers.  The top topics buyers of backup software read about leading up to a purchase are –
Cloud Storage
Backup Hardware
All Flash Arrays
Disaster Recovery
NAS
Aligning your content with these topics, especially cloud storage, would be the sweet spot for any content marketing strategy.  Other data, like which features, backup workloads, and vendor attributes cause the vendors above to be included and excluded from consideration and purchase by buyers.
We'll look at cloud storage for backup next.
---
May 3, 2018 2:38 PM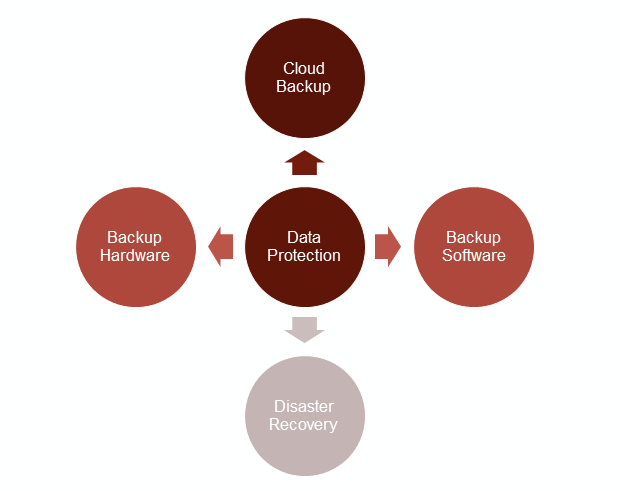 TechTarget Research divides the data protection market into four distinct sub categories – backup software, backup hardware, cloud backup storage, and disaster recovery.  We do this to improve the granularity of the reports and to make sure that the observations we make are actionable by the IT vendors who subscribe to the Deal ScoreCard research service.  It is, however, refreshing to take a step back from the transaction level detailed nature of our work to look at the bigger picture.
Today, I want to look at an aggregation of 4 reports in the data protection market to understand who the big players are, and how successful they are.  Because this is the internet, there will be a list.
Part 1 – Quick findings for the short-attention spanned
First, this is an index report.  Vendors were awarded points based on their rank in the number of transactions they won amongst the 1,500 data protection transactions.  These transactions were completed or started during the 6-month period leading up to the January 2018 across four (4) markets aligned with data protection.  Vendors were positioned according to total points earned.  Average scores were calculated by dividing the total points earned by the number of subsegments (1-4) that vendor participates in.
IBM & HPE are the only vendors that have offerings that chart (have a meaningful and measurable level of transactions) across all four of the data protection sub segments.  Between these two vendors, IBM bests HPE with a total score of 29 vs. HPE's total of 21 and average scores of 7.25 vs. 5.25, respectively.
Amongst vendors that competed in 3 categories, Dell EMC (9.67 avg.) comes out above Veeam (8.00) and Commvault  (5.33).  It should be noted that Commvault's position has been improving in our observations, regardless of what you might be reading in the news.  Dell EMC achieved the highest average ranking by being a leader in 2 of the 3 categories it competes in.
Microsoft took top honors in the two category competition, beating out NetApp, Acronis, and Unitrends.
Overall, Amazon got the highest average score – competing only in cloud backup storage and coming out on top, although the highest score for a vendor competing in more than one category goes to Dell EMC.
The top 5 vendors across data protection, ranked by transactions won across 4 categories Deal ScoreCard categories are:
Dell EMC – Finished in the top 5 for transactions won in all three of the segments they competed in. Total score 29.  Average across 3 – categories – 9.67.  (10 is awarded to the top vendor in each segment, 9 to the next most successful competitor, et cetera)
IBM – Finished in the top 5 for transactions won in all of the data protection sub segments they competed in. Total score 29.  Average across 4 categories – 7.25
Veeam – Finished in the top 5 for transactions won in all of the data protection sub segments they competed in. Total Score 24.  Average across 3 categories – 8.00
HPE – Two top 5 finishes across the 4 markets it competes in. Total Score 21.  Average across 4 categories – 5.25
Microsoft – Two top 5 finishes across the 2 markets it competes in. Total Score 17, average across two categories 8.5
Vendors Commvault, NetApp, Veritas, Acronis, Unitrends, and Arcserve – all vendors we classify as multi category scored point totals of 3 (Arcserve) to 16 (Commvault) with averages below those of the leaders above.
Vendors Amazon, VMware, Google, Oracle, Quantum, Hitachi, Iron Mountain, Rackspace, Fujitsu, Zerto, SunGard, Datto, Actifio, Barracuda, Exagrid, and StorageCraft are participants and covered in one or more of our Deal ScoreCard reports as well.
In the next post, we'll dig into one of the subsegments that went into determining these results.  As always, if you're a vendor and you want to get a view of the latest research, contact us by filling out the form at the bottom of this page, or reach out to your favorite TechTarget representative.  Alternatively, you can reach out to me directly via LinkedIn
---
April 30, 2018 7:16 PM
The Deal ScoreCard on Enterprise Mobility Management is a comprehensive report of a complex market – representing over 300 transactions completed or initiated during the 6 months leading up to January 2018.  The report was published in March 2018.  Another is scheduled for publication in June 2018.  A list of vendors that chart in the report can be found at the end of this post.
Security has always been a top concern, but "Ensuring privacy with work and personal / employee data'"is on the increase as an EMM project motivation – especially later in the buy cycle.
Some of this is due to GDPR which goes into effect in May.  Since a lot of the transactions included purchases made at calendar year end for implementation next year, it's logical that data privacy interest rose during the period.  We will monitor to see if this new found concern for data privacy holds up post-regulatory deadline.
Important for Marketers – Facts about EMM Buyer Types
33% First Time Purchase – 1 in 3 sales we monitored was going to organizations and buyers that had no existing EMM products in place.  These buyers consume significantly more research (white papers early on, research papers & webcasts and product literature later,) than their more experienced counterparts.  This group is also very interested in pricing, especially early on in their research.  This group is likely to respond to marketing efforts.
15% Adding a new or secondary vendors – This group is buying defensively, already having a solution in place, but looking is either looking for additional features / functionality or a secondary vendor "to keep the primary vendor honest".  We see the latter behavior often in more mature markets (servers, storage) where products are more interchangeable.  This group is likely to respond to marketing efforts and have a shorter duration sales cycle.
41% Additional purchase with primary existing vendor – this group is simply setting out to buy more of whatever solution they currently have in place.  Sometimes this is concurrent with an upgrade.  This group of buyers is least likely to respond to marketing efforts.  Interestingly, quite a few buyers that start on this journey do end up switching vendors.  In EMM, MobileIron customers were the least likely to switch to alternatives.  Citrix, Blackberry, IBM MaaS 360 and even VMware AirWatch didn't do as well as that.  See the chart below "Effectiveness with your Install Base" for a snippet of how a sampling of EMM vendors covered in Deal ScoreCard are faring with existing customer upgrades.
11% Switching Vendors – this group, which we refer to internally as 'burn victims' (no offense to actual victims of fire, please) are switching from one vendor to another.  They've either experienced pain with their existing vendor or have become susceptible to hope for a better future.  This group is knowledgeable, experienced, and generally less price sensitive than first time buyers.
Which Vendors are Covered in Deal ScoreCard Enterprise Mobility Management?
Apperian
BlackBerry
CA Technologies
Centrify
Cisco Meraki
Citrix
Dell EMC
IBM
Ivanti
Microsoft
MobileIron
SAP
Sophos
SOTI
Symantec
VMware
If you'd like to learn more about Deal ScoreCard, please visit the TechTarget Research homepage at www.techtarget.com
---
April 26, 2018 8:27 PM
This post is by: Krista Macomber, Director of Market Intelligence, TechTarget
Adoption of converged and hyperconverged infrastructure continues to grow, as buyers turn to consolidation and abstraction of functionality to decrease costs and increase efficiency with their on-premises data centers. However, the path to capturing this demand for product line managers and marketers is far from clear.
Originally, buyers perceived converged infrastructure as the packaging of compute, networking, servers and storage with common management software on a prequalified turnkey appliance. Hyperconverged infrastructure emerged as a sub-classification of converged infrastructure that allows for a storage controller and array to exist on the same server. Now, marketing lines are blurring between the two architectures – and new terms such as composable infrastructure (software that assembles compute, storage and network resources as needed) and the software-defined data center (SDDC).  All of these technologies compete. It is this competition that creates urgency for product management and marketing leaders to understand nuances not just in the underlying technologies, but also in the demand and workload deployment patterns of buyers. Understanding that, one can differentiate and maximize success in this murky and challenging marketplace.
Cloud Computing
Cloud computing-driven disruption of the data center is undeniable. TechTarget's Data Center Market Landscape report indicates that, during 2018, 20% of data center buyers plan to reduce utilization of stand-alone servers and 82% plan to increase utilization of Infrastructure as a Service (IaaS). Specifically, 78% of data center buyers plan to increase utilization of public cloud services.
Meanwhile, 20% and 25% of data center buyers already use hyperconverged and converged infrastructure, respectively, to achieve benefits such as faster and simplified deployment and management and increased resource utilization typically associated with cloud computing model. Over the next 12 months, 70% plan to increase utilization of converged infrastructure and 80% plan to increase utilization of hyperconverged infrastructure.
The vendor landscape is also changing, with:
This is driving significant market confusion around not only converged and hyperconverged infrastructure, but also broader software-defined storage and networking and private and hybrid cloud buzzterms.
Cutting through this noise, brand/reputation and minimal disruption to architecture are table stakes join simplified management and improved TCO as table stakes from the converged and hyperconverged infrastructure buyers' perspective. To effectively differentiate, marketers and product line leaders must   these macro-trends as well as finer nuances such as:
The increased scrutiny around product feature sets in the comparatively more nascent hyperconverged infrastructure space.
Greater premium on ease of implementation in the hyperconverged infrastructure side – reflecting comparative maturity of IT teams within organizations purchasing converged infrastructure.
Prevalence of data-centric workloads including database, data warehousing and data protection/backup – as well as disaster recovery-related features – in the hyperconverged infrastructure space to reduce the costs and complexities of legacy storage implementations.
Product Managers need up to the minute insight on what drives their market and what is changing now.  Deal ScoreCard offers up to 50 detailed charts and data to help understand why IT decisionmakers and their teams choose the products they choose so that you can determine competitive feature set, product packaging & discounts, and to make better, fact-based, decisions.
TechTarget Research offers the Deal ScoreCard – a "listening instrument" for professionals responsible for the creation, marketing, and selling of products to enterprise information technology buyers.  By analyzing hundreds of current buying transactions, Deal ScoreCard delivers quantitative insight into what drives IT buyers to make shortlists, evaluate, and purchase competing products in 20 of the most dynamic IT market spaces including most storage, compute, and cloud submarkets.  Visit TechTarget Research to learn more and to see if your firm is being covered.
---
April 12, 2018 4:17 PM
The latest Deal ScoreCard – Cloud Backup, one of 20 IT storage, cloud, and data center markets we publish,  analyzes over 400 recent deals to tell the story of a market in transition.  While dominated by Amazon (1st in consideration for purchase by buyers, 1st in number of cloud backup transactions, 1st in revenue – as reported by buyers) and Microsoft (2nd in all of the above), we are seeing increased consideration of Veeam, Google, IBM, Commvault, Acronis, RackSpace, HPE, Barracuda, Arcserve, Sungard, and others by buyers entering the funnel today.  Notably Commvault has the fastest increasing consideration rate, meaning that their messaging around cloud backup is turning into new selling opportunities for them in this highly competitive field.  Whatever they are doing seems to be working.
What matters to cloud backup storage buyers?
Cost – still a big factor here. There is a clear desire for 'disaster recovery for less', and cost is top of mind for 60% plus of buyers. This is an indicator of an early stage market.
Encryption – 42% care about encryption and this number is rising… BUT, for buyers, this drops to the bottom half, indicating it is a non-differentiating checkbox feature that is important to address early in the buy cycle.
Support for VM's  – being able to restart virtual machines in the cloud is important to 31% of buyers early in their evaluation cycle, and remains high (28%) in late stages.
How to cloud backup storage buyers differentiate between vendors?
Price – 31% say price is the top way to differentiate between solutions – both before purchase and after purchase.  When we see this, it means that this is being approached as a commodity buy.  As confirmation, buyers who completed purchases were twice as likely to say that price was the determining feature for their cloud backup storage purchase. This trend toward price being the top differentiation attribute is increasing.
Brand and reputation – Brand definitely influences who makes the short list early in the cycle. Leaders Amazon & Microsoft, no doubt, get a lift from this.
Previous experience with vendor – early in the buy cycle, experience with vendor doesn't seem to matter much, only registering as a factor in 10% of the deals, BUT when it comes to buy time, previous experience with vendor matters to 20% of buyers. Reasons for this include:

Contracting /billing difficulties
In-house Employee skills
Other workloads being housed with those vendors
What is the state of the market and how does that affect vendors?
58% of buyers are 'open' to competition from new vendors.  This group includes 1st time buyers, buyers looking to add a second vendor, and buyers looking to replace their primary vendor.  42% intend to purchase from an existing supplier.  This is relatively wide-open space and one that will respond well to marketing efforts.
37% of buyers of cloud backup storage are first time buyers.  Keep in mind that the information needs of first time buyers ("newbies") are very different from those looking to replace an existing product ("burn victims").  The former needs education on what to care about.  The latter needs information on how you and your product are different.
A Closing Question for you
Have you seen Deal ScoreCard?  All of the observations above come from Deal ScoreCard.  It is the quarterly research product designed specifically for product management, product marketing, sales leadership, competitive intelligence, and c-level strategists from the media company with the largest audience in the world.  You will learn where you and your competitors are strong, weak, and where the opportunities arise in this changing marketplace… delivered 4x per year from the worlds' largest IT media audience.
Visit our website – https://www.techtarget.com/products/techtarget-research/
---
April 9, 2018 10:12 PM
TechTarget Research is pleased to announce the release of Deal ScoreCard – All Flash Arrays.  The report is now available for subscription.  Based on the results of over 300 recently confirmed buying projects, Deal ScoreCard – All Flash Arrays delivers insight to all-flash array vendors – the marketers, product strategists, competitive intelligence teams, and C-level leaders who are responsible and accountable for outcomes… winning and losing in the All Flash Array marketplace.
This Deal ScoreCard – All Flash Array report is a very significant view of a complex market. You'll gain access to over 300 detailed responses in the 50-page report all drawn from buying projects started or completed in the last 6 months.
Why not schedule a preview today?
A few observations in all-flash arrays
Fully, 2/3 (67%) of the all flash array deals witnessed were intended to go to a buyer's existing vendor, but 3 vendors, Netapp , HDS , and Oracle, have win rates from existing customers that suggest their customers may be more likely to purchase from competitors than customers of other brands.  Deal ScoreCard – All Flash Arrays measures effectiveness with existing customers at three (3) levels (pre-sales consideration, evaluation outcomes, overall effectiveness)  so that leaders can understand where weaknesses or gaps in messaging, sales execution, product features, pricing, or other contest variables are causing existing customers to "vote with their feet".  This is the type of insight that Deal ScoreCard provides to subscribers.
Pure Storage led in influence – this strong market challenger delivered content to the market that resonated and was popular with buyers.
Buyers of all-flash arrays are most likely to read content about cloud storage, backup hardware, all flash arrays, and disaster recovery – in that order!  Smart Deal ScoreCard subscribers know that these topics are all valid points of entry, top of mind topics to buyers, and are areas available for marketing to buyers.
NVMe is the most popular emerging topic for this group.  They're learning about this now.
This edition of Deal ScoreCard – All Flash Array – solicited and collected data on the following vendors.  Bold indicates that vendor charts as a leader or notable challenger.
Avere
DataDirect Networks
Dell EMC
Hitachi Ventara (Hitachi Data Systems)
HPE
IBM
Kaminario
NetApp
Nimble Storage
Oracle
Pure Storage
Qumulo
SanDisk
Tegile Systems
Tintri
Schedule a discussion today.  We'd love to show you what you can do with insights from TechTarget Research, Deal ScoreCard All Flash Arrays and browse our other storage market coverage.
---