May 30 2008 2:56AM GMT

Profile: Joshua Wood
(Windows, Cisco and HP Procurve)
Time synchronization on your network gear is very important. Logs, IPSec tunnels and other services rely on the correct time to make sure that they are doing their jobs properly and securely. In order to synchronize the time your network gear (routers and switches) will need to be manageable and have IP addresses that can reach the time synchronization sources that you are going to set.
To Start: Picking the service
There are lots of time sources that you can use that are outside of your internal network. You will need at least one device that is synchronizing with the outside world at the least if not more. Below are the NIST (National Institute of Standards and Technology) list of time sources but any will work.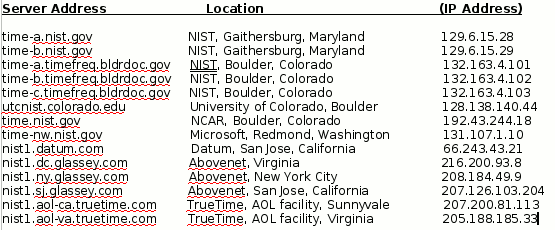 Windows:
Since it is likely that almost everyone will have Windows boxes is logical to start here first.
Step 1: Open a command prompt by going to Start → Run → cmd → ok
Step 2: Enter in the following commands in order to set the time service.
net time /setsntp:(Server)
For example net time /setsntp:time-a.nist.gov
Step 3: Stop and start the time service in order for the changes to take effect by running these commands.
net stop w32time
net start w32time
Cisco:
While the commands and methods for time synchronization for both Cisco and HP are similar there are some definite differences. After logging into the router here are the commands that you can run.
Step 1: Get into configuration mode
Router# conf t
Step 2: Tell the device which server to synchronization the time to
Router# ntp server 192.168.1.15
Step 3: Set the timezone
Router# clock timezone PST -8
Step 4: Set daylight savings
Router(config)# clock summer-time CDT recurring

HP Procurve:
After logging into the HP switch with manager rights.
Step 1: Get into configuration mode and enter these commands.
Router# conf t
Step 2: Set the server
Router# sntp server time-a.nist.gov
Step 3: Set the protocol for time synchronization to sntp since the default is timep for HP devices.
Router# timesync sntp
Step 4: Set the type of sntp to unicast since the default for HP devices is multi-cast.
Router # sntp unicast
Step 5: Set the daylight savings time information
Router# time daylight-time-rule User-defined begin-date 3/11 end-date 11/4
Links:
NIST How-to for serveral OS's: http://tf.nist.gov/service/its.htm
David Davis gives the details for the Cisco devices: http://articles.techrepublic.com.com/5100-10878_11-6129454.html