Mar 22 2009 3:46PM GMT

Profile: David Vasta
LINK :: Survival Guide for Lotus Notes and Domino Administrators (Hardcover)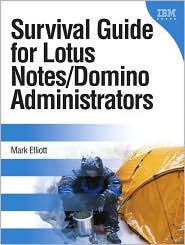 I received my copy of the book this week in the mail. Full disclosure, I paid for this book with my money and have not been given it to review and don't know anyone who wrote it. I know of the people, but have never met any of them. So with that out of the way lets get going.
First I expect the package to be larger than it was. I pulled the book out of the envelope, and to tell you the truth on first look I felt ripped off. The size of the book was a problem for me. I expected a much thicker book with more "stuff" in it. As it is called a SURVIVAL GUIDE it should thick and over 600 pages. I have many older Lotus books and they are thick and I love them.
I started reading the book, and to tell you the truth, I didn't expect the heavy Lotus Notes section. It was a nice start and I will be using it to help me build some training for new Lotus 8 Users.I congratulate the team for taking on Lotus Notes 8, it's not many times you get a good book that cover the Notes client like this. With so many new changes in 8 right now it's hard to manage them all. The book covers it all very well. Hats off to that part of the book, the content here is super.
The Domino Admin side is nice covering some of the new features of Domino 8. The Domino Admin part is nice and beefy, but still is just a bit of a bounce all over the place with what I thought the title was trying to describe the book. Now don't get me wrong, there is plenty of good info here in what is the last 2/3s of the book. While there is some great info, I don't think the title was a good title for such a short and concise book.
I was expecting a bigger book and for the money it was way over priced. That book should be priced at $29 to be considered reasonable. It would have been easier to understand the size of the book vs. the price if it was priced a bit more in line with the size and content of the book. I could have also done without the hard cover. A softcover would have been better and would transport better in my bag. Please don't get me wrong, if I had written a book and put my heart and soul into it I would want top dollar for it, but compared to other books about technology that are out today, it's really not priced properly. I will expect this book to get down into the price range it should be but right now it's still over priced vs. the size of the book. Have you understood that the size is bothering me?
On a scale from 1 to 10 I would give it a 6, mainly because of the size vs. price. There is nothing wrong with the content. I just expect more for $50 Retail.
I am a Domino Admin, I have over 20K Users and Hundreds of servers.I have been an Admin since R5 was released and have managed many environments and love running Domino on the IBM i. I just wanted to let you all know where I was coming from.
For all those in the Lotus Blog community who like to kick me for "NOT BEING AN ADMIN" can go ahead and get bent. I am of course tired of the holier than thou attitude that some people in the Lotus Blogger Community, it's sad they like to marginalize me because I disagree with them at times. Anyone can review a book and they don't have to like the books all the time.