---
December 23, 2008 5:15 PM
Slashgear has more pictures of the Lenovo Laptop with dual screens. Still loving it.
December 22, 2008 9:46 PM
We need sales to go up, we need exposure to go up, we need education to go up and we need CIOs to know that the IBM i is the most reliable, dependable and most ROI system on the planet! Yet if you were to look at what IBM is doing to get that word out you would think they were the ones needing the education. IBM built this little video for Lotus and Mobile Collaboration. It make sense and it's easy to understand. WHY WHY IBM can't you seem to do this for the POWER Platform?
---
December 22, 2008 2:13 PM
Happy birthday PlanetLotus.org and to Yancy. It's one year old and is  hub for all things Lotus in the world today.
---
December 22, 2008 2:10 PM
There is chatter in the Lotus Community about some people wanting IBM to open source Lotus Domino. There are two sides to this issue and I think that both sides have decent points. I fall on the side of NO, and IBM should do more to promote and sell the application server than they do now and make it really easy to get into small offices.
LINK :: Campaign to open source Domino
---
December 22, 2008 1:46 PM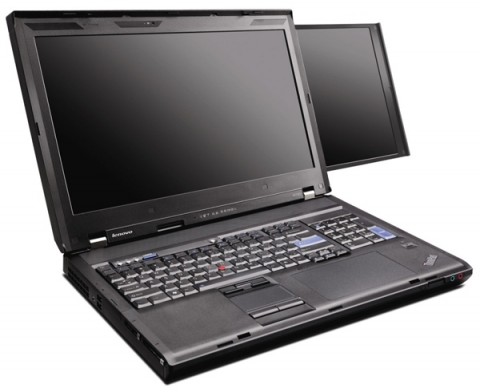 I am an old Thinkpad fan. I use a Mac when I am at home and I am forced to use a DELL at work, that I hate, and would kill for a Lenovo (IBM) Thinkpad. Seems the boys at Lenovo have been working overtime and made a Widescreen laptop, with a second screen. It looks like  aneat idea and I would love to see it in production.
"When news of Lenovo's ThinkPad W700ds dual-display workstation broke last week we did wonder if the small photo was a fan mockup – the side display looked very much "tagged on".  Now new, larger official images have appeared, and it looks like that original picture was accurate.  Happily we also have a new price range, which is much less than what early tips suggested: Lenovo will be selling the W700ds from around $3,600."
---
December 22, 2008 3:07 AM
LINK :: IBM i Customers Updating with Blades
I am all for Blades. I think POWER Blades are great and make so much sense. Chris points that all out and that customers are moving to blades.
"IBM's new IBM i and POWER6-based BladeCenters are gaining ground, though I don't have any hard numbers I can share. What is interesting, though, is the convergence of competitive pricing between traditional smaller IBM i systems with BladeCenter-based options. I recently spoke with Ian Jarman, IBM's Manager of Power Systems Software, and Craig Johnson, IBM's Power Systems product manager for IBM i, PHP and MySQL, who brought up a couple of points I want to share."
Thanks Chris!
---
December 22, 2008 3:00 AM
Link :: IBM Cuts Deals on CPU and i5/OS for 550, 570, and 595 Boxes
"We're almost into the fourth quarter and just finishing up the last couple of business days in the third quarter, and that means IBM is looking to cut some deals on CPU cores and i5/OS licenses to make some dough out of the System i installed base."
---
December 22, 2008 2:57 AM
Link :: IBM Starts Cutting Deals on Power Systems i for Q4
"Last week, I was talking to a downstream Power Systems reseller, one of the guys with a few hundred customers that he tends to with new systems, upgrades, software configuration, application tuning, and so on, to make his daily bread. By the sweat of his browser, as it were. And guess what he told me? He had no System i or Power Systems i deals at all in the pipeline for the remainder of the fourth quarter. None. Nadda. Zilch. Zip.
By the way, it has been a long time since this has happened to this particular reseller. We're talking as bad as post-9/11, and maybe worse. Neither he nor I know for sure, because no one knows how bad the economy really is yet. But what this reseller does know is that his customers, some of which are fairly large midrange shops, have absolutely slammed the brakes on any new systems spending."
---
December 13, 2008 5:26 AM
They are $100K short of the goal for 2008, they need your help. Please donate if you can.
LINK :: FreeBSD Foundation
---
December 10, 2008 4:07 PM
The Smart Cube from IBM has been getting lots of talk around the web, just not much from IBM? I want to see some real details and when I go to IBM's web site and search for "Smart Cube", I get nothing. Once again IBM DOES NOT KNOW HOW TO MARKET ANYTHING THEY SELL!
IBM has become one of the most frsutrating companies to deal with from a product and delivery stand point.
The only press release I can find is missing :: LINK HERE
Thank goodness for the ITJungle, as they seem to have more details about the product than IBM does at this time.
Links to all the details I can find:
LINK :: Is the Smart Cube the New i?
LINK :: A Little More Detail on the Smart Cube and Its Market
LINK :: IBM Press Release – IBM Launches "Smart Business"  New Computing Paradigm for SMBs in India; Ready-to-Use IT 
"These Power-based machines are not, I have learned, going to get the nifty new boxes that the Lotus Foundations X64 appliance that was (announced a few weeks ago are getting, but will be in the same tower boxes that a regular Power Systems machine uses. The Power versions of the Smart Cube will be made in Rochester, Minnesota, and in Dublin, Ireland, which is where entry Power Systems machines and earlier AS/400, iSeries, and System i boxes were also manufactured. So it is important to realize that, as far as I know, these Power-based appliances are not being made in China. However, the Lotus Foundations and very similar Smart Cube X64 appliances are made in China, and that probably gives them a distinct manufacturing cost advantage."
---