---
March 22, 2009 3:46 PM
LINK :: Survival Guide for Lotus Notes and Domino Administrators (Hardcover)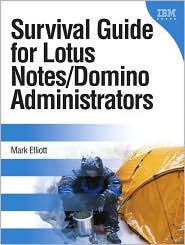 I received my copy of the book this week in the mail. Full disclosure, I paid for this book with my money and have not been given it to review and don't know anyone who wrote it. I know of the people, but have never met any of them. So with that out of the way lets get going.
First I expect the package to be larger than it was. I pulled the book out of the envelope, and to tell you the truth on first look I felt ripped off. The size of the book was a problem for me. I expected a much thicker book with more "stuff" in it. As it is called a SURVIVAL GUIDE it should thick and over 600 pages. I have many older Lotus books and they are thick and I love them.
I started reading the book, and to tell you the truth, I didn't expect the heavy Lotus Notes section. It was a nice start and I will be using it to help me build some training for new Lotus 8 Users.I congratulate the team for taking on Lotus Notes 8, it's not many times you get a good book that cover the Notes client like this. With so many new changes in 8 right now it's hard to manage them all. The book covers it all very well. Hats off to that part of the book, the content here is super.
The Domino Admin side is nice covering some of the new features of Domino 8. The Domino Admin part is nice and beefy, but still is just a bit of a bounce all over the place with what I thought the title was trying to describe the book. Now don't get me wrong, there is plenty of good info here in what is the last 2/3s of the book. While there is some great info, I don't think the title was a good title for such a short and concise book.
I was expecting a bigger book and for the money it was way over priced. That book should be priced at $29 to be considered reasonable. It would have been easier to understand the size of the book vs. the price if it was priced a bit more in line with the size and content of the book. I could have also done without the hard cover. A softcover would have been better and would transport better in my bag. Please don't get me wrong, if I had written a book and put my heart and soul into it I would want top dollar for it, but compared to other books about technology that are out today, it's really not priced properly. I will expect this book to get down into the price range it should be but right now it's still over priced vs. the size of the book. Have you understood that the size is bothering me?
On a scale from 1 to 10 I would give it a 6, mainly because of the size vs. price. There is nothing wrong with the content. I just expect more for $50 Retail.
I am a Domino Admin, I have over 20K Users and Hundreds of servers.I have been an Admin since R5 was released and have managed many environments and love running Domino on the IBM i. I just wanted to let you all know where I was coming from.
For all those in the Lotus Blog community who like to kick me for "NOT BEING AN ADMIN" can go ahead and get bent. I am of course tired of the holier than thou attitude that some people in the Lotus Blogger Community, it's sad they like to marginalize me because I disagree with them at times. Anyone can review a book and they don't have to like the books all the time.
March 18, 2009 7:37 PM
LINK :: NYT – IBM said to be in talks to buy Sun for $7 Billion
I think this is long over due. Sun has been twisting in the wind for way to long with way to many decent products (Solaris, StarOffice, SSO, EIM, Java, OpenSolaris,MySQL), that they like IBM can't figure out how to sell any of it.
IBM has, in recent years, done a better job than SUN but not by much. Part of the problem SUN has is Jonathan Schwart. He is has said nothing innovative in the past 7 years to spur on anything but declining sales and even less innovation from SUNs staff.
SUN also has a bad habit of brain washing executives and releasing them into the wild so that they can convert IT, all the while these brain washed zombies who think SUN is going to save the world end up destroying companies, ruining IT departments and in the end are nothing more then SUNs evil puppets. Sadly all to often they end up in decent hard working IBM shops trying to find chinks in the armor and can't so they just start ripping the walls down like gorrilas who is unhappy with the decorations in thier painted white cages. They should have stayed at SUN where they belonged, in the fold, on the mother ship.
OK, to be fair, IBM has zealots too, and I know that, but you don't rip and replace when something has been working well for over a decade. I have been in more than one place where some past executive from one of the big three has shown up and decided his former company could come in and do it all for less. Well if that was the case then why didn't we do that 10 years ago smarty pants, oh I know because SUN has been on the edge of DEAD now for so long no one trust the investment.
You don't buy a car you want a warranty on from a car company that is going out of business, why the heck to you think GM is not selling cars right now? No one will know if they are going to be there in 6 months.
You can have the best widget in the world with the best colors, but if you are not going to be around to support it in 6 months or a year then no one will want it, except the stupid, and that is what you end up with when you hire a former IT Exec from SUN or Microsoft who wants to rip and replace everything  for no decent reason. You also have to question everyone sanity who hired he or she.
SUN is the expensive IT choice, nothing they make is cheap or even FREE unless you pick thier OPEN lines. Even those can be supported for a cost. A big cost but a cost none the less.
SUN has failed to do anything with SPARC and also has failed to really break open the server market with it's pathetic little pizza box servers that are so sad looking when you open them up that you wonder which laptop company sold them the bits to barley fill the case?
Apple and Sun would have made the most sense, but Apple has a problem thinking about big IT, and IBM seems to have a pretty good hold on big IT, while strugguling with small IT.
So I did use this post to rant a bit about the demise, thank goodness, of SUN and the rise of IBM. I think if IBM were smart they would take everything SUN has in house, close up shop on SUN. Retain the decent people. I do know a few, and take that technology I mentioned before, port it to POWER and offer it up. IBM at that point in time will have a killer offering. Please don't kill the OPEN projects, we need them for the sake of innovation. IBMs next move, NOVELL!
Well in the long term if IBM does take in SUN I hope to have OpenOffice in every Lotus product soon, and move to what I consider a better office suit than the "other guy"
Good Luck IBM.
---
March 12, 2009 8:45 PM
Now the French are not liked globally for whatever reason you like. I for one think it's a fine country with some odd politics. Love or hate them the Linux community is absolutely in love with them right now. The French Police have moved to using Linux and are saving huge amounts of EURO CASH!
"A recent report has revealed that France's national police force has saved an estimated 50 million euros since 2004 by adopting open source software and migrating a portion of the organization's workstations to Ubuntu Linux. They plan to roll out the Linux distro to all 90,000 of their workstations by 2015."
With Windows XP now being well over 9 years old and nothing decent coming from Microsoft it's the only option some places may have. While there is nothing wrong with XP, it's still working, at some point we have to move forward. Only issue is now we are in a bit of a lurch, Vista is, in my opinion, a total flop and should be sent to the same place ME was sent to. Vista is still at least 1 to 2 years from being ready, and will take even  longer to be accepted by IT departments globally. Then there is the pricing. WIth so many decent Desktop, and Office Suite option available to us right now for FREE, it's hard to make a case to keep going down the Windows desktop/office path.
I applaud the French Police and hope we see a flurry of information about how the upgrades are going, how they are making it happen and I really want to know the minute Microsoft calls them and offers them all the Microsoft core products for FREE to just say they have replaced Linux again…..
C'est superbe! l A France magnifique! l A Linux magnifique!
---
March 12, 2009 5:45 PM
I just posted that IBM is not doing anything, and I have to take some of that back now. According to THE FOUR HUNDRED they are offering iLoyalty Blitz for all current IBM i owners.
LINK :: IT Jungle – THE FOUR HUNDRED – IBM and Resellers Do the iLoyalty Blitz
"The basic idea, according to the internal documents that I have been able to get my hands on concerning the iLoyalty Blitz, is to get customers interested in new Power Systems i machinery with "as few touches as possible" and the hopes of closing a sale in only two phone calls. The first call to the customer is a value call, to discuss the benefits of moving to the new technology and sharing some examples of how moving to a new Power Systems i box can cost no more or even less than supporting a vintage OS/400 machine. That first call is to get some detailed information so the salesperson can do a tailored pitch in the second call and then toss in these two deals mentioned above and any other applicable discounts, rebates, and promotions, as well as low-rate or deferred-payment financing for the system from IBM Global Finance." – Timothy Prickett Morgan
---
March 12, 2009 4:05 PM
I am always looking to save money. I am an Apple owner and have been, yet I have never purchased a new Mac from Apple. I always go to the discount bin. Most people who are all glazed over about buying an Apple don't look down the page to see there is a discount bin at Apple.
Link :: Apple Refurbished Store
IBM has the same thing going on and you can buy anything from Laptops to Mainframes. So if you are looking for a good deal on an IBM product and are not picky then this is the site for you IBM Bargain Hunters.
---
March 12, 2009 3:58 PM
I was playing on IBMs site, configuring an Intel Server and found a choice that seemed odd. The ECONOMY PACKAGE on the 1U Intel Server I was looking at drove the price up $184 vs. the BASE Hardware?
---
March 12, 2009 3:38 PM
Sun did this a few years back and it was a hug success, IBM is now offering you a chance to "barrow" an IBM Power System to try and if you like all you have to do is keep it and pay up sucker!
LINK :: 60 Day No Cost Trial – TRY & BUY
Here are the Details I COPY & PASTED from IBMs site so you could them here and then decide if you wan to sign up.
Take advantage of this test drive now:
Evaluate for yourself how the IBM Power Systems cost-efficient and stable solution stacks up against your own platform.
Discover how Power Systems platforms give superior performance, using unique vitalization technology, self-healing and self-managing capabilities.
If you do decide to buy, it may be because you see that a purchase can help reduce your acquisition costs and help lower your total cost of ownership.
Here's how the Program works:
Choose a configuration.
Fill out the contact information. You will be contacted within 24 hours to clarify and validate the information.
If approved, an IBM Business Partner or IBM Sales Representative will then contact you to arrange shipment and extend a trial agreement to you. Our program goal is to have the machine arrive at your location no later than 1 week after signing the trial agreement.
Should you decide not to keep the machine at the conclusion of the 60 day trial, please notify the IBM Business Partner or IBM Sales Representative, pack the machine in the original packing material, and return it to the address specified by the IBM Business Partner or IBM Sales Representative.
NOTE: I know in the previous post I busted IBM for not being UP TO DATE, and while this is a nice start, there needs to be more!
---
March 12, 2009 3:27 PM
The world is a buzz with talk from Economist about the sour economy. Everyone has a opinion on what we should do and yet you don't see many CEO's talking what to do? I find that bit hard to pathom. I think every CEO should be telling the world how they plan to increase sales, or at least rub the market the right way.
IBM has been particularly quiet, and while I didn't expect them to put up a huge "SALE" sign on the web site, I did expect to see some huge bit of information about the POWER platform being on sale, or at least drop the price a little so that people start to really look a bit longer. Now if you head over to IBM's site you will see some new prices listed in GREEN that are looking pretty good.
My other beef with IBM is this. Say I want to buy a DELL or HP Server I log into the site and find the specs I want and then buy the server. Recently I needed a small 1U web server for my personal use. I went to a few sites, found the server I wanted, changed some of the specs and started to think, Why can't I log onto IBM and buy a POWER server running Linux right off the site? I could, I take that back, but it's going to cost me well over $7000 for the unit and it's not a 1U or 2U unit?
My gut feeling is IBM is not changing the way they interface with the public, they seem to make it as hard as possible to purchase anything from them. I don't want to contact a business partner, I want to order from IBM, I want a reasonable price and I want it to ship in the next two weeks!
Is anyone at IBM listening, the market has changed and IBM is not, and they are still wondering why sales are sucking?
---
March 4, 2009 9:11 PM
IBM gets tight lipped this time of year and they don't share much along the lines or "NEW" POWER based technology. This would explain why I am not blogging much. So I am putting out the word, to all companies who are not IBM and are in the POWER platform market. If you want me to review your software, review a tool or some hardware. I HAVE FREE TIME!
PUBLIC SERVICE ANNOUNCEMENT- If this had been a decent blog post you would have enjoyed it and not seem me for my cheesy begging.
---
March 4, 2009 8:09 PM
I am not one to harp on the bad, I like to see the upside in things. My mother always told me if you can't say anything nice, don't say anything at all. While the economy is giving me nothing to say that is not a bit dark there is some upside. Seems there is a light at the end of the tunnel, and seems it's a few months away. Maybe a year, but considering how long the last HUGE depression lasted, that ain't so bad.
LINK :: Fed survey: economy deteriorated in Jan., Feb.
I saw this little nugget of info:
"Looking ahead, business people rated the prospects "for near-term improvement in economic conditions as poor, with a significant pickup not expected before late 2009 or early 2010.""
This to me is a good thing. We needed to adjust a bit and get on with it.
Some more good news today, the stock market around the world was a bit up, which has not been the case os of late.
So what does this all mean? Hell if I know. I am like most of you who want to see the economy come back, people to stop worring all the time and start enjoying life again. It's bound to happen and Ifor one can't wait.
I am sure the boys at IBM are looking foward to a recovery so they can dazzle the world with another 10 years of lack luster marketing…..is that dead horse beat sufficently or is IBM just not concerned with thier products in a good or bad economy?
---