---
July 8, 2008 12:47 PM
So you are a Mac user, and for that you're smart, then you are being told to use Lotus Notes and as a Mac user that makes you crazy for all the right reasons. You can't use Spotlight to search and I again know your pain. But the problem is you're still on a Mac, you have Lotus Notes and your trusty iPhone is lost since you can't sync the iPhone to anything in Lotus Notes, until now!
You need PocketMac GoBetween for Lotus Notes
You can also sync a few other devices other than your iPhone. So you are not limited to just the iPhone, there is a very heavy list of what you can sync with.
July 2, 2008 3:35 AM
"How Not to Be Clueless
"My CIO is clueless." These are words you don't want to hear if you want to earn the respect of your application development professionals. So how do you avoid being a clueless CIO? Steer clear of these behaviors:"
---
June 30, 2008 1:17 AM
I didn't cry this week when George Carlin died, I just wondered if he got his chance to meet God and God got to tell him he was wrong. I didn't get upset when Bo Diddley died either, but I made me listen to his music for a few days. I felt bad when Tim Russert passed away all of a sudden and really just thought that was sad, but I didn't get really upset. In the past few weeks we have seemed to lose someone important in America and this weekend one of the most important icons to me passed away.
Kelly read it to me out of the paper and I think we both cried a little, and I was heart broken. See here is the issue, UGA holds a special place for anyone who grew up in Georgia. I still have the collectors Coke glasses my grandfather purchased went The Bulldogs had the greatest season ever. I still think Hershal Walker is a magical person, and that name alone makes me warm inside. But when you say UGA, meaning the bulldogs that Sonny Seiler owned UGA and lived in Savannah, GA, then and only then do you get my true and undivided attention.
UGA VI you will be missed.
If they would have had an open public funeral I would have packed up Peaches and been off to Athens. I know he and all the other UGA's before him will be happy in that special place watching those special games, being the most admired mascot in all of college football. Not only is UGA a Bulldog, an icon, be he is also like me and Peaches a Savannian! and a great one at that!
I am a little wet around the eyes now thinking about it all, farewell to a great DAWG, I think this year UGA needs to romp and stomp like a Bulldog does and show UGA VII what college football like played the UGA way! While UGA VI may have been the winninnest UGA, I want UGA VII to help inspire Bulldog Football to be the most impacting and hard football the SEC has ever seen. I want to them have another 1981 all over again. I want to watch good Georgia Bulldog SEC football and I want the LSU Tigers to know, you don't bring a Tiger to a DAWG fight, cause your going to get Bulldogged all afternoon. UGA VII the weight of the Bulldog nation is upon you and I stand up proud, never have been to Athens, never have seen a Georgia Game in person, knowing I am from Georgia, I am from Savannah, and I own a Bulldog and I love UGA Football! Go DAWGS!
Damon Evans, the university's athletic director, called it a "sad day for the entire Bulldog nation."
---
June 23, 2008 10:31 PM
It was almost 20 years ago when I got into IT, and my first desktop PC was an IBM AS/400 e90…I think it cost $3 Million. I of course was sharing it with 700 other users, but what a great beast!
I just wanted to wish the IBM i (AS/400) a very Happy Birthday, next year we can all go out drinking!
Link to Chris Maxcer's Blog about the Birthday and IBM 
-Oh I was not invited to the events in Rochester this week and to say I am hurt is an understatment. From the leading IBM i Blogger on the web to, some goofball at in Charlotte writting about technology. It's a long fall!
---
June 22, 2008 2:58 AM
Chris makes an interesting observation – LINK
"There are still some differences in how IBM is rolling out its converged System i and System p server lineup — though it's not so much the hardware that's different as it is the availability of the operating system. In the IBM i world, we'd pretty much always rather be first, but is being first really that critical?"
---
June 22, 2008 2:56 AM
 "I got the chance to attend the php|tek conference in Chicago last week and it really opened my eyes to a lot of things. You see, the event was attended mostly by members of the PHP community supporting the LAMP (Linux, Apache, MySQL, PHP…) stack. Since I was probably the ONLY i5 guy at the event I felt a little out of place. Aside from being over dressed (I wore a collared shirt) nearly everyone I talked to had not heard of the i5. And when Andi Gutmans, Zend Founder and CTO, gave the keynote and mentioned the i5 twice, nary a head was turning. But that's OK. Maybe next year we will see a considerable improvement in the i5 community attendance, if you catch my drift."
Great line from the post:
"Oh yeah, we got it easy…One of the sessions I attended was given by a network professional who specializes in clustering lots of little Intel boxes in order to scale PHP websites. I guess this is a cool thing for the Intel world. It involves a lot of complicated networking and servers and more. He went on and on about BGP and round robin DNS and all kinds of topics. The room was packed and the entire audience was absorbed! People really wanted to hear what this guy had to say. If only they knew. If only they were aware of the power of the Power systems like the IBM i. It was everything I could do to keep from shouting "Go get an i"! Maybe I should have. But, then again, I'd have to explain the benefit of scaling vertically vs. scaling horizontally. The benefits of having IBM on the speed dial and the fact that they can make a new machine appear out of thin air as long as your Business Partner completes the paperwork properly and on time"
---
June 22, 2008 2:52 AM
Link to Post
 "At the recent System iNEWS annual editorial conference in Boulder, Colorado, Scott Klement, tech editor extraordinaire, was honored with the Gary Guthrie Award for Excellence in Technical Writing, for his October 2007 System iNEWS article titled "RPG Rules." The award goes to writers who exemplify the best in technical writing, content, and service to the System i community. Scott's young son, Alex, proudly helped Dad accept the award. Way to go, Scott!"
Way to go Scott, Gary would have agreed. I was lucky to work with Gary at REAL Solutions and he always loved to share, just like Scott does, the award could not have gone to a more deserving person. I am kind of choked up right now. Bravo Zulu!
---
June 22, 2008 2:48 AM
I am working on a new site, so between work, this site, writting for Search400 (which I hope they change the name of soon) and family, I have also found little time to start building a new site that will in the end be a hub for all things POWER based. I have to bring the community together under one web site.
So with that said, I am going to need people to provide content for the site. I need really dedicated insane people to help build the community from all parts of this equation. IBM i, AIX, Linux on Power, and POWER hardware. We need to come together in a big way and share. I am also going to cover Lotus, Ubuntu, OpenSolaris, OpenSuSE, FreeBSD and other things that interest me that I think are changing the way IT does IT.
Please send me an email and I will get you in on the fun, and if you know Joomla that would be great too…I am no expert on that CMS kit.
---
June 22, 2008 2:43 AM
I was thinking after not posting much this week, not because I didn't want to but because I just didn't have much time….Do you come here on the weekends?
---
June 17, 2008 2:12 PM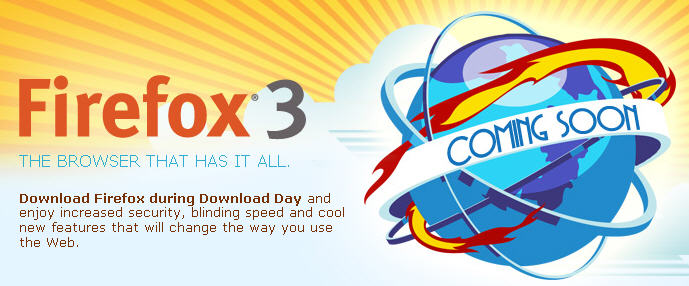 You have to download Firefox today, first because it's a damn good browser and second to help them set a world record and give "You Know Who" the middle finger.
New Features – Firefox 3 sets the innovation bar very high with exciting new features, including one-click bookmarking, the smart location bar and lightning fast performance.
Security – Keeping you and your personal information safe is our top priority. Firefox 3 includes phishing and malware protection, plus our new instant site ID info.
Productivity – With features like built-in spell checking, session restore and full zoom, Firefox 3 makes it possible to work faster and more efficiently on the Web.
Custimization – Your taste and needs set you apart from the rest. With Firefox 3 you can choose from over 5,000 add-ons that help you customize your browsing experience.
---