---
April 14, 2009 8:25 PM
LINK :: Microsoft Vista Bad – Texas Bans Vista For State Gov
The malignment of Windows Vista has reached a new height: A Texas lawmaker added a provision to the state budget that would effectively ban Vista from being purchased by any state government agency.
The rider says that any agency must get written approval from the Budget Board before buying any Vista products, and the guy who inserted it said its intent was to block them from buying the operating system. Hinojosa, Senate Finance Committee vice chairman, said, "We have a lot of problems with the Vista program. It had a lot of bugs. It takes up a lot of memory. It's not compatible with other equipment, and it's supposed to be an upgrade from the XP program that is being used by state agencies, and it's not."
I would agree, it's not an upgrade of any kind. Everyone says the problem is they changed the interface, only Apple did that with MacOS X and there has been almost 100% acceptance of that OS vs. the crap that is VISTA.
UPDATE :
So me being as a person that uses facts to build an opinion I contacted 10 (round number and easy to work with) IT people I know at 10 different companies about this topic.
10 People 5 of which are in Medium Sized companies (over 3000) people, and 4 in small (under 1000) companies, then the last person is a consultant, which becasue he is all over the place shines the brightest light on this topic from all angles.
Before we get into the 10 people I talked too, my current employer is a Microsoft friendly company with 25,000 users and the only VISTA installed is for testing. It's not allowed in production.
Back to the 10 IT people. So three groups:
LARGE (5)
SMALL (4)
CONSULTANT(1)
5+4+1 = 10
Just doing the math to throw you all off.
Of the LARGE group only one admitted to having more than 5 copies of VISTA inside their company. The other 4 said 2 -3 at best. It was because some senior level person had purchased a PC and not talked to IT and just got it with VISTA installed or in a few cases demanded that they get VISTA. In all 5 none of them have deployed VISTA. This is interesting in that I would have expected 2 of them, being large Microsoft shops, would have deployed more VISTA than they have.  But it was not the case. I then asked WHY?
The answers we all about the same the only variance was the level of detail provided. Mostly Education of the new product, cost, compatibility, and performance.
The SMALL group had almost the same experience. In fact one of them admitted to having to remove VISTA on a large number of PCs that were purchased and replaced it with XP due to a compatibility issue with te hardware that came with the certified VISTA PC and some application they ran. It could crash VISTA no matter what they did and all Microsoft would do was blame the hardware vendor, which was certified to work with VISTA. Interesting. 2- 3 per company was the norm and for all the same reasons.
So out of the first 9 IT people there were no large VISTA installations, and not plans to move to VISTA in the next 2 years. So far it seems my opinion in short that VISTA SUCKS is pretty much spot on and IT people in the US are agreeing with me without even knowing they are.
The last hold out was the CONSULTANT. He sees everything and is very PRO-MICROSOFT! With that said I know on his PC he is using a Mac with VMWares app to run XP. He does not run VISTA anywhere except at the office and he has admitted that it only as a reference. That of course is very telling.
He has many many customers from 2 -3 users to over 100 in an office and the majority of them are on XP and one has moved from Microsoft Desktops and Servers to Mac Desktops and XServe Servers for everything. That was the most delicious part of his answer. Seeing companies do he "impossible" according to Microsoft. He also stated that the VISTA users he does have are split on their like or dislike of VISTA. He did say that most customers don't know they have a choice when buying a new PC and just take VISTA and that he has been un-installing VISTA and replacing XP about once or twice a week for the past 4 months. It's not a large number but it is important.
So what is the over all verdict?
All 10 I think were pretty honest. I don't think any of them knew were I was going with these questions of that I would use it to make an argument against VISTA. I think most of them thought I was trying to figure out if I should move to VISTA and were giving me hints that I might want to think twice. After getting this information I don't see VISTA being the HIT Microsoft planned for it to be. It's the new WindowsME.
That is al!
April 6, 2009 1:46 AM
I think everyone at SUN is happy for now. I am not sure how good this is for them long term. I don't think SUN has what it takes to keep selling nothing. I don't know what SUN has to offer the IT world. Solaris is free, OpenSolaris is even more FREE and the hardware they are putting out is lack luster and not even as good as anything DELL or HP has. Sadly I think SUN should have taken the offer and called it  day. Next thing they will be asking the government for a hand out.
LINK :: Linux Journal – IBM Lets Sun Set
---
March 31, 2009 11:49 PM
I like what SunGard brings to the table. I like the idea that they are doing well right now too.
"SunGard's Availability Services business unit last week launched a new reseller partner program to augment its direct-sales approach and expand its offerings to small and mid size businesses. The new program covers all of the company's offerings–everything from traditional tape-based backup to hot site recovery and full high availability (HA) replication–and is aimed at generating referrals from resellers and "white box" versions of SunGard's services that partners can resell themselves.
SunGard has always sold its disaster recovery (DR) and HA services using a direct-sales model. Considering that a good percentage of SunGard's customers are big, Fortune 500-size companies, it's always made a lot of sense to develop and maintain a close relationship with this upscale clientele, instead of relying on partners to do it."
LINK :: ITJungle – SunGard Looks for Growth with New Reseller Program
LINK :: SunGard
---
March 31, 2009 6:57 PM
I am going to try my hand at teaching on EduFire.com. I want to give back and spread the word about Lotus Notes 8. I encourage you to show up and learn more about Lotus Notes 8
---
March 31, 2009 5:34 PM
The owners of this site hate it when I put up open ended questions hoping for some feedback. And to make them happy I am going to keep doing it. It's just that I hope to get some answers and I do from time to time.
How large an IBM i do you have now?
Does your company or customer seem happy with the IBM i System?
How many IBM i Systems do you have now?
How many partitions?
Do you run LInux on the POWER Platform?
Do you run AiX on the POWER Platform?
Do you run Windows on your POWER Platform?
Are there plans to move away from the IBM i?
If you are moving away from the IBM i what platform are you moving too?
When your current lease is up do you plan on getting a new IBM i?
I know these are the kinds of questions IBM is looking at, but in order to keep the blog freash along with my writting it essential to know where the IBM i is going and what you use it for. You don't have to tell anyone where you work or what you use it for.
---
March 31, 2009 4:51 PM
LINK :: Novell strengthens commitment to Mono
Good news all around the Linux Community today.
"As part of the Web 2.0 Expo in San Francisco, Ca. today, Novell announced the availability of MonoDevelop 2.0 and Mono 2.4. MonoDevelop 2.0 is an open source integrated development environment for programming with C# and other languages. Mono 2.4 is the latest release of the open source, cross-platform .NET application framework that powers the SUSE Linux Enterprise Mono Extension."
IBM should really think about buying Novell. They are in bed with them right now and it would make the most sense.
---
March 27, 2009 12:40 AM
Having nothing to do with System i or IBM, the F1 Series starts tonight in Australia. I will be up all night watching it. I know there is DVR, but I don't care. I want to watch it on TV in the middle of the night like any good US F1 fan does……
Some people live for Football, or Baseball, not me I can't wait for race season to start. I love F1, and I love LeMans racing too. Those are the things that make David tick. I don't know what it is about F1 but I love watching it. Sadly they will not be in North America this year, but maybe in 2010. It should be a great season, and I want to see more Jenson Button and Makajima san near the top. I know I am wanting a lot.
Good luck to all of them and stay safe!
---
March 27, 2009 12:38 AM
I didn't know Al as well as others at COMMON, but in Nashville I was able to spend a few more moments with him than in the past. Always opinionated and always willing to share. Little did I know it would be the last time any of us would get to talk to him. 2008 was not a good year, it started with my Father-in-law passing away, the Al, then my to young to die Brother-in-Law in Utah. I guess we are all too young to die, but I digress.
Common has announced the Al Barsa Scholarship, which I think is a great idea. Hats off to them and I am sure somewhere along the way Al would have told them they were doing it al wrong, Anyway I think it's a super idea and he would have approved.
---
March 27, 2009 12:33 AM
I really thought SUN was going to get purchased by IBM and then come to find out IBM may be laying off 5000 employees? Come on IBM, you know you didn't have to do that? Seems like the past 20 years of IT have been very up and down. I wish it would level out for just a bit.
---
March 23, 2009 3:53 PM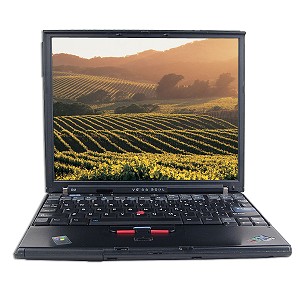 LINK :: Lenovo X41 Laptop with Linux
The X41 is small and light, weighing around 2.7 lbs with the 4-cell battery it came with. It uses a 1.50 GHz Pentium M processor with the Intel 915GM chipset. Other specs include: Intel PRO wifi chipset (fully supported by Linux out of the box), Intel graphics card, a 12.1″ XGA TFT screen, 512 MB RAM (Geeks sent us a 1 GB RAM upgrade too, reaching the overall RAM of 1.5 GB), fingerprint reader, a 1.8″ 60GB drive at 4200RPM. It features a modem port, an ethernet port, headphone/line-out, external microphone, infrared, expansion bus for IBM laptops, VGA-out, 1 PCMCIA slot, 1 SD slot, two generic USB 2.0 ports, and 1 IBM "USB" port (not compatible with most gadgets).
---