---
September 9, 2009 5:25 PM
As solid state drives (SSDs) gain more play in enterprise storage, the emphasis shifts from the drives themselves to the software used to control data on SSDs and hard drives.
That management capability was the impetus for Texas Memory Systems' acquisition of Incipient's storage virtualization IP, and for intelligent data placement software that EMC and IBM have pledged to deliver.
That is also the key to the MaxIQ SSD Cache Performance Solution that Adaptec rolled out today. Billed as a hybrid SSD-hard drive system by Adaptec, it is actually Adaptec's MaxIQ SSD caching software combined with a 32GB Intel X25-E SATA SSD.
The software serves as a higher-performance cache by copying frequently accessed "hot" data directly into the SSD cache to improve performance. I/O for the hot data comes from the SSDs, while "cold" data goes to spinning disk.
"Our controller is an agnostic piece in the middle of the data traffic and does all the monitoring," Adaptec marketing director Scott Cleland says. "If a read request meets the threshold of hot data, it gets copied to the MaxIQ SSD and subsequent requests come from the MaxIQ SSD."
Adaptec claims it can deliver more than five times the IOPS of disk arrays. It also uses NAND flash instead of DRAM to keep down costs, much like NetApp did with the Performance Acceleration Module IIit launched last month.
MaxIQ will be delivered mostly through distributors and resellers, and Cleland says a MaxIQ SSD Cache Performance Kit costs $1,295 for a 32GB X25-E Extreme with the caching software.
September 8, 2009 3:40 PM
Hitachi Data Systems today put its brand on the midrange NAS system first launched by its OEM partner BlueArc in July.
The Hitachi NAS 3080 and 3090 are rebranded BlueArc Mercury 50 and 100 systems. The vendors claim the 3080 performs at more than 60,000 IOPS per node and the 3090 at over 100,000 IOPS per node. The 3080 scales to 1 PB, and the 3090 hits 2 PB.
Like BlueArc, HDS bills the new platform as a midrange system for commercial applications rather than a high performance computing (HPC) NAS system. Street pricing begins at $70,000 for an entry-level configuration. Besides price, the biggest difference between the 3080/90 and the HDS 3100 high-end systems is the size of the clusters they support. The 3080 supports two-node clusters, the 3090 clusters four nodes and the 3100 and 3200 scale to eight nodes. HDS sees the 3080/90 as a companion to its Adaptable Modular Storage (ASM) midrange SAN platform and the 3100/3200 continuing to accompany its Universal Storage Platform (USP) enterprise SAN arrays.
On top of the BlueArc hardware, HDS adds the Hitachi Data Discovery Suite to search and index data across all HDS storage and Hitachi Content Archive Platform (HCAP) for policy-based file migration and tiering. "We're trying to make intelligent file tiering, or HSM, cool again," said Fred Oh, HDS senior product marketing manager for NAS, "We're bringing what's been popular on the high end to the midrange."
You can certainly argue that HSM never was cool or popular, but at least BlueArc and HDS have clustered name space for scale out NAS. That's cool, at least for NAS administrators. "One of our nearest competitors in the NAS space is still trying to solve this problem," Oh said, jabbing NetApp for its long delay in adding support for scale-out NAS clusters to its Ontap operating system.
---
September 4, 2009 5:35 PM

View of the Moscone Center where VMWorld 2009 was held.
Speculation swirls about EMC / Cisco joint venture
According to widespread reports, most recently an anonymously sourced report in the Wall Street Journal, Cisco and EMC Corp. are brewing up a joint venture to more easily bundle up EMC storage with Cisco's UCS.
Judging by the amount of buzz, there probably is something happening; EMC storage was also exhibited as part of Cisco's gigantic UCS demo at the show. According to one of my sources, who also requested anonymity, a joint venture would be a way for the companies to jointly market UCS with EMC storage without doubling up on the commission paid to separate sales forces.
If this deal happens, I think it would probably put the kibosh on the longstanding Cisco/EMC merger rumors, which date back at least as long as I've been in the storage market. Should they spin off a joint venture, I think it would be an indication that both organizations have gotten too large and complex to fully merge.
It would also be part of a general trend of alignment between companies whose products live at the top of the data center stack – apps, networking, and servers – and middleware/networking/storage counterparts, whether through acquisition a la Sun/Oracle or partnership as with Dell/Brocade.
Cisco and EMC have declined comment.

Always amazed at the scale of this show…Exhibit A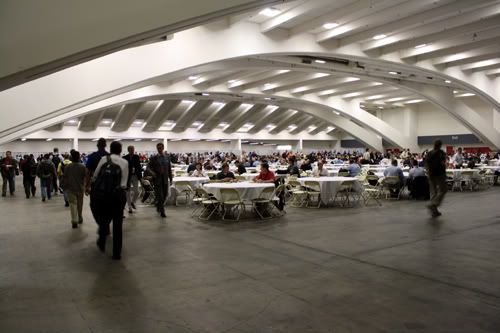 Exhibit B: the "feed lot" for meals, in a space remeniscent of an airplane hangar.

Exhibit C: Hands-on labs were jumping at all hours. This is first thing in the morning, and the line has already stretched out the door…
Asigra on the difference between cloud and online backup
And yes, there is a difference, at least according to Asigra executive vice president Eran Farajun—portability of data.
"Online backup is the closest thing to the cloud, but it still has one foot in the distributed-computing era," he said. If users want to switch service providers, they pretty much have to orphan data or receive it back in raw format that can be labor-intensive to reassimilate behind the firewall. Asigra had been focused on service providers for years before the cloud computing buzzword became hot, and Farajun said that because Asigra is already set up for multi-tenancy and virtualizes the media server on the service-provider end (the customer has a backup "master" server that collects new data on-site), customer workloads can be shifted directly from one partner to another. It's an interesting and helpful distinction to make, the kind of thing we need more discussion about as the cloud phenomenon gains steam.

VMware CEO Paul Maritz gives a keynote speech on Monday morning.
VMware acquires SpringSource
I was curious about this acquisition since the description of SpringSource's rapid-deployment capabilities for new servers and virtualized applications sounded somewhat similar to the company EMC acquired earlier in the week, FastScale. But according to VMware CEO Paul Maritz in a Q&A session on Tuesday, "the two are only loosly in the same space. SpringSource is a level above [FastScale], thinking in terms of applications, rather than how they're deployed in the infrastructure. They are complementary."
Seanodes says it's buddying up with IBM in Europe
Seanodes CEO Frank Gana says the iSCSI SAN vendor is in the midst of deployment with European customers on IBM's BladeCenter servers. Keep an eye on this pairing – IBM has some iSCSI offerings, but nothing to directly compete with HP/LeftHand running on HP BladeSystem, which HP began offering this week as a VDI reference architecture.

Some analysts I ran into on the show floor noted with interest that this was Sun's only presence at the show…
Xsigo usurps Cisco in VMworld show floor demos?
An interesting new addition to demo hardware this year was "What's under my hood?" signs next to the roaring machines in show floor booths. The one at VMware's booth consisted of EMC storage, MDS servers, and…Xsigo I/O virtualization interconnects, rather than the more-hyped VCE approach. Cisco was hardly inconspicous, though. Massive UCS racks greeted attendees as soon as they came down the Moscone Center escalators to get to breakout and general sessions (photo below).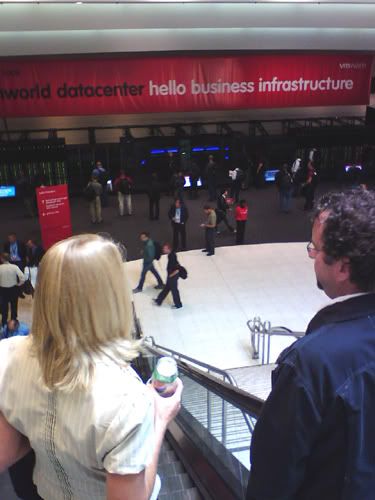 NetApp offers $1 million storage challenge
Building off their 50% storage reduction guarantee for VMware environment (see full story, including fine print), NetApp was offering customers $1 million worth of storage equipment in exchange for a chance to prove they can achieve the 50% reduction. NetApp Chief Marketing Officer Jay Kidd said in this case, the customer agrees to be a public reference for NetApp if the deal works out.
Photos from VCE Distance VMotion session

VMware senior staff engineer Shudong Zhou, EMC VP of VMware technology alliance Chad Sakac, and Cisco manager of product marketing Balaji Sivasubramanian fill attendees in on the finer points of VMotion support.

Chad Sakac, aka Virtual Geek, previews EMC's active-active storage plans

Just part of the VCE distance VMotion test bed config.
Read the news story here.
A must-see T-shirt was a big hit at the show: newScale's WILL PROVISION FOR FOOD. The full story behind it was blogged here. More pics available on Flickr.
More storage news from VMWorld 2009:
---
September 2, 2009 11:43 PM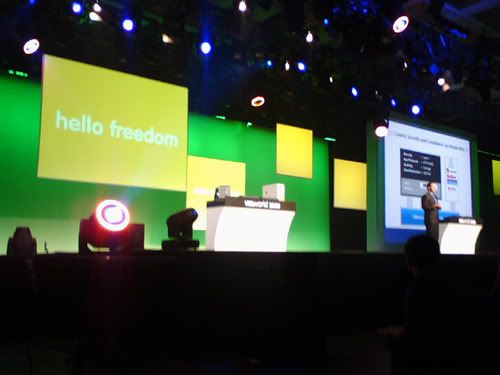 VMware Inc. CTO Steve Herrod (above) dropped hints about what's to come from VMware's vSphere and VMware Desktop Infrastructure (VDI) products in a keynote that opened VMworld's Wednesday sessions.
Among the storage-related items:
VMware is working with storage vendors to put virtual desktop root disks into high-speed cache on storage arrays for faster boot-up times.
Based on a new OEM relationship with RTO Software announced today, virtual desktops can be given individual personalities while their operating systems are managed centrally. This will simplify patching, since each virtual desktop OS doesn't need to be separately patched, while saving storage space by using a "golden" OS copy. Without the ability to have patches proliferate from the golden copy (which is the case when using space-efficient snapshot environments within storage arrays), users face a choice between patching each copy, potentially exploding storage capacity requirements, or redeploying virtual desktops.
VMware and Visa demonstrated mobile device virtualization during the keynote. VMware is developing products that can let mobile devices run applications with data centralized at the corporate data center rather than residing on each endpoint device.
VMware's Distributed Resource Scheduler, which today VMotions virtual machines between physical servers based on power consumption and processing load, will also take into account disk and network I/O. "DRS will combine with tiering algorithms on the storage side to match the application with hardware," Herrod said.
Similarly, VMware's vApp, which encapsulates multi-tier applications with policy information, will include disaster recovery recovery time objective (RTO) information as well as availability requirements in policy profiles.
Another topic getting a lot of buzz at the show this year is distance VMotion–stay tuned for more on that front.
---
September 2, 2009 12:16 AM
EMC's second acquisition this week is less surprising than the first.
A day after buying application image management vendor FastScale Technology on the opening day of VMWorld Monday, EMC today said it would acquire e-discovery software vendor Kazeon Systems. While FastScale is more of a server virtualization play, Kazeon is a mainstream storage product and gives EMC a path to integrating its SourceOne archiving software platform.
When launched in April, EMC's SourceOne consisted of Email Management (formerly EmailXtender) for email archiving, Discovery Manager for discovery and legal holds on email archives and Discovery Collector to automate data collection in multiple repositories. Discovery Manager and Discovery Collector were separate products, although EMC's marketing reps suggested they could be integrated over time.
That's where Kazeon comes in. Lori McKellar, a marketing manager for EMC's Content Management and Archiving Division division, says EMC bought Kazeon because it handles end-to-end e-discovery.
"It addresses the full e-discovery process," she said. "It has the ability to cull and review information as well as collect information, and handle litigation hold. It's the most complete offering."
EMC already sells Kazeon to add e-discovery capabilities to its Centera CAS and Celerra NAS storage systems. McKeller said Kazeon will become part of the SourceOne platform when the deal closes later this quarter.
EMC currently uses Kazeon rival StoredIQ for its Discovery Collector, but that will almost certainly change. StoredIQ sent word via email after the acquisition news broke that it "still maintains a partner relationship" with EMC and will "continue to work on opportunities" but it appears that relationship and those opportunities will not be the same.
"Kazeon is our primary vendor now [for e-discovery]," McKellar emphasized.
Kazeon has about 80 employees and 275 customers, raised $60 million in funding and signed an OEM deal with EMC rival NetApp during its early days. EMC did not disclose the purchase price, but CEO Aaref Hilaly of Kazeon competitor Clearwell Systems — either playing reporter, or trying to set a price for his company — wrote on his blog the Kazeon price tag was $75 million.
---
August 31, 2009 7:56 PM
It's strange to think of a parent company finding new ways to grow closer with a subsidiary — after all, an ownership relationship seems about as deep as it gets.
But for years now, VMware and EMC have walked a tightrope between EMC's ownership of the server virtualization company and VMware's cooperation with EMC's competitors. VMware has been careful not to favor EMC storage integrations, for example, over competitors like NetApp.
However, analysts see that picture beginning to shift after two pieces of news from EMC to kick off VMworld. The first was pre-released last week that EMC is now an official reseller of VMware's AppSpeed application as part of its Ionix data center management portfolio. That's a part of a wider emphasis at this year's show on improving virtualized application performance and reliability using reporting and monitoring tools. Virtualization has clearly moved beyond "why" and "how" into "now what?"
This morning at the show, EMC took a step further into VMware's world by dislosing its acquisition of FastScale, a privately held Santa Clara, Calif. firm which makes software for application image management (AIM).
Taneja Group senior analyst Jeff Boles said he's intruiged that EMC — rather than VMware — acquired a company with technology that lets you run more virtual machines on your hardware.
"EMC has kept its distance in some ways from VMWare, but I'm under the impression that tide is changing," Boles said.
FastScale is not a storage product, but Bob Quillin, senior director of product marketing for EMC's resource management group, wrote in his Infrastructure 2.0 blog of FastScale's impact on the storage infrastructure: "FastScale increases the relevance to and alignment with VMware by maximizing the density of VM's that can be run on an ESX (up to 3X the VMs), decreasing memory and disk usage, and thus enabling the most optimal platform for tier-one application delivery," Quillin wrote.
Another EMC blogger, Chuck Hollis, put it this way: "From a storage perspective, maybe we ought to call it 'pre-dupe' rather than 'de-dupe'?  Compared against what can be done with ordinary disk-based deduplication, we're now able to go so much farther in terms of footprint reduction — not only on disk, but in memory where it 'really' counts."
Said Boles, "this is a key space to watch — this kind of optimization can have significant implications for the storage infrastructure."
---
August 28, 2009 8:30 PM
Yesterday, SearchDataBackup.com Site Editor Andrew Burton and I took a trip to Iron Mountain Digital's headquarters in Southborough, Mass., for some face-to-face meetings with Iron Mountain Digital's executives.
Those execs had plenty to tell us about Iron Mountain Digital's plans for the rest of this year, and for some of 2010, including a project codenamed "Gryphon" that will add data classification capabilities for eDiscovery into the next release of Connected PC Backup.
Some visuals to go along with that story:

Andrew Burton sets up for a video Q&A with Iron Mountain Digital Vice President David Kubick. Note the "Stairway to Heaven" poster behind Kubick–Iron Mountain's Southborough conference rooms are named for rock bands.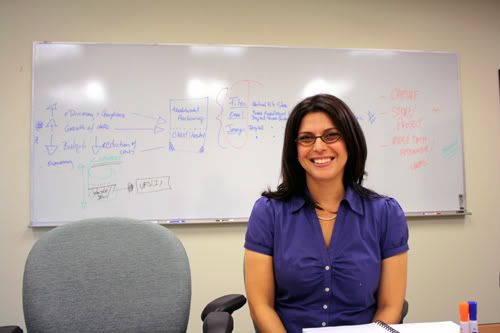 Digital Archiving product marketing manager Claire Lima, who explained to us (see whiteboard) that IMD users with a legal matter can have Iron Mountain feed data from other repositories into Stratify for legal review and production, or if they're overshooting backup windows with LiveVault. The goal is to have more automated integration between eDiscovery, backup and archiving services going forward.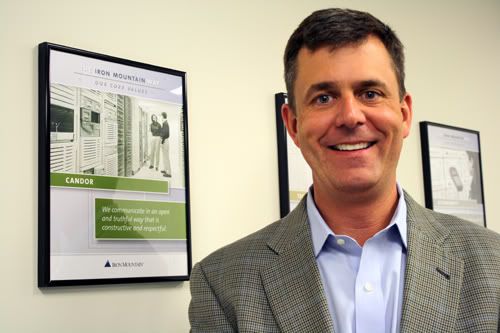 Iron Mountain Digital President John Clancy, who revealed that former Stratify CEO Ramana Venkata was promoted to chief operating officer a little over a month ago. Bringing three engineering centers in the US and India under Venkata is the first step toward deeper integration between all of Iron Mountain's data backup, data protection and e-discovery offerings.

Iron Mountain Digital Data Protection senior product marketing manager Jackie Su and director of product management David Asher, who gave us the scoop on plans to integrate data classification IP from Avalere into Connected, LiveVault and Virtual File Store.
---
August 28, 2009 7:27 PM
As mentioned below, it's been the Week of 8 Gbps FC.

08-27-2009 Storage Headlines
[ 12:30 ]
Play Now
|
Play in Popup
|
Download
Stories referenced:
(0:24) NetApp begins rollout of Data Ontap 8
NetApp plans SSDs in arrays by end of 2009
(3:26) EMC remakes 8 Gbps FC/10 GbE Clariion provisioning in VMware's image
(5:09) IBM beefs up midrange storage arrays with 8 Gig FC, iSCSI, self-encrypting drives
(6:49) Iomega launches StorCenter network-attached storage upgrade with Mac support and data replication
(8:12) Spectra Logic's BlueScale automates data replication across disk and tape with data deduplication
---
August 27, 2009 8:01 PM
Emulex executives said yesterday that IBM has qualified a new Virtual Fabric Adapter for BladeCenter servers, which will allow the consolidation of Ethernet and Fibre Channel connections.
The Virtual Fabric Adapter is a virtual Network Interface Card (NIC) that goes into each blade server in the BladeCenter chassis. Rather than the typical four to six separate IP ports and two Fibre Channel ports, the VFA will run Gigabit Ethernet and Fibre Channel over Ethernet traffic streams over four 10 Gigabit Ethernet ports.
Emulex has also added support for Blade Networks' 10 GbE switch, which connects the BladeCenter to the wider corporate network.
IBM previously announced it will also resell converged networking products from Cisco, Brocade and QLogic. IBM officials also said at the time of that announcement there were plans to add products from Emulex as well, but specifics were not made public until this week.
NetApp is the only storage vendor to announce native Fibre Channel over Ethernet (FCoE) interfaces on its disk arrays so far. EMC Corp. and IBM partner LSI Corp. have said they don't expect significant traction for FCoE in storage arrays until next year. Analysts say they don't expect FCoE to reach a 'tipping point' over Fibre Channel until at least 2011.
---
August 26, 2009 8:33 PM
The Holy Grail for SSDs is to make SLC performance cost as much as MLC, or, even better, as much as hard disk drives. The CTO of SSD manufacturer STEC says it won't happen, pointing out that every advance in SLC density will have manifold benefits in MLC. Anyone who's bought the newest iPhone or iPod knows older technology will almost always be cheaper, so SLC or MLC at the price point of HDD seems an even more far-fetched concept.
However, the CEO of Flexstar Technology, a manufacturer of hard drive, SSD and optical media testing equipment for storage vendors and OEMs, says SSDs do have one cost advantage over spinning media: a less complex, potentially more cost-effective quality testing process.
Currently storage OEMs and manufacturers have to put spinning media through extensive QA tests to make sure they stand up against environmental factors from rotational vibration, shock, ambient temperatures and humidity, according to FlexStar President and CEO Tony Lavia. "It's not enough to test the drives in a clinically clean environment–each vendor needs to know that the drive will work inside their unique cabinet environments." This means each vendor has to do its own custom testing and qualification process for spinning media.
From Lavia's perspective, SSDs, with fewer moving parts, will change that picture. "You don't have to do custom testing,: he said. "Instead OEMs can tell the drive manufacturers to do testing and only send them the drives that pass." It also opens the door, Lavia said, to third-party testing companies (like, say, FlexStar).
IDC analyst Jeff Janukowicz said Lavia's reasoning makes sense. "There are close to 100 SSD companies right now, and they don't all necessarily have the resources to go out and buy their own testing equipment," he said. "If those companies don't require extra capital for testing, they could offer cheaper solutions [to end users]."
But least one emerging SSD vendor disagrees with the "no custom testing" idea. "Not all NAND is created equal," said Pliant Technology's vice president of marketing Greg Goelz. "We test rigorously using proprietary tools."
---