Oct 15 2010 3:19PM GMT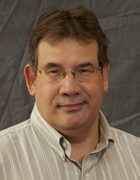 Profile: Dave Raffo
Iomega is getting into high-performance Flash. The first step is a portable drive for consumers and SMBs it will begin shipping next month. The next step is adding solid state drives (SSDs) to its NAS platform.
That's the plan laid out by Jonathan Huberman, president of EMC-owned Iomega. The vendor today launched the Iomega External USB 3.0 SSD Flash Drive that is about the size of an iPhone. The SSD device comes in capacities of 64 GB, 128 GB and 256 GB.
Huberman said the same form factor will be used for Iomega's NAS soon. He doesn't have a timeframe because the company has to make tweaks to optimize it for the SMB NAS devices.
"It will be the same flash and the same form factor," he said. "We're architecting our NAS stack now."
Huberman said USB 3.0 support is the key driver for the external drive, as well as decreasing Flash prices. "Without USB 3, you miss a lot of the benefits of Flash because you're capped by USB 2 performance," he said. "And price points continue to come down. Historically, the price/value equation wasn't attractive. Now it makes sense for our customer base."
The External SSD Flash drive costs $229 for 64 GB, $399 for 128 GB and $749 for 256 GB.