Feb 6 2008 3:28PM GMT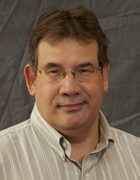 Profile: Dave Raffo
Tags:
Why is it when storage vendors hawk a system below a certain price point – say $10,000 – it automatically becomes an SMB product?
Take HP's MSA upgrade launched today. According to HP's press release,
"The easy-to-use, enterprise-class systems are designed for small and mid-size businesses …"
But the real use for the system comes next, after a however,
"… enterprises also will find the MSA2000 is an ideal solution for their remote office, departmental, secondary and tertiary storage needs."
The real purpose for the MSA2000 is the second one listed. SMBs are listed first because that's considered the hot "greenfield" market today. But just because the MSA is at the low end of HP's SAN portfolio doesn't make it right for SMBs. They're more an option for existing HP customers to add smaller storage deployments or to hook up to blade servers. That doesn't make them bad; but they're smaller versions of HP's SANs and not built for SMBs.
Charles Vallhonrat, MSA product manager, HP StorageWorks division admits as much. When I asked about the system being for SMBs, he said yes, the price point is low and management is simple, "but we also see a large uptake with large customers putting it in remote offices and departments."
HP says the list price starts at $4,999 but you better have a lot of unused storage lying around because that price includes no disk. That price covers a single iSCI controller. If you want 4.5 TB of SATA storage, it costs $7,993. A single Fibre Channel controller costs $5,999 without disk and $8.993 with 4.5 TB of SATA drives. Dual controller systems add $2,500 to the price. More expensive SAS drives are also available.
Vallhonrat says a single controller system is viable because the controllers include transportable cache. If one fails, you can move the cache to a new controller and recover data.  That's useful for a storage administrator, but probably not something the person who manages systems at an SMB wants to deal with.
HP isn't alone in labeling its small enterprise systems as SMB offerings. EMC does the same with its Clariion AX systems. The difference is HP has a real SMB system – called the All-In-One.
Vallhonrat says the MSA2000 platform is meant to compete with IBM's DS3000, Dell's MD3000 and the lower-end of the AX4.
As for differences between the MSA200 and All-In-One, he compared it to using a dedicated printer or scanner as opposed to a multifunction device. The All-In-One is the multifunction device with iSCSI and NAS for block and file storage while the MSA2000 handles only block storage.
"All-In-One is for people who have a need for multiple storage types [file and block], but not the best performance for one type," he said. "Like a multifunction printer, it's not best scanner or best printer but does all. The MSA is for if you need better performance or availability, but not the ease of use or functionality of the All-In-One."