May 1 2012 9:54AM GMT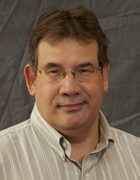 Profile: Dave Raffo
Move over SAN, WAN, LAN and MAN. EMC is pushing the notion of a CAN – cache area network – with its upcoming Project Thunder product.
During the Solid State Storage Symposium last week in San Jose, Calif., Brian Sorby, an EMC business development director, provided more details on the Thunder product for analysts and bloggers. EMC first disclosed Thunder when it officially launched its VFCache – formerly Project Lightning – in February. VFCache is a PCIe flash card that goes inside a server. Thunder will expand that by using PCIe flash in an appliance.
Sorby said Thunder would consist of a high-speed front end (InfiniBand or 40-gigabit Ethernet), a lightweight operating system and VFCache cards inside a 2U or 4U appliance.
He said that while VFCache lets end users accelerate LUNs on their SANs, it is limited because "putting these cards into every server in an enterprise is a tedious process." That's where Thunder comes in.
"Thunder is a perfect complement to blade servers and rack servers that can't be messed with," Sorby said. "It's a cache area network to bring this above a storage area network to today's 21st century storage bottleneck elimination. Our new term or new vision is to bring SSDs out of the array, and also to bring the SSDS out of having to buy an entirely different type of product just to get access to it, also to alleviate the problem of having to put a PCIe card in every server in your environment to take advantage of some high I/O feature. This is establishing our cache area network. It's the next logical step, and the direction EMC is pointed in today."
EMC is certain to provide more details of Project Thunder at EMC World later this month, and may even officially launch the product.