---
July 2, 2008 10:10 AM
Last time on As the Benchmark Turns, we saw NetApp pull a fast one on EMC. This week's episode brings us into the torrid realm of


RSS Feed

Email a friend
July 1, 2008 10:36 AM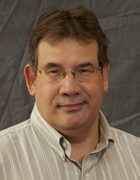 Profile: Dave Raffo
 QLogic CEO H.K. Desai had planned to step down this year, but says there is too much going on in the storage industry for him to leave now. That's why his heir apparent left QLogic in March, and...
---
July 1, 2008 10:33 AM
Yesterday I met with Ibrix, a company I haven't caught up with in a while. They seem to be doing well with movie production studios, and our meeting featured a screening of Wall-E, the latest picture from Ibrix customer Pixar. Along the way, I was told that while his business cards...
---