---
June 6, 2008 8:05 AM
"Fibre Channel over Ethernet is like a fast car," said consultant Howard Goldstein of Howard Goldstein Accociates Thursday on his session about FCoE at Storage Decisions Toronto. "It looks great, but it probably won't run as well as you thought or be as cheap as they say it's going to...
June 4, 2008 4:09 PM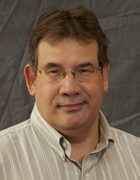 Profile: Dave Raffo
Solid state isn't the only thing looming on the horizon in the enterprise storage drive space. Drive makers say small-factor (2.5-inch) SAS is poised to encroach on 3.5-inch Fibre Channel's turf in...
---
June 4, 2008 2:52 PM
Google has revamped its business search site, and rechristened it Google Site Search (it was previously called Custom Search Business Edition). It's the SaaS version of the Google Search Appliance, but it's limited to website data because the hosted software can only see public data. So...
---
June 3, 2008 3:11 PM
I was intrigued when a colleague sent me a link to an article by Henry Newman referring to a "firestorm" touched off by some remarks he recently made in
---