---
March 10, 2008 7:55 PM

My fellow children of the 80's will...
March 6, 2008 12:31 PM

Profile: Tskyers
I'm not sure how we get all mired in TLA's but this FRCP is going to be a PITA (pain in the you-know-where), because it's a...
---
March 6, 2008 10:32 AM
It doesn't necessarily have anything to do with storage, but I got a chuckle out of this story from Reuters UK today about a lawsuit filed against IBM:
A small Japanese bank has slapped International...
---
March 5, 2008 3:47 PM
Two storage-related announcements came out of CeBIT this week that have turned a few heads. The first is the FlashBack Adapter from thumb-drive king SanDisk. The device fits into the ExpressCard slot of a user's PC, and automatically and continuously backs up and encrypts data onto a flash memory...
---
March 4, 2008 3:40 PM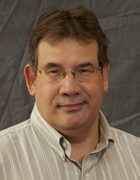 Profile: Dave Raffo
Brocade today said it intends to buy private professional services firm Strategic Business Systems, Inc. (SBS) today, a reflection of how services have become a big piece of large storage implementations. According to Rob Buergisser, Brocade's director of operations for service, support and...
---