---
June 21, 2007 10:48 AM
This morning Plan B failed. I have high speed internet access into my office, but I pay a small monthly fee to keep a pay-per-minute dial-up account just in case my high speed internet provider ever goes offline. So, this morning, when I lost my internet access, I mentally started preparing myself...
June 20, 2007 1:16 PM
Former Brocade CEO, Greg Reyes, went to court Monday to face the music for options backdating. His trial is the first of over 100 cases against companies accused of options backdating and the results could signal a collapsing house of cards for the technology industry. The...
---
June 20, 2007 12:39 PM
HP's impressive keynote hall...actually a boxing arena.
Welcome...
---
June 19, 2007 9:30 AM

Profile: cgibney
One of the common questions I am getting from IT people that I meet with is how can they protect remote offices, typically those with no local, at least officially anyway, IT staff. It is important to accept upfront that you may need a couple of solutions to address this challenge. This is...
---
June 15, 2007 6:56 AM
Coming to you from sunny Las Vegas, in the "Blogger's Lounge" inside Symantec's Vision City (their name for the show floor). Seemed apropos. In addition to the Blogger's Lounge, which consists of picnic tables set up on a large field of Astroturf in the middle of the floor that has been dubbed...
---
June 13, 2007 2:03 PM
Word of tapes "falling off the back of trucks" is almost a once-a-month event these days, but the way companies handle the disclosure of these albeit embarrassing incidents is shameful. A coworker at TechTarget told me this morning that he had just recevied a letter from IBM informing him that...
---
June 12, 2007 2:28 PM

Profile: WHurley
We all know that deleting a file doesn't actually "delete" anything. Deletion only marks the file's clusters as free for re-use -- data actually remains tucked away within the sectors of each cluster until they are overwritten by new data. To really destroy data, it must be overwritten multiple...
---
June 11, 2007 2:32 PM
Arun Taneja and I have focused on the topic of data protection management (DPM) in recent posts. He sees what I also see – DPM software is undergoing a significant transition in purpose. While DPM software is not new and companies like APTARE, AGITE Software, Bocada, Tek-Tools, ServerGraph and...
---
June 5, 2007 8:13 AM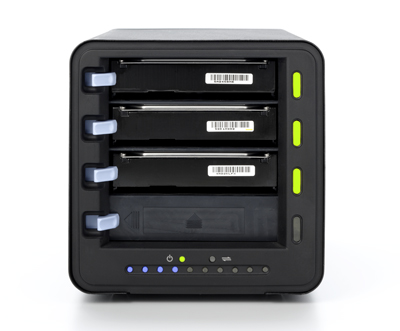 Data Robotics, a new storage startup just coming out of stealth, has announced both itself and its first product today. Data Robotics was formerly...
---
June 4, 2007 7:54 AM

Profile: Ndamour
You have seen my writings on (and may even have heard me speak about) Cross Correlation (CC) analytics engine as a necessary part of a Data Protection Management (DPM) product. DPM products make your backup and restore environment work more efficiently. Recently, I have seen the application of CC...
---