Apr 18 2011 8:28PM GMT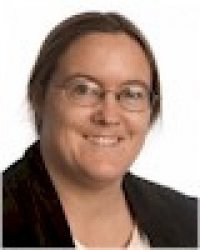 Profile: Sharon Fisher
A major Asian manufacturer is looking to get out of the storage business so it can invest in new areas.
Didn't we just hear about this?
In this case, however, it's not Hitachi GST that's doing the selling, but Samsung Electronics, which — like Hitachi — was primarily involved in the spinning disk market and had less of a presence in the solid-state disk (SSD) market and would face expensive retooling to support it, according to the article in the Wall Street Journal on Sunday that sparked all this.
The potential purchaser? Seagate Technologies, which was leapfrogged by the Western Digital-Hitachi GST merger, which took up almost 50% of the market, according to iSuppli. Seagate accounted for 29% of hard disk drive shipments in the fourth quarter, while Samsung accounted for 10%, iSuppli said. In addition, sales of hard disk drives are down 4% in Q1 compared with Q4, iSuppli said.
.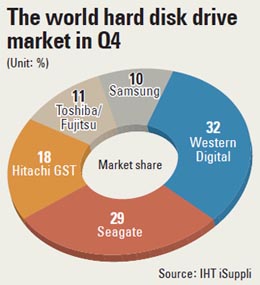 Perhaps Seagate — which considered and rejected a Hitachi purchase itself — didn't want to miss out a second time. And unlike a Hitachi purchase, which might have courted an antitrust claim, a Samsung purchase would be in the consumer marketplace, rather than the enterprise market Seagate and Hitachi share, according to Jason Mick at DailyTech.
The source for all this? "A person familiar with the matter," who said the Korean Samsung was hoping for $1.5 billion (compared to the $4.3 billion Hitachi fetched), but might settle for $1 billion.
Seagate itself wouldn't comment, but Chris Mellor of The Register noted earlier this month, in a piece about Seagate's earnings, that its chairman and CEO, Stephen Luczo, was spending three months in the Far East, and that the Seagate's earnings report had noted, "The preliminary results for the fiscal third quarter do not include the impact of any potential new restructuring activities, future mergers, acquisitions, financing, dispositions or other business combinations the company may undertake."
Samsung, meanwhile, estimated lower earnings earlier this month, and is getting involved in areas far removed from the hard disk business, such as biopharmaceuticals.
The Journal quoted Richard Kugele, an analyst at Needham & Co., as saying "there is really no legitimate alternative" to a sale of the unit to Seagate other than for Samsung to shut it down.
The last disk drive up when the music stops playing? Toshiba (which started all this in 2009 with its
acquisition of Fujitsu
), with 11% of the market — which could either be considering a Samsung purchase itself, or planning its own exit strategy with a sale to Seagate,
Mellor suggested.