---
November 25, 2014 5:00 PM
IT conferences
,
IT conferences and events
,
SQL
,
SQL Server
I've heard some talk from SQL Saturday organizers that they only want advanced sessions at their SQL Saturday, for some reason or another. This probably isn't what your attendees want. Sure, some of them do. But a lot of people who attend these sorts of sessions want more introduction...
November 25, 2014 4:55 PM
SQL
,
SQL Server
,
statistics
Well, today is a bit of a milestone for me. As of today, I've published 1000 blog posts on IT Knowledge Exchange which is hosted by TechTarget. I've blogged about a lot of stuff over the years, including PASS, EMC World, SQL Server, Storage, Exchange, etc. Here's some highlights from my posting...
---
November 19, 2014 7:00 PM
Database instance
,
Database migration
,
Server migration
,
SQL
,
SQL Server
,
SQL storage
,
Storage
Recently a client brought me a challenge. They wanted to more a database from one LUN to another. So far this is pretty straight forward. The trick here is that this is a multi-TB instance with several databases which are about 1TB in size, and the instance has a two hour per night maintenance...
---
November 13, 2014 5:00 PM
SQL
This year the SQL PASS conference held their first Speaker Idol contest with the goal of getting new speakers into the PASS Summit on the strength of their presentation skills instead of their abstracts. And I think I can safely say that it was a resounding success. We started with 40 people...
---
November 4, 2014 7:00 PM
SQL
I just want to remind everyone that SQL Karaoke is Tonight at Cow Girls, Inc. Be sure to get signed up and show up for a great time with an awesome Rockaraoke Band. A great time will be had by all. I can't wait to...
---
October 29, 2014 7:00 PM
Execution Plan
,
Query tuning
,
SQL
,
SQL Server
Index seeks are good, right? Normally they are, unless the index that you are seeking against isn't the correct index. If we look at Figure 1 everything in this plan looks good, right?
---
October 22, 2014 7:00 PM
SQL
,
SQL Server
If you are attending the SQL PASS Summit in Seattle, WA in November 2014 you've probably heard that the SQL PASS Summit is going to be having it's first speaker idol with the winner of the competition winning a speaking slot at the SQL PASS Summit in 2015. In order to have a contest we need...
---
October 17, 2014 3:42 PM
Database Administrator
,
Git
,
Meeting
,
SQL
,
SQL Server
,
Tor

This week I've found some great things for you to read. These are a few of my favorites that I've found this...
---
October 13, 2014 4:50 PM
SQL
At the PASS Summit we will for the first time ever have a speaker idol contest, where the winner will receive a speaking spot at the next years PASS Summit. There was a great response to the application form to be considered for Speaker Idol, with 40 people applying. Of those 40 I had to choose...
---
October 8, 2014 4:00 PM
IT conferences
,
SQL
,
SQL Server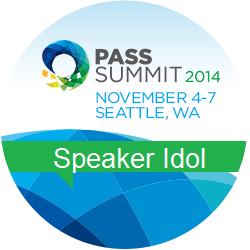 Ever wanted...
---