---
May 9, 2010 6:46 PM

My trip to EMC World started a day early this year.  With the long trip out here, and the events starting pretty early on Sunday afternoon, trying out on Sunday just doesn't work unless I want to sleep through the Sunday welcome reception and check in.
And since I don't want to sleep through either of those events, I came out on Saturday.
On the way from the airport to the hotel I was able to snap a few pictures which I figured that I'd share with everyone. Below are a few of them. Feel free to click through above to see all of them.
The view from the plane was pretty nice for most of the flight.
We were greeted at the airport with some EMC World signs before we even got out of the baggage claim area.
In the cab from the airport to the hotel we got a view of the river going through the city.
Granted these aren't the best pictures that I've ever taken, but I took them on my camera phone so I think they came out pretty good.
As the week progresses I'll post pictures here and on my Twitter feed or on the #emcworld hash tag.  You can also look for pictures posted by everyone else on Fickr under the #emcworld hash tag.
Denny
May 6, 2010 11:00 AM
Something that some companies like to do is to change the port number that the default instance is listening under as a security precaution.  However this has a habit of stopping anyone from connecting to the default instance without knowing the port number.
This is because the default instance doesn't register itself with the SQL Browser when it starts, so you can no longer simply just connect to the default instance when named instances will work just fine.  The fix from CSS is to simply change the port back to TCP 1433.  The reason for this is that changing the port number doesn't do a lot to secure your SQL Server as a quick port scan will show an attacker which port the SQL Server is listening on.  That or they'll simply check out the web.config and get the port number from there.
Denny

---
May 3, 2010 11:00 AM
So last week was SoCal Code Camp and I just released that I hadn't gotten the slides posted for the sessions that I did.
Can I really consolidate my SQL Server database
Diving into Server Virtualization, Deciding if Virtualization is a good choice for your SQL Server
If you didn't submit a session survey at the Code Camp, please go to http://speakerrate.com/mrdenny and fill one out.
Thanks,
Denny

---
April 29, 2010 11:00 AM
The nice folks at Tech Target were nice enough to send me some swag to give away during my SoCal Code Camp sessions in June.  They sent some stickers (and who doesn't love free stickers), a few t-shirts and a bunch of cable holders.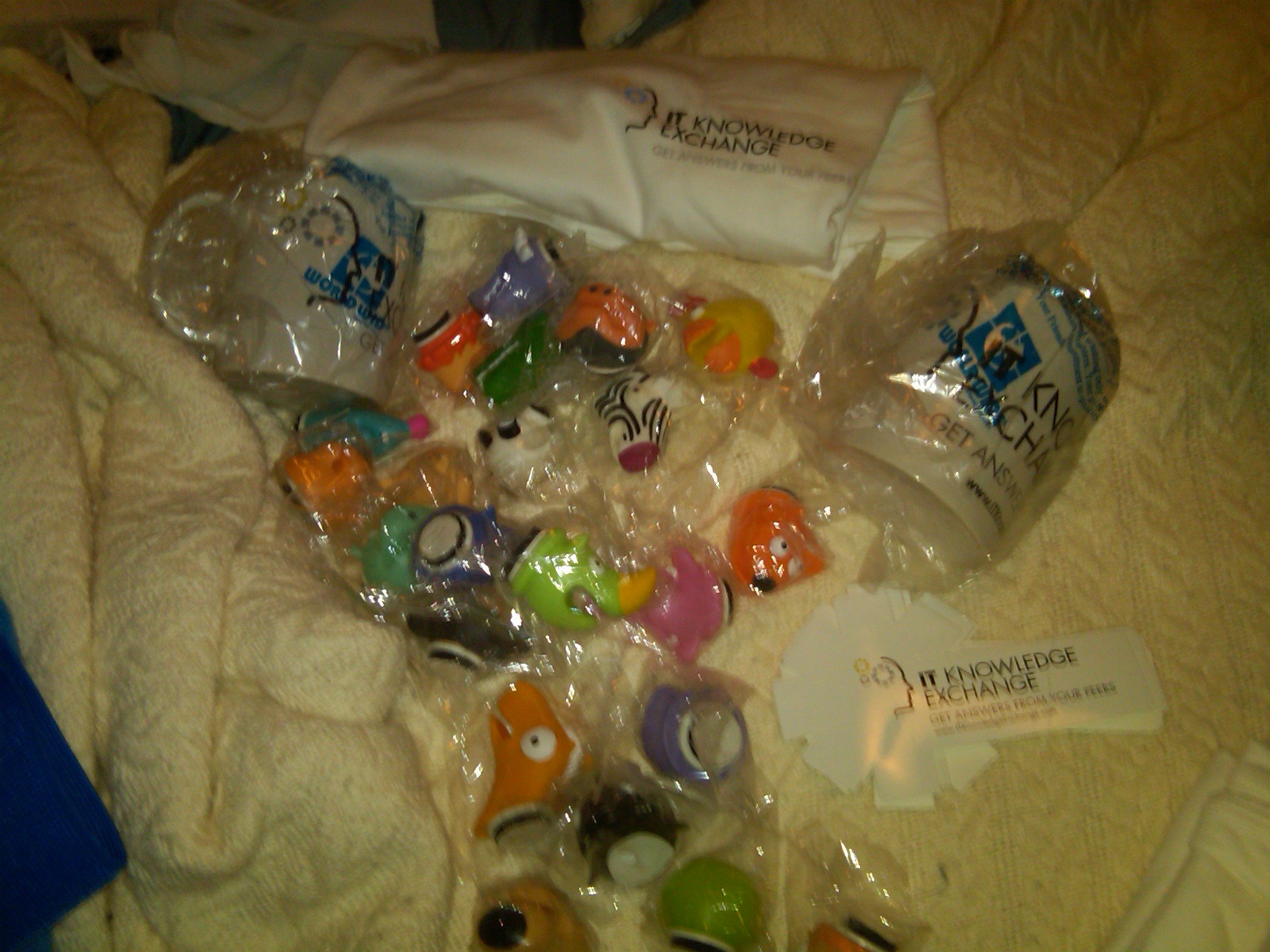 Continued »
---
April 26, 2010 11:00 AM
For those of you who attended the SSWUG vConference a couple of weeks ago, hopefully you caught my sessions on Day 1.  A good number of the attendees submitted evals, and I figured that I'd go ahead and share the scores with you. Continued »
---
April 22, 2010 9:00 AM

For those of you who are interest in getting a second shot voucher from Microsoft, drop me an email mrdenny AT mrdenny.com with the email address that you want the voucher sent to and I'll kick one over to you.  If you want to take more than one certification exam let me know how many you plan on taking before the end of June.
These second shot vouchers can be used for any Microsoft IT Professional, Developer of Dynamics Exam (anything which starts with 070).  The second shot vouchers can not be used for the academic exams (072 and 073 exams).
Each voucher is valid for one exam retake (if the first attempt failed) and one Practice Test discounted 40% before June 30, 2010.
I'll try and remember to print some up and bring them with me to SQL Saturday in case anyone there wants one.
If you are on twitter feel free to send me a DM and I'll email the vouchers to you.
Good luck on those exams,
Denny
---
April 21, 2010 5:00 PM
While Microsoft has been telling us over and over how multi-server management will be this great way to manage all your instances, don't plan on managing your SQL Express instances with it.  Multi-Server management will only enroll Web Edition up through the Data Center Edition.  The Express edition will fail to enroll within the feature.
Also, if you planned on using the dashboard views and drilldowns or the policy based resource utilization evaluation then you better pay up.  These features will be a datacenter edition only feature.
Denny

---
April 21, 2010 4:12 PM
As part of the SQL Server 2008 R2 launch it was announced that SQL Server 2008 R2 now supports Hyper-V Live Migration.  However according to MSDN only the Standard, Enterprise and Datacenter editions support Live Migration.
I'm not sure why those are the only editions which support Live Migration, but hopefully they will get this extended to the Workgroup, web and Express editions as those editions probably get virtualized more than the Enterprise and Standard edition databases do.
Denny

---
April 21, 2010 3:09 PM
Microsoft's new database platform SQL Server 2008 R2 has gone RTM.  This means that the code has been locked, and shipped to the DVD pressing company so that they can begin pressing the DVDs.
For those looking on MSDN or TechNet to download the RTM version, hold off.  The final version will be released to MSDN and TechNet on May 3rd, 2010 and to Microsoft Volume License customers on May 13th, 2010.
Some of the features you can look forward to in SQL Server 2008 R2 include:
StreamInsight which provides you a low latency event processing system, which is designed to import data in near realtime.  StreamInsight is perfect for processing log files, or telephone call records which are contently processed into the platform.
Master Data Services allows you to build a single point which holds your business data from multiple applications into a single repository.
PowerPivot is probably the most talked about part of SQL Server 2008 R2 as this allows end users to enjoy the power of the SQL Server Analysis engine on their desktop so that they can create dynamic data applications where they can slice and dice the data any way they need to, without having to be connected to the SSAS instance.
SQL Server 2008 R2 now fully supports Live Migration and Virtualization under Hyper-V.
You can run SQL Server 2008 R2 on some of the largest hardware available, as SQL Server 2008 R2 supports 256 logical CPUs in a single server (with the data center edition).
If you are wondering if you have the RTM release of SQL Server 2008 R2, the build number for SQL Server 2008 R2 is 10.50.1600.1.  If you have another build then you don't have the RTM release.
As part of the release announcement Dave Jones from the Mississippi Department of Transportation gave an overview of how MDoT uses SQL Server 2008 R2 as an early adopter using PowerPivot, Report Builder 3.0 and SSRS to meet internal needs on a highly available clustered install.

We also heard from Ron Van Vanten from Premier Bank Card who is the Directing Officer of Business Intelligence.  They manage over 40 TB of data under SQL Server, with a data warehouse which is over 20 TB in size.  They are over 150 instances of SQL Server hosting this data. Premier Bank Card is using the self service features of SQL Server 2008 R2 such as SSRS, Report Builder and PowerPivot to empower its business users to make better decisions while reducing overall costs.
The third customer that we heard from was Ayad Shammout of Care Group Systems.  Ayad talked a little bit about how PowerPivot was able to help their users quickly and easily learn how to analyze data without having to wait for IT resources.
The Parallel Scaleout Datawarehouse Edition has not gone RTM yet.  It has gone into a second RC build, and will be released later this year.
There are some major changes in what each edition supports with SQL Server 2008 R2.  Some of these include that Express supports 10 Gig databases.  The SQL Server 2008 R2 standard edition will now include backup compression saving customers from needing to purchase a third party solution to get the backup compression which was introduced in SQL Server 2008.
Be sure to check out the SQL Server 2008 R2 official launch site http://www.sqlserverlaunch.com/.
Denny
---
April 19, 2010 11:00 AM
So if you haven't heard of PowerPivot yet, it's going to be the next best thing to sliced bread for your business users.  While it'll take a while for most IT shops to get the full Sharepoint & PowerPivot integration setup, PowerPivot will be available to your users within the next few weeks as Office 2010 is released.
The basic jist of PowerPivot is that you can download a huge amount of data from your data warehouse, then slice and dice the data, analyzing it with the power of the SQL Server Analysis Services engine.  The downside of all this you ask?  Really, really big Excel workbooks.  And when I mean big, I mean big.  The user can download 30+ Gigs of data into the Excel workbook, which Excel will compress into an Excel workbook of up to 2 Gigs. Continued »
---