---
June 14, 2010 11:00 AM
I recently published an article on SearchSQLServer.com where I write all about SQL Server 2008 R2's Master Data Services and how to get started with it.
Denny

June 9, 2010 3:50 PM

Managing the space used by your SQL Server transaction logs is pretty easy.
If the database is in full recovery mode then do transaction log backups on a regular basis.  Typically every 15-60 minutes.
The second option is to put the database into Simple recovery mode.  If you need the ability to do point in time recovery then you can't use simple recovery mode at all.
Now there is something that you shouldn't ever do.  Truncating the log and shrinking the file is the first thing that shouldn't ever be done (contrary to popular opinion).
If you are doing log backups, and your database log file is growing to a large size, then you need to get more space for your disk.  Shrinking the log won't do anything for you as the SQL Server will simply grow the file back out to a larger size.  All you are doing is giving yourself a false sense of security when it comes to how much free drive space that you have.
There are also some internal technical reasons to not do this as well which you can read a little about on Paul Randal's blog.  (If Paul tells me he's got a more specific post I'll post that link as well.)
Denny
---
June 3, 2010 11:00 AM

So a while back I got a new laptop and also upgraded by desktop from Windows 7 32bit to Windows 7 64bit.  Everything worked great, but there was one thing which took me some time to get working correctly.  That one thing was the EMC Navisphere software which I use to manage our EMC Storage Array.
I'm sure the first question is "Denny, how hard can it be to install some management software?".  Well first tough guy, you don't install Navisphere, it is a Java applet which is launched via accessing the web server which runs on the storage array.  You feeling less smug?  Good.  Now lets move on.
On both my machines use FireFox as my primary browser.  On both machines I accessed the array which triggered the download and installation of Java.  So far so good, right?  The Java applet never fully launched.  I was greeted by a blank window within the browser instead of the login screen that I was expecting.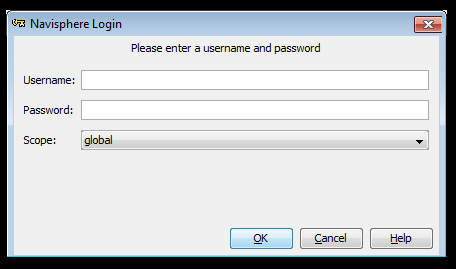 After Navisphere didn't do anything useful  I tried opening it in Internet Explorer both 32bit and 64bit.  Neither one worked and they simply gave me the same blank screen.
I tried uninstalling Java and manually downloading it and installing the same version as well as a newer version with the same absolutely useless results.
After trying this a few times, I finely uninstalled Java yet again (I've noticed about the only thing which Java does quickly is uninstall) I installed Java automatically via my Internet Explorer 64bit with the same results yet again.
This time I opened the Java control panel and tried to manually upgrade Java.  This threw an error.  So I tried opening a command prompt with administrative rights and navigated to the Java folder (C:\Program Files (x86)\Java\jre1.5.0_06\bin) and ran jucheck.exe which causes Java to check for a new upgrade.  I then got the magical little icon in my system tray which said that Java had an upgrade available.  So I upgraded Java and magically Navisphere started working.
I don't know why the auto upgrade wasn't working correctly but now that it's been upgraded everything it working and I'm able to manage the storage array, which is kind of important.
Denny
---
May 31, 2010 11:00 AM
Hopefully by now everyone knows that they should be aligning your disks.  Now when you use a Storage Array to present the LUNs to the server you may have the option of offsetting the LUN so that you don't need to offset the disk.  If you don't plan on using any of the advanced clone or snapshot features within the array then this will be fine to do.
However if you plan on taking a clone, or snapshots, or using some sort of array to array based replication this can cause you some performance problems.  The reason for this is that when you offset on the array, it simply creates the first block of the LUN at the 32nd block instead of the first block.  This works great for a single LUN.  However if you decide to take a clone of the LUN, the clone won't be aligned as the clone will be copied starting at the first block.  If the volume is aligned at the server level, the alignment will be copied to the clone and if the clone is mounted everything will respond as expected.  However with the alignment set at the array when you mount the clone performance will not work as expected.
Denny
P.S. This is based on an EMC CX array.  Different arrays will work differently.

---
May 27, 2010 11:00 AM

If you are using an EMC CX storage array, and you plan on using MirrorView to replicate data between two storage arrays there are a few catches which you need to keep in mind that aren't all that obvious unless you read through literally hundreds of pages of documentation.
When you go to use MirrorView the ports which you will be using have been defined already, and can not be changed without resetting the entire storage array.  Now depending on what hardware is installed when the array is first powered up this will determine which port you can use for MirrorView.
If you have the base cards which come with the system, then FC0 will be the port which is used for MirrorView.  If you have an expansion fiber card installed in the system, then port FC4 (the port labeled 0 on the expansion card) is the port which will be used.  Now, the catch here is that FC0 will be a 4 Gig port.  Currently with the newest CX4 arrays you can't change the cards which the system ships with from 4 gig to 8 gig ports.  So if after time you find that you need more bandwidth between the arrays for Mirrorview, pretty much your only option is to move your hosts off of the FC0 port.  If the only thing using FC0 is MirrorView and you still need more bandwidth you'll need to contact EMC support and work with them to come up with a solution short of resetting the array to the same state you received it in.
Now the same applied to the iSCSI MirrorView port.  If you get the array with no expansion cards, the iSCSI port with be port 0.  If you get the array with an iSCSI expansion card installed on first power up then iSCSI port 3 (the port labeled 0 on the expansion card) will be your iSCSI MirrorView port.
Now another catch that you may not be aware of, MirrorView is SP specific.  So if your LUN is hosted by SPA which you setup the MirrorView replication it has to go to SPA on the remote array.  Now if your LUN trespasses to the other SP, the MirrorView replication will stop until the LUN moves back to the hosting SP.  If you need to move the LUN to the other SP, then you'll need to remove MirrorView from the LUN and reset it back up.
---
May 24, 2010 11:00 AM
One of the big questions out there is how do I know if I should use RAID 5, or RAID 10, or something else?
The answer is usually something abstract like "if you have a lot of writes then use RAID 10, otherwise use RAID 5".  We'll I've finely gotten some numbers from someone.  These numbers are all unofficial and your mileage may vary.
On a typical RAID array (JBOD, DAS, etc) if your disk will have a higher than 10% change rate then you'll want to look at a RAID 10 array.  Now if you are using an EMC array (keep in mind I got these numbers from Dell/EMC) then you've got more leeway.  The recommended number to stay below on an EMC CX line of arrays is 30%.  So if your data change is less than 30% you should be OK on a RAID 5 array, higher than that and you'll want to move onto a RAID 10 array.

Now if you want the extra read performance that RAID 5 gives you, but you want more redundancy than RAID 5, take a look at RAID 6.  It is only slightly more expensive per Gig (especially when working on larger RAID arrays as their are more disks) as you have double parity.  While there is a little more overhead for RAID 6 over RAID 5, this additional overhead is typically only an extra 2% to use RAID 6.
Now obviously these numbers are for when the RAID Array is running at full capacity.  The lower the load you are putting on the RAID Array, the higher the percentage of changes you can use and still safely use a RAID 5 (or RAID 6) array.
Denny
---
May 20, 2010 11:00 AM

So you're going along with your work and you need to add a new server to your fiber channel switches.  However you don't have any more ports left on the switch.  You've got two options, buy two new switches and link each pair of switches (first existing switch to one new switch, second existing switch to the other new switch).  So logic tells you that you've got 4 Gig ports on the switch, and 4 gig cables, so if you plug one cable between the two switches you'll get 4 Gigs of bandwidth between the switches right?
Not so much.  When you ISL the switches together (that's the fancy technical term for connecting two fiber channel switches in a single fabric) you only get 50% of the bandwidth through the cable.  So in order to get the full 4 Gigs of bandwidth you'll need to string two cables between each pair of switches.  You'll see more clearly in the diagram below.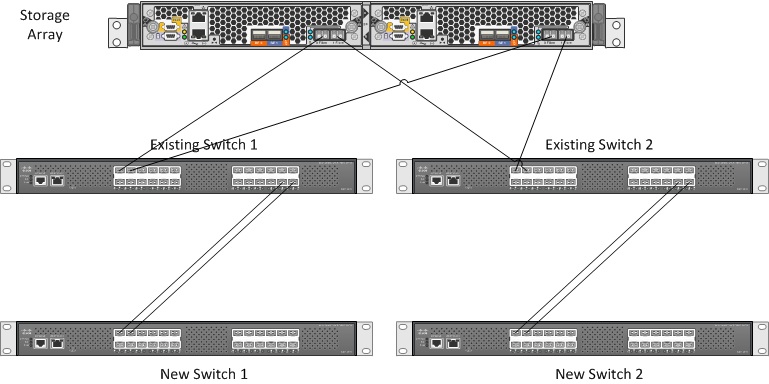 You'll see in the diagram that Existing Switch 1 connects to both sides of the storage array, and it connects to New Switch 1 as well.  Existing Switch 2 also connects to both sides of the storage array as well as to New Switch 2.  You'll see that in the diagram you don't connect Existing Switch 1 to New Switch 2 or visa verse.
Now if you have a sever which will need more than 4 Gigs of bandwidth that will be plugged into one of the new switches you'll want to connect more than two cables between the switches so that you can get the full 8 Gigs of possible bandwidth between the server and the storage array.
Like Ethernet switches you can bond these ports between the switches together into a single virtual switch via the built in trunking options within the switch.  As each switch vendor has a different way to do this (and those methods vary depending on the OS running on the switch) I won't do into the specifics here, but your support desk with your vendor should be able to provide you with support in doing this.
One last thing to keep in mind when ISLing these switching together is that some vendors has a license fee to enable the ISL features so keep that in mind when doing your planning.
Denny
P.S. This diagram is based on an EMC CX3 Storage Array, but it is perfectly valid for any dual head fiber channel storage array.
---
May 17, 2010 11:00 AM
Telecommuting is the holy grail of IT work. You save a ton of money on gas, and you don't have to work in a cube farm. You can decorate however you see fit and wear what ever you'd like to (or as little as you'd like to) when you work.
However everything isn't all roses and puppy dogs… Continued »
---
May 15, 2010 12:59 AM

Well yesterday was the final day of EMC World 2010. This was a great conference (see posts for Days -1, 0, 1, 2, 3).  On day 4 I didn't really do any official sessions as my brain was simply to full for any more lecture information to be stuff into it.  Instead I object to sit in the bloggers lounge, get some work done, and talk with the other bloggers that were there.
We covered some great topics like how to try and stay impartial, and when trying to stay impartial just makes you look like a chump. Continued »
---
May 13, 2010 7:31 PM

I just received an email from Stephen who runs the SSWUG Virtual Conference that my Storage for the DBA session that I gave at the recent Virtual Conference was voted as the "Best of Show".
I'd just like to thank everyone who attended my session (especially those that submitted feedback, the feedback is always invaluable).
I would of course like to thank the people behind the Amazon Turk because without them by ballot box stuffing system wouldn't have worked so well.  (Please I'm kidding, can you imagine how much it would cost to get that many people to sign into the SSWUG vConference.)
Seriously though, I'm glad that so many people were able to attend the session, and that so many people liked the content.  For those that didn't make it to the SSWUG, but are going to Connections in November I'll be giving a very similar presentation at Connections (with some updated material of course).
Denny
---