---
January 19, 2012 2:00 PM
By now hopefully you have already seen the week long SQL Server 2012 class that I'm teaching March 19th-22nd, 2012 in Los Angeles, CA.  Well now I'm giving you a chance to win a free ticket to this great 4 day training class.
The Rules
From the time this blog post is published until 6pm Monday February 10th, 2012 (pacific time) publish a blog post which links back to this post.  The blog post that you publish needs to tell about your plans for SQL Server 2012, and how this class will help make your deployment of SQL Server 2012 easier to complete.  For your blog entry to count I need to be notified of the blog post.  A link back to this post, or a comment which includes a link to your blog post, or an email to me is fine.
If you don't have a blog feel free to post your entry as a comment to this blog post.
(Don't forget that I'll need to be able to find some way to contact you, so you'll need a contact me link or a way for me to comment on your blog if you are the winner.)

The Prize
1st prize: A complementary ticket to the class.
2nd prize: $600 off the cost of a ticket to the class.
3nd prize: $300 off the cost of a ticket to the class.
(Prizes can not be combined with other discount codes.  Prize does not include airfare, hotel, or ground transportation.)
How the winners will be picked
The winners will be selected based on which posts I feel have the best story and that I find the most entertaining.  My decision is final.
The Legal Stuff

The contest is open to anyone who can legally accept the prize.  The prize has no cash value, and can not be exchanged for cash or substituted for another prize or award.  Prize winner is responsible for any travel costs associated with accepting the prize.
I look forward to reading your plans for SQL Server 2012.
Good luck, and start writing!
Denny
January 17, 2012 2:00 PM
If you were planning on deploying Windows 8 Server for your SQL Servers as soon as it is released, I would plan on rethinking those plans, especially if you plan on using the new Windows 8 file system ReFS (Resilient File System) instead of the NTFS (New Technology File System).  You see as a part of ReFS there was some streamlining of the code which ended up leaving only the most used features and according to Surendra Verma (development manager on Microsoft's Storage and File System team) …
"deprecating others that provide limited value at the cost of system complexity and footprint"
Now I'm sure sure how they figured out which features provide limited value, but I consider Alternate File Streams and sparse files to be extremely important features of the file system.  You see these are just a couple of the features which are being deprecated and removed in ReFS.
Q) What semantics or features of NTFS are no longer supported on ReFS?
The NTFS features we have chosen to not support in ReFS are: named streams, object IDs, short names, compression, file level encryption (EFS), user data transactions, sparse, hard-links, extended attributes, and quotas.
Now I'm sure that this is just be being picky, but I kind of like the ability to use DBCC CHECKDB on my databases without having to lock the objects that I'm checking by using the WITH TABLOCK syntax.  This uses the named streams feature of NTFS as SQL Server creates a hidden snapshot when DBCC CHECKDB runs normally.  This will mean that the only way to run DBCC CHECKDB on a database which resides on the a file system which uses ReFS will be to lock all the tables.

Another feature which I really like to use is database snapshots in general.  Normal database snapshots won't work on ReFS volumes either because database snapshots require the use of sparse files, another feature which has now been deprecated.
From a file server perspective I can't believe that a feature like quotas is being removed.  As someone who used to manage file server for a large enterprise and had several thousand people storing files on my file servers, being able to use quotas was a great way to keep people from dropping all their MP3s on my file server.
Personally I just find it mind boggling that it appears that the ReFS team didn't bother to talk to the team that makes what is probably the largest biggest selling server based application out there, about what these changes to ReFS would do to SQL Server.  It's not like the SQL Server team wouldn't have taken the call, they'll still talk to me, and I'm pretty sure my picture is on more than a few dart boards around building 35.  I'm sure if such a call had been made someone on the Microsoft SQL Server team would have mentioned that they require named steams (also known as alternate file steams) and sparse file for basically every version of SQL Server from SQL Server 2005 and higher to continue to run.
Way to go ReFS team, the biggest consumer of storage (SQL Server) in the majority of Microsoft shops can't use your product.  Good job.
As I get more information from the ReFS product team and the SQL Server product team, I'll be sure to publish it here.  Until then I'll just bitch and complain about it as loudly as possible.
Denny
---
January 16, 2012 2:00 PM

Without a proper QA process things can end up going a little bit wrong.  Even the most basic of processes need to be checked and controlled, if they aren't then things can end up going a little wrong.  Just like these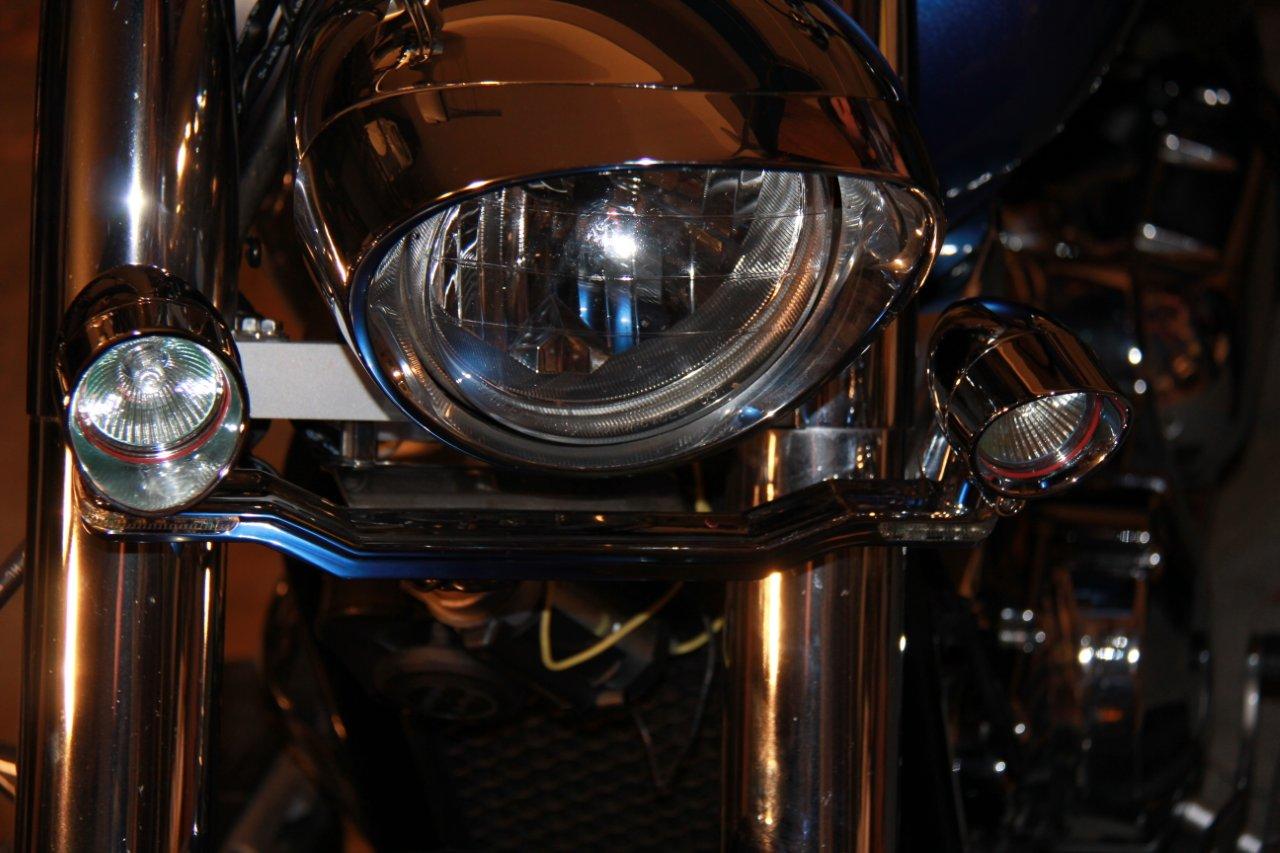 very nice bolt on headlights that I installed on my motorcycle recently, there are simple things which can cause all sorts of problems.  A simple QA process at the light bar manufacturer would have caught the fact that the cowl on the left one only bolts on upside down.  Now the cowl isn't installed wrong, and it isn't made wrong.  The manufacturer simply put the wrong cowl in the package.  Granted this is pretty easy to fix, I call the manufacturer and they send me out the correct cowl.  But in the mean time my bike looks a little silly with an upside down cowl, and I have to wait for the new cowl to be delivered.
Just like in the IT space simple processes, like putting the correct cowl in the bag, need to be QA'ed to ensure that the system is running correctly as expected.  Without these processes in place even the simplest things can break down.  And in the IT world these things usually can't be fixed as easily as sending out a new cowl to the client.  It usually involves systems being down for hours, data being lost or compromised, or worse.
Hopefully you'll review your testing and QA processes and fix any gaps in your testing processes.
Denny

---
January 12, 2012 11:28 PM
For those of you who are going to the MVP Summit this year, I did a web cast on what to expect the first time you attend the MVP summit.  For some very annoying reason the video won't embed correctly here, so you'll find the video over on my site here.  It's about 45 minutes long and tells you about the summit, what will happen if you break NDA at summit, some places to food and drinks, what guests can come to and what the can't, etc.
Denny

---
January 12, 2012 2:00 PM

This March I, Microsoft MVP for SQL Server and Microsoft Certified Master for SQL Server 2008 Denny Cherry, am teaching a 4 day class introducing SQL Server 2012.  This four day class is being offered for only $1200 for four full days of training on the newest version of Microsoft SQL Server 2012.  The class will cover installation options for rapid upgrades and deployments of SQL Server 2012 through the environment as well two days of looking at the newest and most exciting features of SQL Server 2012.  On the last day of the class we will focus on Table Partitioning, Transaction logs, encryption and permissions.  The full outline of the class is listed below.
Registration for this great 4 day class is now open, however seating is limited so get your reservation in now in order to attend this class.
DAY 1: Planning and Installation
Welcome and Introductions
Module 1: Installing and Configuring SQL Server 2012 on Windows Server Core
Module 2: Installing and Configuring SQL Server 2012 in a Cluster
Module 3: Performing unattended installations of SQL Server 2012
Module 4: Deploying SQL Server 2012 using sysprep
Module 5: Automating SQL Server 2012 installations with VMware's vSphere Deployments
Module 6: SQL Server 2012 Storage Design Considerations
Module 7: Installing SQL Server 2012 in a virtual environment
Module 8: Securing a SQL Server 2012 installation
DAY 2: Mission Critical
Module 1: SQL Server 2012 AlwaysOn Overview
Module 2: Configuring SQL Server 2012 AlwaysOn
Module 3: SQL Server 2012 AlwaysOn Availability Groups Drilldown
Module 4: What's new in SQL Server 2012 Manageability
Module 5: What's new in Transact-SQL
Module 6: Migrating from SQL Server 2000/2005/2008 to SQL Server 2012
DAY 3: Breakthrough Insights
Module 1: Installing and configuring a SQL Server 2012 based Business Intelligence Environment
Module 2: Configuring SQL Server 2012 Business Intelligence
Module 3: Introduction to PowerPivot
Module 4: Introduction to PowerView
Module 5: Introduction to Dashboards and ScoreCards
Module 6: Optimizing your datawarehouse performance using ColumnStore index
Module 7: Introduction to Data Quality Services
DAY 4: Manageability and Security

Module 1: Table Partitioning for performance and saving money
Module 2: Transaction Logs from the inside out
Module 3: Certificates aren't just for web browsing any more
Module 4: Data Encryption will keep your data safe if it escapes
Module 5: SQL Injection is a bigger problem then you want to think it is
Module 6: Permissions, Rights and Authorizations will keep your data safe
---
January 10, 2012 11:50 PM
In addition to delivering a pre-con at Tech Ed Europe (which I blogged about yesterday) I can proudly say that Thomas LaRock (@sqlrockstar | blog) and I will be presenting a pre-con at Tech Ed North America as well.  Check out the pre-con pages and get registered.  At both conferences we will be doing the same pre-con (but feel free to sign up for both) session titled "Microsoft SQL Server Performance Tuning and Optimization".
I hope to see you at Tech Ed.
Denny

---
January 10, 2012 12:20 AM
No matter how hard Europe tries to keep me away, I'll be back in June for the premier Microsoft conference, Tech Ed Europe 2012. And not only will I be attending, but little old me will be presenting a pre-con on SQL Server Performance Tuning (about half way down the page). I'll be joined turning the pre-con by my co-presentor Thomas LaRock (@sqlrockstar | blog).
Registration for the pre-cons has opened, so get registered for both the pre-cons and the full Tech Ed Europe conference now.
See you in Europe in June!
Denny

---
January 9, 2012 7:00 PM

As I got tagged by Denis Gobo (@DenisGobo | blog) on his Meme Monday post, here it is.  Denis (I have to try really hard not to put two n's in his name) asked "What is the first blog post you wrote and when did you write it?"
For me that was October 10th, 2007 when I posted a blog post here on this site titled "Getting the right disk config for your SQL Server".  Since that blog post went live I've posted almost 700 blog posts on this blog (this post is #695) and I've started blogging on the SQL Server Pro website (formally known as SQL Server Magazine) on my "Troubleshooting SQL Server Storage Problems" blog.
After reading through my post from 2007 even though some time has passed since that article was written and the technology has changed a bit, that post is just at relevant today as it was back in 2007.
Denny

---
January 2, 2012 2:00 PM

Today (technically yesterday) begins the reign of the new president of the SQL PASS organization.  Taking the lead of the organization is someone who I'm happy to call a good friend, Bill Graziano (@billgraziano | blog).  I think that Bill will do a great job at the head of our organization and I can't wait to see how he does.  Bill has quite a bit of experience with PASS having previously served at the VP of Finance and the VP of Marketing as well as several years as a member of the board of directors.
All hail our new SQL overload "El Hefe" may he treat us well during his reign.
Denny

---
January 2, 2012 2:00 PM
I am please to announce the first of my SQL Server 2012 training classes being held March 19-22 at the Microsoft office in Los Angeles, California.  This isn't a short class, but a 4 day training class which will cover installation, manageability, security, high availability as well as the new and improved BI features.
All the information about the class including the course outline and pricing are all listed on the class information page.  Seats for the class are limited so be sure to get signed up quickly.  If you sign up during January be sure to use the discount code "BlogReader" save $100 on the cost of the class.
I hope to see you at the class.
Denny

---