---
February 13, 2012 2:00 PM

So I think it's been kept pretty quiet so far, as I've been insanely busy the last few weeks, but I am so thrilled to say that I've been picked to present a pre-con at the SQL PASS Rally in Dallas, Texas either on May 8th or May 9th (I haven't been told which day yet).  Either way I can't wait to come down and talk about storage and virtualization with you, yes you, for the whole day.  If that sounds like something you'd be interested in then get signed up (as soon as registration opens) and we'll have some fun learning and making fun of your favorite storage admin.
Denny
P.S. Don't forget about my 4 day SQL Server 2012 class in Los Angeles in March and SQL Excursions in Napa, CA in May.

February 9, 2012 2:00 PM
If you are looking for some great SQL Server 2012 training so that you are up to speed on the new version I've got some good news for you.  There are still seats available in my SQL Server 2012 class in Los Angeles March 19th-22nd, 2012.  During this class we will cover a variety of subjects including installing/upgrading, deployment automation, AlwaysOn, the changes to T/SQL, planning a migration, the new enhancements to the BI presentation layer, as well as partitioning and data security.
Now don't worry, this class isn't just lecturer for four days.  It'll be a very interactive class with labs to do through out the week to ensure that you've got a solid understanding of the concepts that we are talking about.  By the time you are done with this four day class you should be ready and able to begin upgrading SQL Servers to SQL Server 2012 successfully as well as be able to bring back the other portions of the class to share with the other departments within your company.
Denny

---
February 6, 2012 2:00 PM

If you are headed to Microsoft's Tech Ed North America or Tech Ed Europe you should really look at signing up for a SQL Server Pre-Con.  The pre-cons are full day sessions focusing on a specific topic, led by an industry expert.  In the case of the SQL Server pre-con "Microsoft SQL Server Performance Tuning and Optimization" you've got an all day session with SQL Server MVPs Denny Cherry (@mrdenny | site) and Thomas LaRock (@sqlrockstar | blog).
If you haven't signed up for Tech Ed yet it appears that there are even some early bird discounts which are available for people that sign up before the end of February for Tech Ed North America and before the end of March for Tech Ed Europe.  This makes it an even better deal because who doesn't like saving money.
Hopefully you'll join us in Orlando for Tech Ed North America or in Amsterdam for Tech Ed Europe for a great day of SQL Server training.
Denny
P.S. Don't forget about my 4 day SQL Server 2012 class in Los Angeles in March and SQL Excursions in Napa, CA in May.

---
February 6, 2012 2:00 PM
The other day I had a VERY unpleasant situation happen.  I managed to dump a basically full 64oz (1.8 liter) cup of iced tea all over my desk.  In theory this shouldn't be a problem but it landed right on top of one of my laptops.  Thankfully the laptop was off but it was plugged in when this happened.  Now I've dumped water on computer components before, and I've had a pretty good track record with getting things dried out pretty easily, so I figured that I'd share my little trick that I use with everyone.  It's actually quite an easy process, and works with more than just electronics.  In fact I've even used it to dry out the inside of our car.  The method of choice?
Rice.
Yep, that's right good old fashioned white dinner rice, uncooked of course.  The reason that rice works is because rice makes an amazing desiccant.  For those who missed the episode of Numbers where they talked about desiccant's, a desiccant is something that draws the moisture out of something else.  In the cast of the TV show it was drawing the water out of a dead body, in this case out of my dead laptop (they didn't use rice in the show).  You know those little packets that come in just about everything that you buy, that say "Don't eat" on them?  That's a desiccant.
In the case of the laptop, I quickly unplugged it and pulled out the battery.  Then got a box a bit bigger than the laptop, and dumped a bunch of rice into the box, dropped in the laptop, which I then covered with more rice.  Then the battery and an HP TouchPad that got drenched as well.  Cover everything with a healthy layer of rice and let sit for several days.  The nice thing about this technique is that there's no head, no chemicals, no cloth or paper towels to touch anything in the laptop.  Just the rice absorbing up any water in the laptop.

When doing this with a car, you can't put the car in a box and fill it, so a slightly different approach is needed.  In my case we had a car door opened just a crack which let in rain water (yes it really does rain in Southern California).  Using a vacuum and towels we could only get so much water out, but we didn't want to worry about the floor of the car rusting out.  So we pored about 10 pounds of white rice into the floor board of the car a waited about 6-8 hours for the rice to absorb all the water.  When we vacuumed out the rice everything underneath was nice and dry.
Back to the laptop.  I left the laptop in the rice for about a week in this case, and thankfully the laptop came back in perfect working order.
To pull this off I used about 15-20 pounds of rice total.  When I dumped the cup Kris went to Costco and picked up a 50 pound bag of rice and I used a large bowl to get it into the box.
Hopefully you never have to use this trick, but if you do there it is.
Denny
---
February 2, 2012 2:00 PM
In case you missed it Twitter released v1 of TweetDeck, and it sucks.
All however is not lost as the folks at codelog.org have posted the Air 0.38.2 version of TweetDeck.Apparently the guy over at codelog.org has taken his site down. Here's another download site.
So if you need to rebuild your computer and you want to get a version of TweetDeck that doesn't suck you can download the old version from codelog.org and keep the usable version instead of the garbage which is TweetDeck 1.0.  Hopefully Twitter will make TweetDeck 2.0 actually usable. Until then we have 0.38.2.
Denny

---
January 29, 2012 2:00 PM
Here are my slide decks from SoCal Code Camp last weekend.
Indexing for the .NET Developer
I had a great time as always, and I look forward to seeing everyone at the next event.
Denny


---
January 26, 2012 2:00 PM

The year of 2012 will be the first year that I'm expecting to fly over 100,000 miles.  So far I've got three flights to Seattle that have happened or are scheduled.  Four flights to Europe planned, random flights to Orlando, Atlanta, New York, San Francisco, Las Vegas, and Tuscon (among others).
In 2011 I did pretty good at about 52,000 miles during the year.  I get pretty amazed by all the crap that I have crammed in my laptop bag.  If you've ever wondered just what it takes to get me around the world and back again without going stir crazy here's what is in my laptop bag.
Laptop (obviously)
Laptop Power cable
iPad
iPad cable and charger
Kindle (with probably 70 or 80 books on it including mine)
Kindle / cell phone cable and charger
HDMI cable
Business cards
Travel Powerstrip (I've been in more than one hotel room which have only one power outlet available)
SQL Excursion stickers
Laptop headset
Flip camera
Presenter Clicker & spare batteries
Cough drops
Gum
That's about it.  You'll notice a few things that you might expect to see that you don't, like paper, pens, etc. as I rarely travel with paper and pen any more as I use my iPad for note taking at conferences, meetings, etc.  When I carried paper with me, it usually went in a pretty nice looking leather folder it actually reduced quite a bit a weight when I removed the paper and pens.
Now getting all this stuff through security can be a royal pain some times.  Best case getting all this passed the idiots highly professional personal at TSA means throwing the laptop in one bin, iPad and kindle in a second bin and shoes, belt, jacket, etc. in a third bin.  However on occasion I get a TSA monkey agent who decides that all the cables in my laptop bag are an issue and they decide to dismantle my laptop bag to make sure that all the cables are acceptable for getting on the plane.  You see I have all the cables wrapped with Velcro strips so that I can keep the cables from getting all over the place and keep them from taking up to much space.
And of course none of this includes clothing, SWAG, or anything else in my normal luggage.
Denny
---
January 23, 2012 2:00 PM
I'm thrilled to announce that I'll be speaking at another great event in Europe.  This time at SQL Day 2012, which this year is growing from a one day event to a three day event.  This great event is being hosted in Wroclaw, Poland May 24th-26th, 2012.  I know that not all the details for the event have been ironed out yet, but I know that I'll be giving a presentation on Storage, and I'll be giving a keynote talk on something (I haven't really decided what, but I'm sure it'll include SQL Server 2012 and probably bacon).
Personally I can't wait to get there and meet all the new faces, not to mention say hello to some old friends including the other announced speakers such as Chris Testa-O'Neill, Jen Stirrup, Neil Hambly to name just a few.  There is a SQLDay 2012 Community Night in the planning which I know basically nothing about yet, but it looks like it'll be a lot of fun.  According to the SQLDay 2012 site…
… we plan to meet Friday evening at SQLDay 2012 Community Night, where you will be able to get to know, talk with the speakers, make new contacts …
I don't know about you, but that sounds like a pretty good community night to me.
As a side note, if you would like to talk to me about some on site consulting rates in Poland around the same dates please let me know and we can get something scheduled.  I'd love to extend my stay for a few extra days.
Denny

---
January 19, 2012 5:00 PM
So later this year I'm participating in the motorcycle ride B.A.D. (Bikers Against Diabetes) where I'll be taking my big blue bike out for a ride to help raise money for Diabetes research.  The reason that I'm po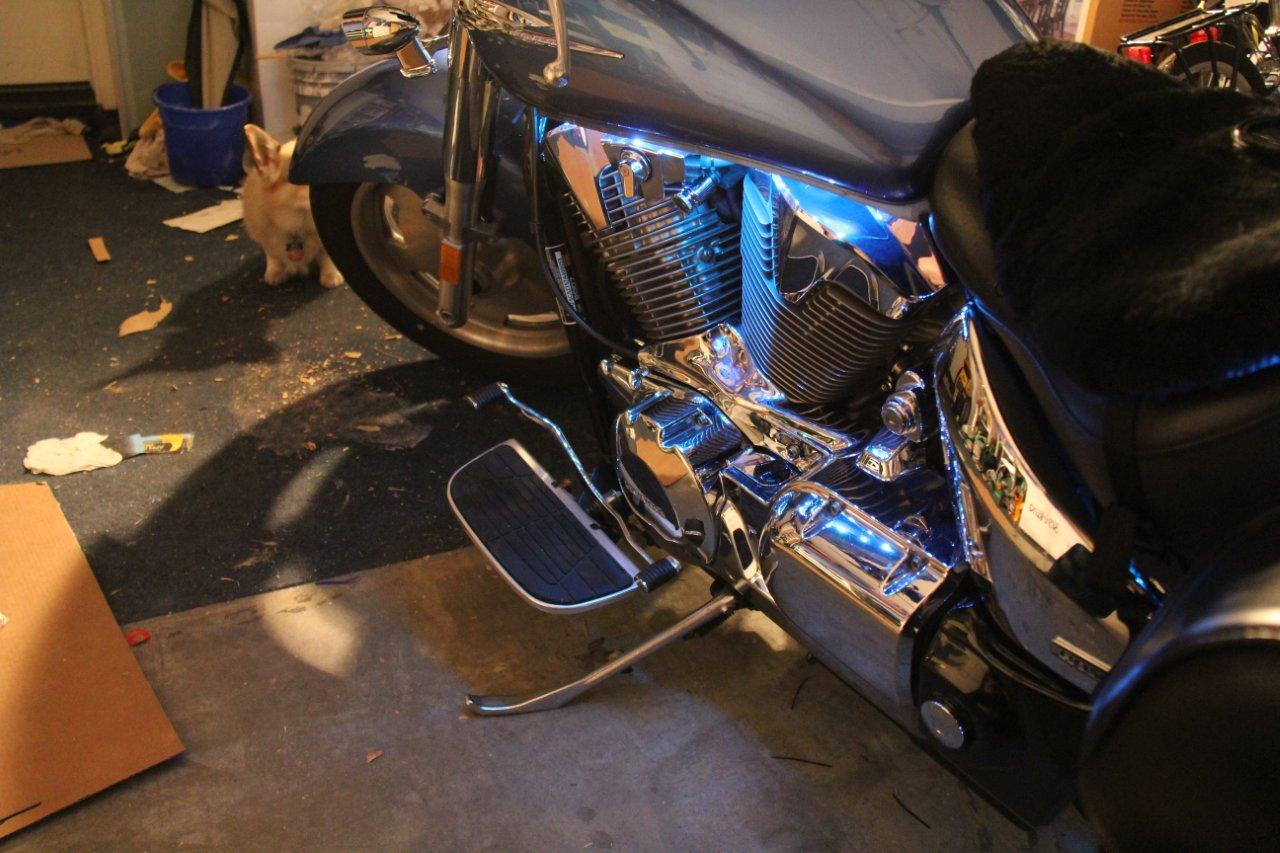 sting this here isn't to toot my own horn, but to ask for your help.  The fundraising part of this comes from your donations.  Currently my goal is set for $250 (donations are accepted through the link ride website via credit card or via paypal also on the ride website) but if we blow through that I'll raise it higher.  The initial goal of $40 was blown through VERY quickly thanks to a couple of friends on Twitter and some of the fine folks over at Phreesia.
I hope that you have a couple of bucks that you can part with to help in the search for a cure for Diabetes.  Don't worry this is a real fundraising event being put on my the American Diabetes Association.  If you are interested in joining the ride in SoCal, Arizona, Iowa or Texas check out the main website.
I thank you for your support on this ride.
Denny

---
January 19, 2012 2:00 PM
By now hopefully you have already seen the week long SQL Server 2012 class that I'm teaching March 19th-22nd, 2012 in Los Angeles, CA.  Well now I'm giving you a chance to win a free ticket to this great 4 day training class.
The Rules
From the time this blog post is published until 6pm Monday February 10th, 2012 (pacific time) publish a blog post which links back to this post.  The blog post that you publish needs to tell about your plans for SQL Server 2012, and how this class will help make your deployment of SQL Server 2012 easier to complete.  For your blog entry to count I need to be notified of the blog post.  A link back to this post, or a comment which includes a link to your blog post, or an email to me is fine.
If you don't have a blog feel free to post your entry as a comment to this blog post.
(Don't forget that I'll need to be able to find some way to contact you, so you'll need a contact me link or a way for me to comment on your blog if you are the winner.)

The Prize
1st prize: A complementary ticket to the class.
2nd prize: $600 off the cost of a ticket to the class.
3nd prize: $300 off the cost of a ticket to the class.
(Prizes can not be combined with other discount codes.  Prize does not include airfare, hotel, or ground transportation.)
How the winners will be picked
The winners will be selected based on which posts I feel have the best story and that I find the most entertaining.  My decision is final.
The Legal Stuff

The contest is open to anyone who can legally accept the prize.  The prize has no cash value, and can not be exchanged for cash or substituted for another prize or award.  Prize winner is responsible for any travel costs associated with accepting the prize.
I look forward to reading your plans for SQL Server 2012.
Good luck, and start writing!
Denny
---