---
May 19, 2014 7:00 PM
SQL
,
SQL Sessions
,
TechEd
While TechEd North America has wrapped up for 2014 there is still time to get your session evals submitted for the sessions that you attended while at the conference.  These evals are very important to both the speakers as well as to TechEd.  For the speakers they let them know what session you liked and what you didn't (this is why the comments are so important) and for TechEd this lets them know which sessions you found most useful and which presenters style you liked (the number ratings) so that TechEd knows what kinds of sessions you'll want for next year and what kinds of speakers they should invite back next year.
So if you attended TechEd North America be sure to log back into the session list and evaluate all the sessions that you attended.
Thanks,
Denny

May 16, 2014 2:00 PM
Recommended reading
,
SQL
,
SQL Server

This week I've found some great things for you to read. These are a few of my favorites that I've found this week.
This weeks SQL Server person to follow on Twitter is: sqlandy also known as Andy Warren
Hopefully you find these articles as useful as I did.
Don't forget to follow me on Twitter where my username is @mrdenny.
Denny
---
May 14, 2014 2:00 PM
SQL

In late March and early April I had a great two week vacation riding motorcycles around California, Nevada and Arizona with my wife Kris as well as Andre Kammen, his brother, neighbor and a few friends from Holland.  For the most part the trip was great, until April 8th when I hit a bit of sand and dumped the bike.  With the right tools I was able to walk away from the accident with a slightly skinned knee, skinned elbow, and a sprained thumb.
I was able to walk away from he accident 100% due to my motorcycle gear that I was wearing.  That included a full face helmet, heavy duty jacket (which was Kevlar reinforced), heavy duty boots (which were Kevlar reinforced) and leather gloves.  Of this gear, the most important by far was the helmet.  As with most motorcycle crashes my head hit the ground (thankfully not all that hard as I was only going 40 MPH, but it still hit).  I also slid on my face at some point during the crash.  If I wasn't wearing a full face helmet my face would be an awful mess thanks to this crash.  The proof is in the pictures, like the one below where you can see the left side of the visor which was about one inch from my face when it got scraped up like that.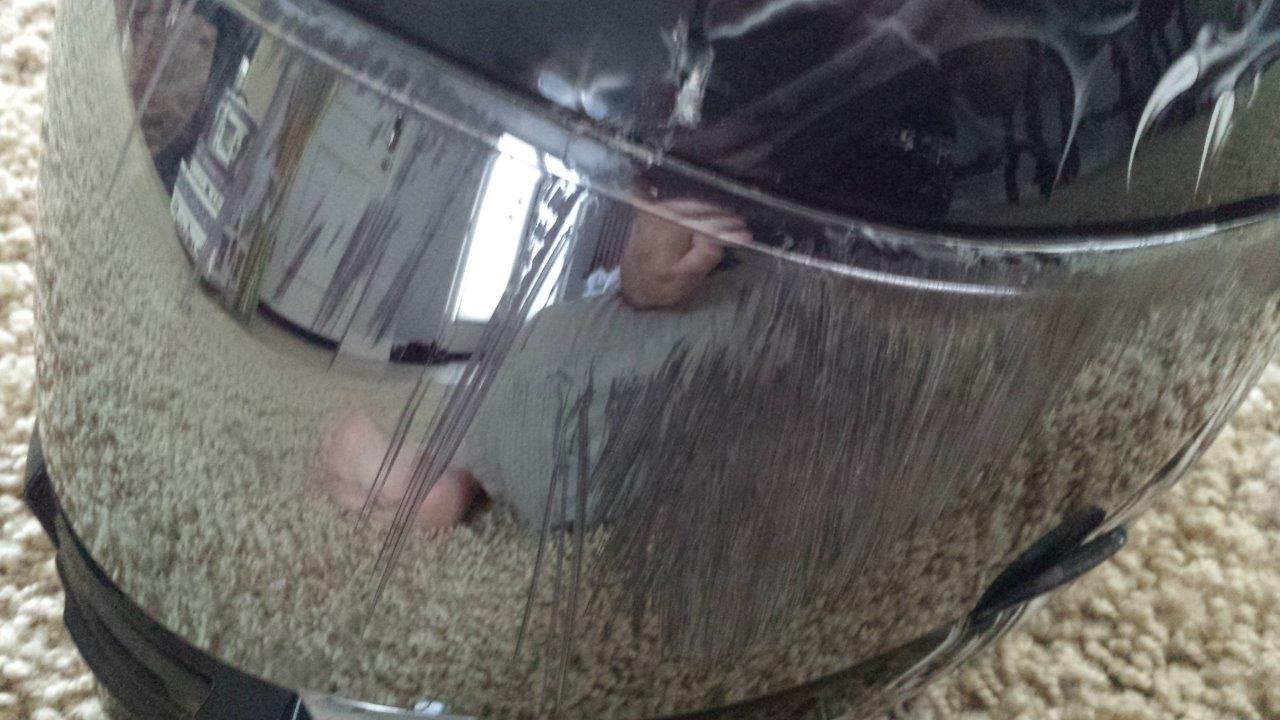 The bump on the top of the head was a nice touch as well.  If I was wearing a cheap crappy helmet it probably would have cracked when I hit the ground.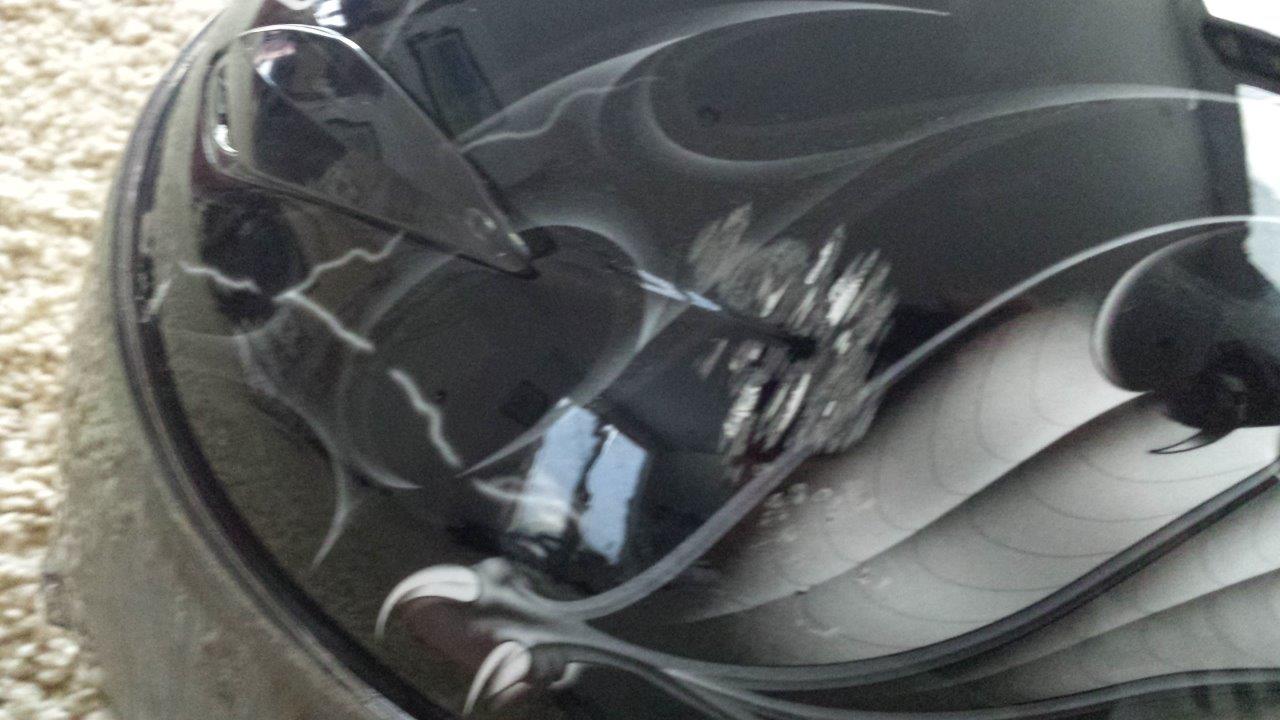 The jacket come through pretty well, but it's useless at this point.  The elbow pads in the jacket kept my shoulders and elbows in one piece and all the bits where they belong.  I had a great pair of boots as well, which I didn't get pictures of as the left boot was pretty shredded.
Needless to say I'm really glad that I spent the extra money on top end motorcycle gear, as without out I'd be in pretty bad shape right now.  I'll happily spend $1000+ on motorcycle gear so that I can walk away from the next crash just as well as I did from this crash.
The bike took the brunt of the hit.  The saddle bags are dead, and the handlebars and mirror have seen better days.  That handle bar was straight and the mirror a lot less dented about 10 minutes before this picture was taken.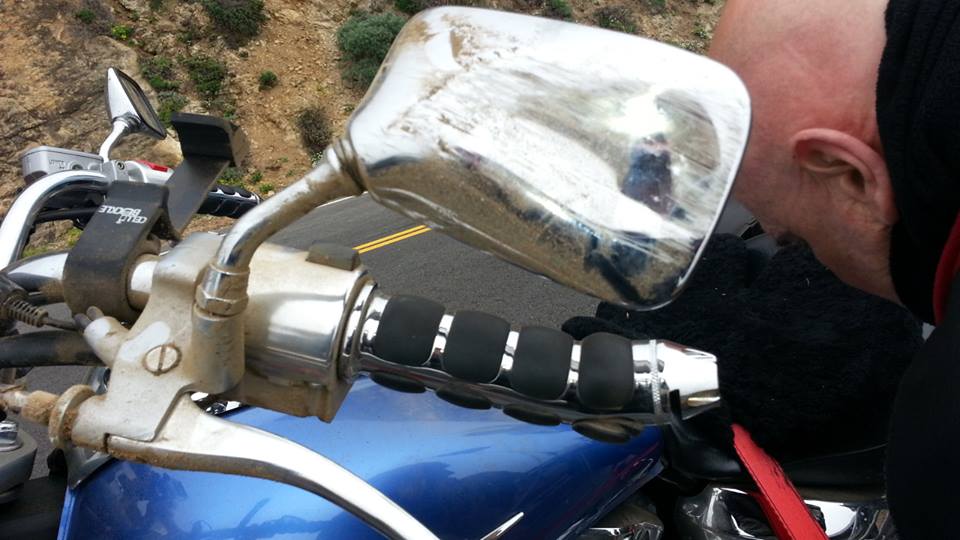 This saddlebag used to be square, and have a lid.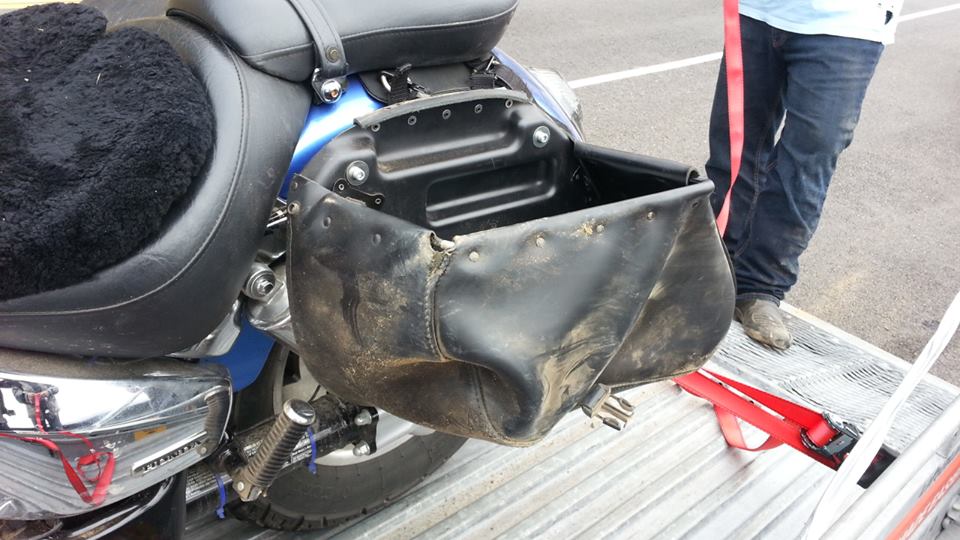 The front fender is a bit of a mess as well.  The rear fender and the tank are in pretty good shape.  There's some scratches from rocks and sand flying everywhere.  There's a bunch of dents in the front forks and the various pieces of chrome on the bike.  Overall the bike is in pretty good shape considering the slide that it took.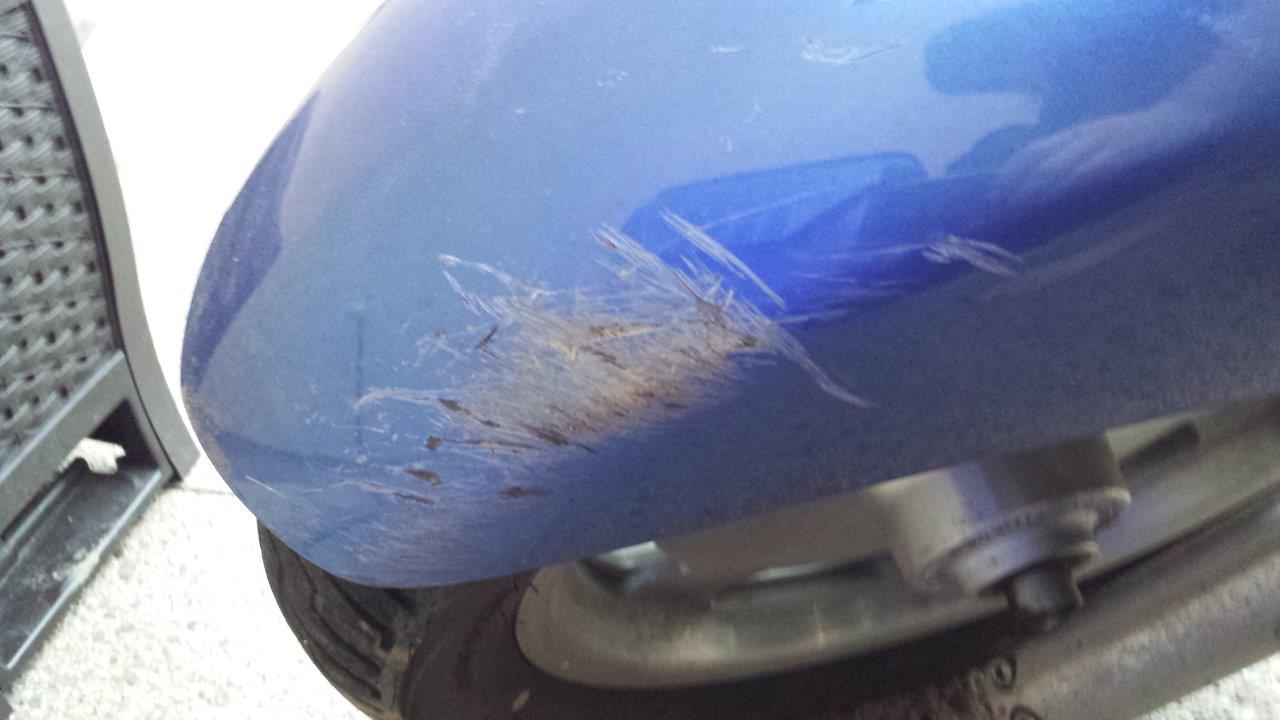 As I'm writing this (on April 13th, yes it's shocking I know that I write blog posts in advance) I'm a little stiff and sore on my left side, but the doc ran some tests that day and said that my kidney is fine, which I'll have had rechecked before this post goes live.  But other than that, I'm glad that my OCD level of planning which I do as a DBA has served me so well in the rest of my life.
Denny
---
May 11, 2014 4:00 PM
I'm thrilled to say that I'll be at Microsoft's TechEd conference this week presenting a session titled "Introduction to SQL Server Management for the Non-DBA" which is session DBI-B214 on Tuesday, May 13 at 10:15 AM. I'll also be running one of the hands on labs which will be delivered twice during TechEd North America and is titled "What's New in Microsoft SQL Server 2014 for the DBA" which are sessions DBI-IL301 on Tuesday, May 13 at 1:30 PM and DBI-IL301-R on Wednesday, May 14 at 5:00 PM.

In addition to these three sessions I'll also be working the SQL Server booth at various times. If you'd like to chat just swing on by the SQL Server booth. Odds are I'll be there, if not the people running the booth with have my cell phone number (as will many of the people working the booth) and they can call me and have me come over (unless I'm speaking during my session of course). I'd love to meet and discuss any problems, projects, etc. that you have with SQL Server no matter the version (but hopefully we can keep it between SQL 2000 and SQL 2014, preferably closer to the newer end of those options).
I look forward to seeing you at TechEd.
Denny
---
May 5, 2014 4:00 PM
For those who attended my session at SQL Saturday Atlanta, I thank you for coming to my session. The room was packed with just one or two open seats for my SQL Server In Memory Objects Presentation. I had a great time giving the session (even though I wasn't feeling very well at the time) and we had some great questions and great discussion during the session.
If you want to download the slides from my session, I've gone ahead and posted them on the SQL Saturday website on the page for my session.  As always if questions come up after the fact please shoot me an email (my email address is in the slides) and I'll be happy to reply as quickly as I can.
Denny

---
May 2, 2014 2:00 PM

This week I've found some great things for you to read. These are a few of my favorites that I've found this week.
This weeks SQL Server person to follow on Twitter is: TheSmilingDBA also known as Thomas LeBlanc
Hopefully you find these articles as useful as I did.
Don't forget to follow me on Twitter where my username is @mrdenny.
Denny
---
April 28, 2014 3:00 PM
For those of you who attended my sessions at SQL Saturday Orange County 2014 (SQL Saturday 289) I've just uploaded by slides for my two sessions.
SQL Server's In Memory Database Objects
Storage For the DBA
For those that attended my "Storage For The DBA" session, the sample documentation file is included in the download.

---
April 22, 2014 6:58 PM
I'm pleased to say that I've been invited to join a panel Thursday April 24th at 2pm EDT (11am EDT). This panel is titled "Ethics & Data Modeling", which is a pretty timely topic given things like the Target breach, HeartBleed, etc.  There will be 5 people on the panel including myself.  The other members will be Karen Lopez, Len Silverston, Tamera Clark and Kerry Tyler.  This will be an interesting panel as Karen, Tamera, Kerry and I will all be located at the same place (should be interesting for Len).
The panel has an open Q&A time where you can ask the panel questions during the discussion.  There are some topics that we'll be starting with (and probably deviating from pretty quickly).
What is the nature of ethics?
How do ethics differ from morality? Legality?
Can ethics be taught?
Where does ego come into play here?
What about Codes of Ethics and Codes of Conduct?
Is there one right answer? Is there an always wrong answer?
What's the difference between a whistleblower and a tattletale?
What tools do we have in making ethical decisions?
How should we deal with unethical co-workers? Management? Customers?
What does it all mean, anyway?
Register now
and bring your ethical questions and comments, and we'll see you there.

---
April 19, 2014 4:20 AM

This week I've found some great things for you to read. These are a few of my favorites that I've found this week.
This weeks SQL Server person to follow on Twitter is: retracement also known as Mark Broadbent
Hopefully you find these articles as useful as I did.
Don't forget to follow me on Twitter where my username is @mrdenny.
Denny
---
April 16, 2014 4:00 PM
I'm a DBA (shocking I know), so I plan everything possible that I can to the servers that I'm setting up for clients. In this case that includes thinking about what's going to happen when the server (or VM) totally fails and they need to rebuild the OS from scratch and get everything back up and running as quickly as possible. In order to help in this task I make sure that all the drives on these servers are named with some sort of descriptive name which includes the drive letter that they'll be using. This way when I have to rebuild the OS on the server I don't have to think about which drives get which letters when I present them all back to the server. Something like this (which is for the tempdb drive of a server). Can you guess which drive letter I'll be using?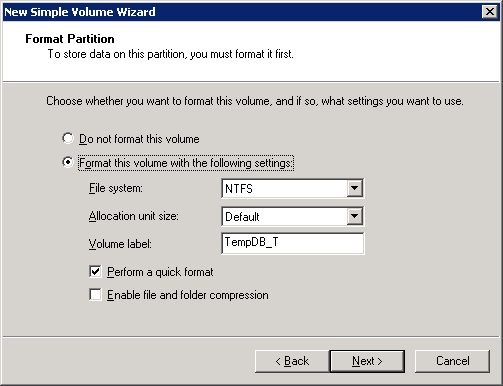 If you said the "T" drive you would be correct. It's that last letter that gives it away. Now granted I have to assume that no one is going to change the drive label for this to work, but so far that hasn't been an issue as it makes perfect sense to people as soon as I tell them why I do this.

I started doing this back in the pre-VM days when we had all the servers as SAN attached servers and when doing system migrations involved moving LUNs from server to server and you needed to reassign drive letters to 10 LUNs quickly. This became a nice easy way to figure out what was what, and it doesn't require any remembering what the server config is.
Denny
---