---
February 29, 2008 1:28 AM
SQL

Well the call for speakers for the PASS Summit 2008 should be coming up shortly, and I'm trying to decide what to submit to speak about.  And I decided that I'd ask the community here; If you were going to go to the PASS Summit this year what sessions would you like to attend?  Please post your ideas to the comments below.  Nothing is to crazy (as long as it's got something to do with Microsoft SQL Server).
 I've got a few ideas which I plan on submitting already, but I want to make sure that what I submit is what people want to actually here.
 For those who haven't attended PASS in prior years it is a great place to network and learn a ton about Microsoft SQL Server.  There isn't a whole lot of info posted yet, but the dates and basic info is posted on the PASS web site.
Denny
February 29, 2008 12:01 AM
SQL

Coming on the heals of the extremely successful webcast "Under The Hood of SQL Server – Checking Out Internals", Quest Software has asked me to co-present another webcast.  This one is entitled "Recover the Data, the Whole Data and Nothing but the Data You Need" and will be on March 6, 2008 at 8am Pacific (11am Eastern).  I've been told that so far the sign up rate has been incredible so far.
If you are interested in the product or doing object level restores (restoring one table or stored procedure, etc instead of restoring the entire database) then I highly recommend the webcast; granted I am a little biased.
See you at the webcast.
Denny
---
February 28, 2008 8:00 AM
SQL
Well I just got back from the Launch event.  The event was excellent.  Microsoft was giving out a lot of really excellent information about all the products.  The turnout was just amazing.  I heard that about 5000 people registered, and that based on prior events about 3500 were expected to actually show up.  Somewhere around 6500 people actually attended so the show was very busy.
Tom Brokaw and Steve Ballmer both gave excellent speeches at the keynote speakers.  Because of the large number of people in attendance the check in process seamed to take quite a while for a lot of people.  The demos which were done were very interesting.  There was only one occasion of the "cooking show magic" where you go from the before to after without showing the changes with SQL Server Reporting Services Report Designer when adding a column.  Everyone seamed to know why we weren't shown the work of adding a column to a report because it's not as easy as they wanted it to seam.  We all got the gist of what they were getting at though.  Many of the sessions were packed so full that there were more people then could actually get into the session rooms.

Because of the extra people in attendance the lunch situation wasn't the greatest, but it seamed that they were able to deal with it.  I didn't see anyone going without lunch so I guess they were able to deal with it pretty quickly.
The only real complaints that I have are that the Microsoft pavilion was in a separate room from the main pavilion room so it was a little hard to find.  I didn't even realise that there was a Microsoft pavilion until half way through the day, and by then I didn't have time to go and check it out.
Because I was one of the first 1000 people to register for the event I was invited to the AMD / Microsoft party after the launch event.  The party was awesome to say the least.  The Barenaked Ladies performed a full set, and it was a great show.  Now I admit, I'm not the biggest fan of the Barenaked Ladies, but they put on a great show.  They appeared to be having a great time, and the music was great.  It was a top notch way to end a great day of learning.
Be sure to check out the event when it comes to a town near you.
I tried to take some photos, but my camera just didn't cut it.  Some folks that I know took some pictures with me.  As soon as I get them, I'll post them up on the site for all to see.
Denny
---
February 26, 2008 8:00 AM
SQL
Well, tomorrow is the official launch event for Microsoft SQL Server 2008 (as well as Windows Server 2008 and Visual Studio 2008 but really cares much about them).
If you can't make it to the launch event I'll be posting to my blog as often as I can through out the day to everyone updated on the information which is released.
I highly recommend that everyone check out the launch event in thier area.
Denny

---
February 26, 2008 3:07 AM
SQL
The recorded webcast which I did a couple of weeks ago now is available for viewing on Quest Software's Web Page.  The slide deck is also available for downloading.
 The URL is http://www.quest.com/events/listdetails.aspx?contentid=6907&searchoff=true&technology=&prod=24&prodfamily=&loc=
The original webcast was on Feb 7, 2008.  More info can be found here.
Thanks,
Denny

---
February 21, 2008 2:00 PM
SQL
Arian over on the Sister CISA CISSP blog has a great post entitled Security by Auditor: Don't Make Me Do It.  It's not specifically focused on databases, but I think that it's a great read for every DBA.
Denny

---
February 21, 2008 8:00 AM
SQL
Don't forget that the Microsoft Launch Event in Los Angeles is next week.  If you are in town, you should try to make it to the event.
 You can register here.
 Denny

---
February 18, 2008 8:00 AM
SQL
In a nutshell Endpoints are ways that people, or applications can connect to the SQL Server.  There are several different kinds of end points which can be created; four to be specific.  Two are system specific, the SERVICE_BROKER and DATABASE_MIRRORING endpoints can only be used for the SQL Service Broker and Database Mirroring respectively. The other two are for general use.  They are the SOAP and TSQL endpoints.
Without knowing it you use an endpoint to connect to the SQL Server each time you connect.  There are actually 5 endpoints created by default on each instance of SQL Server.  You can check then out by querying the sys.endpoints DMV.  When you connect to the SQL Server using TCP (port 1433 by default) you are using the TSQL Default TCP endpoint.  By default all users have the rights to connect to this endpoint.  You can create other TCP endpoints on different ports for specific users to connect to.  This would be handy if you have several applications coming into the SQL Server from a single server, and you wanted to be able to separate there traffic through the firewall so that the network admins could watch the traffic in the event of an issue.  You could create a TCP endpoint for each application, and assign only that application IP rights to use that endpoint.  You then have the application specify the port number that it will be connecting through in the connection string.

The SOAP endpoints are used in a similar way, but instead of allowing regular TSQL connections they allow SOAP calls to be made directly against the database.  (I'm not that up to speed on SOAP so that's about all I've got on that topic.)
 Endpoints are created with the CREATE ENDPOINT command with various switches depending on what kind of endpoint you are creating and how much security you require on the endpoint.
The endpoint that I've used the most would have to be the service broker endpoint.  It's used to allow SQL Server service broker on one SQL Server to talk to the Service Broker of another SQL Server.
One thing to remember about endpoints is that they are used for inbound connections only.  Outbound connections do not require or use an endpoint.
Denny
---
February 14, 2008 10:13 AM
SQL
Well, this has absolutely nothing to do with SQL Server, but I just had to post this anyway.
 We were having dinner at Chick-fil-A and the Chick-fil-A cow was there.  My wife snapped this photo, that I just had to share with everyone.  How totally awesome is this.  (Comments are very much welcome.)
Denny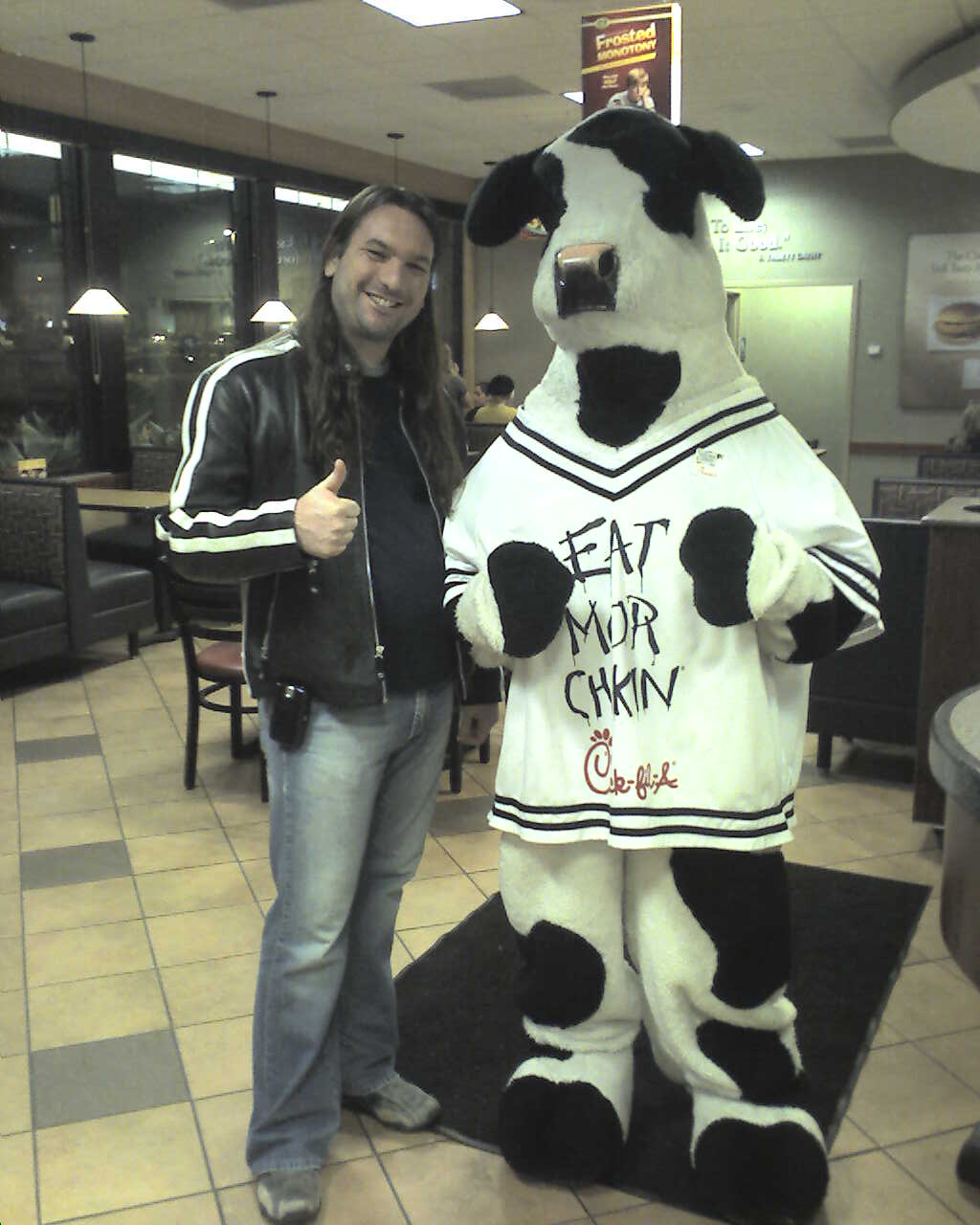 ---
February 13, 2008 10:37 AM
SQL
I've published a new tip over on SearchSQLServer.com entitled "Configuring SQL Server memory settings".  In it I talk about how to correctly setup the memory settings for SQL Server to get SQL setup correctly.
Denny

---