---
February 17, 2009 10:53 PM
I was tagged by Denis Gobo in his post What was your first computer….
My first PC was some Texas Instruments unit my dad bought.  It was pretty much a word processor, I don't even remember if it had any games.  It hooked up to the TV like many units of the day.  We had a printer for it, so we must have had some sort of expansion slot for it.  I think we had the tape player for it as well.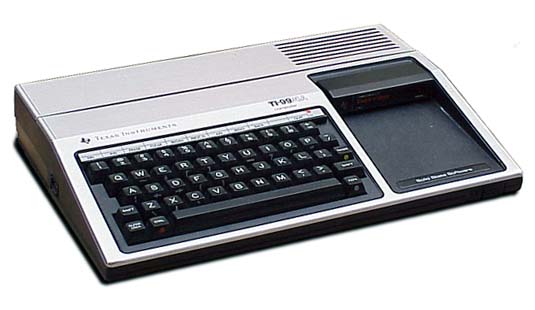 Our first actual PC was an IBM 8080 cloan (the precursor to the 8086 that gave birth to the x86 line).  My parents spent a fortune on it.  It was upgraded to 640k of RAM, a single sided single density floppy drive (so 120k of data or something).  It had a 20 Meg hard drive and a 16 color VGA video card (I used the monitor for like 18 years before I got rid of it).  It came with DOS 3 something on it, and we kept it up through 6.2 I think.  File Manager for DOS was the best addition at the time.
I remember that we had a three button Logitech track ball that was rectangular.  I used that from the time I was 6 until I was 20 when I finely had to replace it (the monitor outlasted the trackball).
I remember that my dad bought be some programming kit for it when I was 8 or 9.  Probably VB for DOS or something like that.  It came with a bunch of games that you could tweak the code of and play.  I remember spending months making my own Brick Breaker levels (they called it something else) and playing them over and over.
The coolest upgrade my dad got for the machine was the modem and a Prodigy account.  I wasted who knows how many hours playing the games that Prodigy offered over a 300 bps external modem.
Since I've now told my story its time for some others to tell theirs.  Time to tag a couple of people I don't normally.
T Jay Belt (@tjaybelt on Twitter)
Woody Pewitt (@woodyp on Twitter)
Denny

February 17, 2009 9:58 PM
For those of you who live under a rock (or you don't read SQLBatman blog) or those that don't routienly google for "sql vagina", SQL Batman has written a very funny post on my SQL Server Agent project.
I'm pretty sure that I'm going to get banned from the WIT luncheon by proxy on this one.
Denny

---
February 16, 2009 9:53 PM
I just published a new article on SearchSQLServer.com called Processing XML files with SQL Server functions.
In this article I talk about how to get data from XML files on disk into the SQL Server, and then provide examples on how to use OPENXML to turn the XML data into tabular data so that you can use it within SQL Server.
Denny

---
February 16, 2009 8:58 AM
A little while back I published an article on Enterprise IT Planet called "Optimal Database Setup Hardware Guide".  In this article I talk about some key points that should be looked at when building a new SQL Server.
Denny

---
February 14, 2009 6:42 AM
Shortly after I posted about a /. article on getting open source software to replace Microsoft software I got a few responses on Twitter, as well as a response from a fellow blogger here on the IT Knowledge Exchange John Little.
John posed a few questions in his post, which I wanted to address, as well as clarify my own statements a little bit. Continued »
---
February 11, 2009 8:55 AM
It's my turn for the Things You Know Now post thanks to Colin Stasiuk.  The basic question asked at the beginning of the thread of posts is "What do you wish you knew when you started?".  Here are my answers.
1. People don't like being shown up.
This was an issue for me mostly at the first IT job when I worked at Earthlink.  While I had an IT job, and an IT function I didn't work for the IT or MIS departments, I actually worked for the Customer Support department.  This gave me some advantages and some disadvantages.  The biggest advantage to getting things done for my customers was that I didn't work in IT, so I didn't have to follow the strict IT guidelines for getting stuff done.  The downside was that I didn't have the support or respect of pretty much anyone in the IT department for the company.  On more than one occasion my customers would follow proper procedures and ask the IT group to build something, and they would get a crazy long time line like 12-18 months.  Then they would come to my group and we'd give them a time line of 3 weeks, and we would deliver on that date.  Needless to say the IT development teams didn't like this very much at all, and in the long run it didn't help me out very much when it came time for layoffs.
2. Knowing everything isn't the key
When working in IT, knowing everything about every topic isn't the most important thing.  When I started in IT I tried to learn everything, and I mean everything.  And while knowing at lot is important, knowing everything isn't.  The only time that you have to work in a vacuum is when you are at a job interview, other than that you have access to Google, Books, MSDN, etc and you can easily look information up if you don't know it.  I feel that while knowing a lot is important, knowing how to find the information is just as important.
3.  User Groups are a great place to get information, and meet other admins

When I first started in IT (and for several years after that) I didn't know about user groups.  I wish that I had, because I haven't known a whole lot of DBAs over my carrier until recently.  I think it would have been great to know more DBAs earlier in my carrier, as well as get more information first hand from local senior level people.  Recently I've been speaking at a lot of user groups and I've met a lot of great people at the meetings.
I'll pass the fun onto a few friends (which as far as I know haven't been tagged yet).
Denis Gobo (@DenisGobo on Twitter)
Michael Deputy (@MichaelDep on Twitter)
Denny
---
February 8, 2009 8:53 PM
This isn't a rant about open source software itself; please note the difference BEFORE bashing me in the comments or on the net.
However I recently saw a post on /. about how a university network admin wanted to start switching the university over to open source.
The only thing that came to mind was why on earth would you want to do such a disservice to your students?  While open source is great, most large companies (which is where most university students want to end up) don't use much if any open source applications.  In the article he's talking about replacing Office 2007 with Open Office.  Which is a fine idea for home, or for a business; however an educational institution should be more concerned with making sure that the students have access to what they will be using in the real world when they get into the job market.
Ideally I think that these students should have access to both applications, but they definitely shouldn't be taking away access to the propriety software which the student will need to know how to use in the job market.  For example a student who is majoring in Business will probably need to know how to use PowerPoint, and the differences between PowerPoint and the open source equivalent.  However if all they are taught in school is the open source version, and they are asked to bring a presentation to an interview and give it, and the presentation doesn't work in PowerPoint they will not be getting that job.

Many open source fans need to remember something.  While you may not like Microsoft and other close source companies (but lets be realistic, for the most part you don't like Microsoft) these companies software are the tools that over 95% of companies use.  And while it's great that you want to teach people that there is an alternative out there, if your role is to educate users you have to show them all the options.  If you choose to only show people the open source option, and not the propriety option then how is what you are doing any better than what you feel Microsoft does?  But if users don't know how to use the tools which companies are providing then the users won't be able to get jobs.  If people can't get jobs then they can't buy computers to run open source software.
And don't think that if all the job applicants can't use Office this will force companies to switch to an Open Source version.  This will simply give the companies more ammunition to send more jobs overseas where people are still being taught Microsoft products.
I guess the summary of this post is this.  If you want to teach open source, then be open about it.  Teach both ideas, and give your students a fighting chance to get that good job they were promised when they went to college.
Denny
---
---
February 4, 2009 9:07 AM
Today is my birthday, so no second technical post from me today.  I'm out with friends having a blast.
(I'm actually at home with my wife playing video games, as most of these blog posts are written well in advance, but it sounds good to say that I logged in to day and wrote this.)
Denny

---
February 3, 2009 2:47 AM
Why on earth to people want to go changing the rights on the system objects. Continued »
---