---
January 20, 2009 9:12 PM

Apparently the computer virus Win32/Conflicker.B is still running around the net causing all sorts of problems.
In order to kill this threat Microsoft has done a few things.
Back in October they released Microsoft Security Bulletin MS08-067.
Microsoft has updated the Malicious Software Removal Tool to detect and remove variants of Win32/Conflicker.B.  This update can be downloaded from the Microsoft Update site or through its KB article.
There is a KB Article specifically about the virus it self.
Microsoft is recommending that you immediately apply MS08-067 to all unpatched systems to prevent the threat.
Denny
January 18, 2009 1:04 PM
With the SoCal Code Camp this weekend, I've managed to get my slide decks put together early enough to get them posted well in advance this time. Continued »
---
January 15, 2009 11:00 AM
I have a gripe that I need to air.
I can't stress this enough.  Actually reading the error messages when there is a problem is key to solving the problems.
Most of the time (I admit, not all the time) SQL Server will give you some very useful information about what to do next.
---
January 15, 2009 10:06 AM

We use Cisco VPN Software to access the office from home, Starbucks, etc.
There are several threads on the subject on the net (I used this one).  There are a couple of workarounds which are mentioned including backing up the ndis.sys file and putting it back after the install but before the reboot.  (This didn't work for me, my laptop still blue screened.)
Another fix was to run the installer in Administration mode (I opened a command prompt using the "Run As Administrator" from the right click) then ran the installer.  (This did work for me.)
One annoying thing was when I imported our PCF file the group password wasn't imported.  I had to use a Cisco VPN Client Password Decoder website to get the password from the PCF file to put into the address book.  Everything worked fine after that (at least so far).
Hopefully someone else finds this useful.
Denny
---
January 15, 2009 3:47 AM
Today was my first day using Windows 7 as my primary OS.  I took the time this afternoon to install Windows 7 and start getting everything set back up. Continued »
---
January 12, 2009 11:00 AM
Apparently Twitter has officially gone mainstream.
Why do I say officially when they are been around for years and have over a Billion tweets?  Because phishers are now going after Twitter accounts.
So far they appear to be only getting your twitter account info and sending more messages to other people.  I would imaging in a short amount of time these attacks will become more nafarous.
Denny

---
January 10, 2009 3:06 AM

I've reached a milestone of sorts in the development process which I'd like to share. Continued »
---
January 9, 2009 1:05 AM
Wordle.net creates word maps of all the words on a website.  So I fed it my blog and came up with this.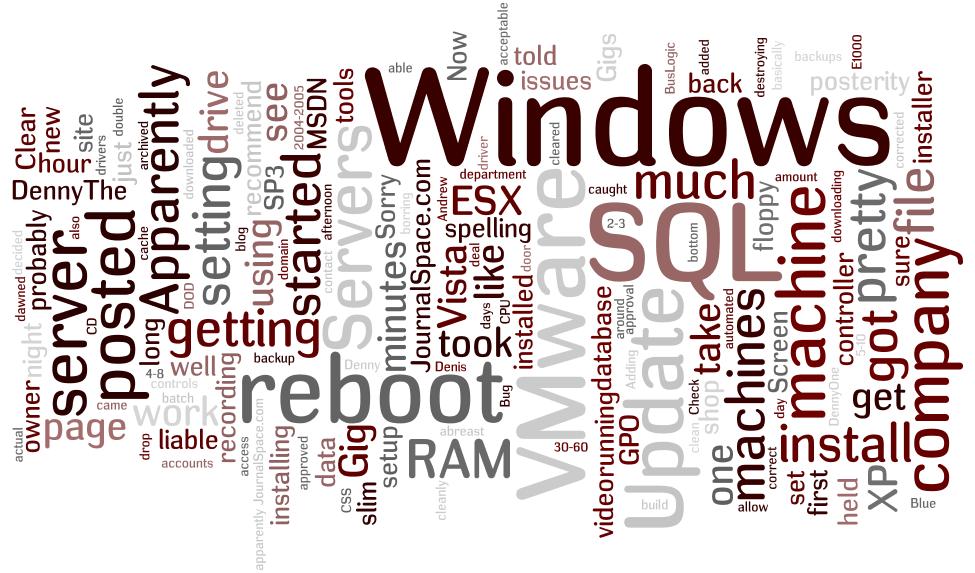 I thought it was kind of cool, so I posted it up here.  Try out our site and see what it does.
In the true spirit of twitter I'll pick on a couple of people to generate there own and post them (as soon as twitter comes back up, it's DOA at the moment).
Denis Gobo, and Michelle Ufford you've been tagged

Denny

---
January 8, 2009 10:10 PM

Those of us with MSDN or TechNet accounts got access to the new Windows 7 build last night.  So I had my work PC spend the night downloading it, and spent this afternoon installing it today under VMware ESX.  I've recorded the install for posterity.  I paused the recording during the borring parts like waiting for the files to expand. Continued »
---
January 8, 2009 12:00 AM
One company I worked at the newer SQL Servers started taking forever to reboot the OS. The older servers didn't take all that long. It finely dawned on us one day what it was.
---