---
October 26, 2016 6:00 PM
Amazon
,
Azure
,
Cloud Computing
,
Rackspace
,
Windows Azure
Moving to the cloud isn't for everyone. When the cloud providers first launched their cloud platforms their approach, and marketing message, was for the most part that everything should be running in the cloud. And they were pushing that message hard. Today however we have a much friendlier,...
October 19, 2016 8:10 PM
SQL Server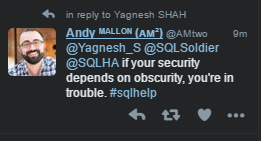 We've all heard the argument that using a different TCP port...
---
October 12, 2016 4:00 PM
Travelling
I travel, a lot. A lot of my travel is to go speak at events somewhere in the world. I've had the privilege of being able to travel to 4 continents and 12 countries (that I can think of) giving presentations on Microsoft SQL Server and Microsoft Azure. Why do I do it? To give back. I learned a...
---
October 3, 2016 4:00 PM
You moved your critical infrastructure to the cloud.  You're now relying on the cloud for 100% of your customer facing systems.  Did the sales person from your cloud provider tell you that you didn't need DR any more because you are relying on their rock solid infrastructure?  Did you believe...
---