---
May 31, 2018 7:15 PM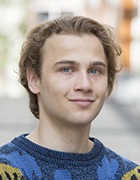 Profile: Ryan Black
Developers, testers and QA professionals all like to fill the seats at software conferences. While there are ways to convince your employer to send you, sometimes travel is just not in...
May 25, 2018 7:19 PM
DevOps
Let's be clear: Microsoft is dead serious about DevOps and wants to help DevOps pros. With its Visual Studio Team Services (VSTS) and Azure DevOps Project offerings, the company has delivered some of the most comprehensive DevOps tooling that you can get from one vendor. Competitors such as IBM,...
---