---
January 30, 2009 5:21 PM
I found a great article earlier this week on static analysis tools by Mary Brandel. In the article, "How to choose and use source code analysis tools," she cites some statistics on the static analysis market, including:
January 27, 2009 1:13 PM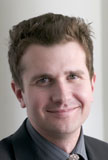 Today, the development community gets a first look at Coverity Prevent's new Microsoft-friendly analysis tools. Yesterday, I talked with
---
January 26, 2009 2:51 PM
Earlier this month, the New York Times ran an article on a report criticizing the F.D.A. on device testing. The article seems to indicate that one of the leading causes for poor testing is manufacturer claims...
---
January 23, 2009 9:39 PM

Profile: Beth Pariseau
Software developers make common and avoidable mistakes that create vulnerabilities and expose their software to ever-present security threats, according to field observations by Vic DeMarines.
Yesterday I spoke with Vic, VP of products at V.i....
---
January 22, 2009 5:37 PM
Thanks to a 7thSpace news post about an academic paper, An innovative approach for testing bioinformatics programs using metamorphic testing by...
---
---
January 18, 2009 5:22 PM
Over the last few months, I've been asked a lot about testing on mobile devices. At my own company and at other companies in the Midwest (which isn't exactly known as a hotbed of technology). I'll plead mostly ignorance, most of what I know is from Julian Harty, whose work I follow both
---
January 16, 2009 9:17 PM
Software consultants, vendors and project managers are already seeing software project failures and slowdowns resulting from the new recession.
That finding and the advice for software developers and project managers offered in this post comes from interviews I've recently conducted...
---
---
January 13, 2009 10:46 PM
In a small cry of victory today, someone on the team found this article from the BBC detailing the "top 25 most dangerous programming errors." I say small cry of victory, because he had recently logged a ticket in...
---