---
October 14, 2008 4:42 PM
I experienced a bit of relief today after reading that a mock presidential election in Palm Beach County resulted in perfect performance from the voting equipment. County officials tested voting equipment using 1,332 ballots marked by election workers. "The votes were tallied perfectly and...
October 10, 2008 4:01 PM
SMTP
No matter how much or how well you test a system, human error can still bring the whole thing down. The voting system in now-infamous Palm Beach County in Florida is one example. Since the 2000 presidential election (at least), the county has dealt with significant system and human errors in its...
---
October 8, 2008 6:52 PM
Change is good -- at least that's what some people say. Change within software or computer systems, however, can wreak havoc if not done properly. In fact, Enterprise Management Associates says more than 60% of all critical system and application outages are caused by inappropriate change. Sounds...
---
October 3, 2008 2:51 PM
Discussing Web security with even the nicest security professionals can leave one feeling chilled to the bone. It's not the fault of the security people -- it's just chilling to be reminded how vulnerable the Web really is.
---
October 1, 2008 3:43 PM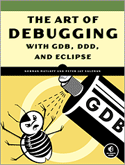 Debugging is often challenging for programmers, so much so that many books have been written about it. One of the latest to hit the shelves is
---