Jul 1 2009 12:39PM GMT

Profile: Colin Steele
Oracle has stopped selling Virtual Iron products, terminated its Virtual Iron reseller agreements and seen the departures of two top Virtual Iron execs.
We still don't know what Oracle's plans are for the Virtual Iron technology it acquired in May, but in light of these developments, a much bigger question is arising about a much bigger acquisition: Will Oracle kill off Sun Microsystems' virtualization line too?
To answer this question, I did what any responsible journalist would do. I consulted the Magic 8-Ball. Its response?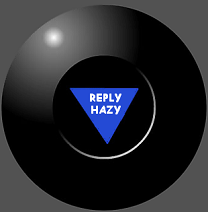 On one hand, the future doesn't look good for Sun virtualization. In the wake of the acquisition by Oracle — which is expected to close this summer — Sun has backed down on its plans to offer its xVM Server as a standalone hypervisor. It will only be available as part of the xVM Ops Center management console or the OpenSolaris operating system (but not the commercial version of Solaris).
Judging from this move, you'd think Sun sees the writing on the wall: Oracle wants to present a unified virtualization front, and all these different products from three different vendors won't help meet that goal.
But on the other hand, Sun just yesterday released its VirtualBox 3.0 virtualization software. Why would Sun execs go through all the trouble of putting out a new release if they thought Oracle was just going to squash it in a few months?
It's all very confusing for the three companies' customers and partners. Oracle's relative silence about the acquisitions isn't helping matters. (Instead of responding to our questions about Virtual Iron's future, the company just emailed us a link to its specifics-deficient Virtual Iron FAQ.)
Oracle knew what its plans were for both Virtual Iron and Sun when it bought them. Whether the Magic 8-Ball says "signs point to yes" or "outlook not so good," any sort of definitive answer would be welcomed.