Mar 17 2011 12:23PM GMT

Profile: Colin Steele
Tags: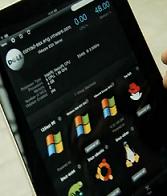 The long-awaited VMware vCenter iPad client should soon be available in the App Store.
Macworld reports that VMware has submitted the vCenter iPad client to Apple and is just waiting for approval. The app is a stripped-down, custom-built version of vCenter that "will have features IT staff are most likely to use while on the road," Macworld says.
VMware last talked about the vCenter iPad client at October's VMworld Europe and said it would be out by the end of 2010, but that obviously didn't happen. For more details on the VMware vCenter iPad client, check out this video from that conference:
The VMware vCenter iPad client will be the company's second iPad app. Earlier this month, the company released its VMware View iPad client.