Nov 2 2009 2:29PM GMT

Profile: Colin Steele
The trash talk in the Microsoft vs. VMware feud once reached Reggie Miller vs. Spike Lee heights. The two companies rarely passed up the opportunity to disparage, make fun of or even spread lies about each other.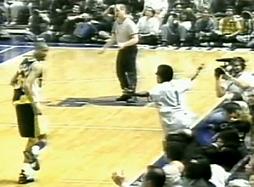 But things had quieted down lately, and a lot of the more recent trash talk just rehashed old criticisms and insults. That is, until VMware issued its "Competitive News Flash" about Hyper-V R2, which compares "Microsoft myths" to "VMware realities." (Hmm, where have we heard that before?)
The four-page document, marked "confidential," is to help VMware resellers "understand VMware's positioning in regards to Microsoft's virtualization offerings and to respond to customer questions about Hyper-V R2."
Much of the myth-busting relies on comparing Hyper-V's features to VMware's, or debunking stats that Microsoft has used to promote its own cause. But there are still some good barbs in there, none better than this one:
Myth: Hyper-V is the "Windows you know."
Virtualization is a function of a general purpose operating system — a function of Windows.
Reality: A hypervisor based on Windows is not a good idea.
Have you tried using Windows Server Core with Hyper-V? Instead of the "Windows you know," it's more like the DOS you used to know.
VMware also highlights its role in the shift to cloud computing — a model that Microsoft is reluctant to adopt, the document says, because of its dominance in on-premise software:
Microsoft is heavily vested in preserving the status quo, protecting its enormous Windows-based revenue stream derived from its dominance in the old client/server mode, and has little interest in helping organizations embrace and benefit from virtualization-based cloud computing.