---
September 4, 2008 9:09 AM
Portsmouth, N.H.-based VKernel has released a beta of the SearchMyVM appliance to allow administrators to make queries of their VMware Virtual Infrastructure 3 (VI3) virtual environment through a browser search-style interface. The SearchMyVM appliance keeps VKernel's tradition of delivering very...
September 2, 2008 9:24 AM
Successful physical-to-virtual (P2V) conversions revolve around getting the virtual environment correct before presenting the actual workload to the new VM. In this video blog, Rick Vanover discusses some conversion tasks that can help a VM function optimally as the workload goes virtual from a...
---
September 2, 2008 9:19 AM
Embotics has launched a new product, V-Scout, which provides administrators with an extra view into their VMware-based virtual environments. V-Scout is a free product that complements Embotics' existing product, V-Commander. I have had a chance to work with the version 1.0 release of the product...
---
August 26, 2008 9:11 AM
The VCP (VMware Certified Professional) certification I have blogged about twice before has gone through the roof. I have never seen a jump like this in all my years in IT. See for yourself.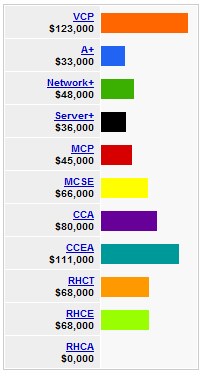 ---
August 25, 2008 10:09 AM
The mashup market is for more than just those out there making rich-media web apps. They've taken the concept of the mashup to the virtualization market. The resulting product is a mash-up of two virtualization platforms, OpenVZ and KVM, which Proxmox has combined into a delightful new offering...
---
August 25, 2008 9:58 AM
Selecting a VDI environment is a daunting process. As I begin to evaluate technologies for VDI design and implementation for an upcoming project, the first step is often to identify the requirements from the end-user perspective. Administrators frequently get wrapped up in the server side of a...
---
August 19, 2008 1:16 PM
A well-documented procedure for physical-to-virtual (P2V) conversions still lacks the valuable information learned by experience. In this video blog, Rick Vanover introduces the stage configuration phase of a P2V conversion. When this phase and other phases of a conversion are used in a procedural...
---
August 14, 2008 11:33 AM
Sun xVM VirtualBox offers a powerful command-line interface (CLI) component, VBoxManage, which can perform most functions within VirtualBox. Having a robust CLI is key to automation and scripting, even in a workstation virtualization product. In my continued coverage of VirtualBox, this blog will...
---
August 14, 2008 10:56 AM

Profile: Ryan Shopp
Hewlett-Packard (HP) has expanded to incorporate a new business unit that will focus on desktop virtualization. Client-side virtualization has been a tough...
---
---