---
August 28, 2009 5:54 PM
VMware's clause against competitive products at VMworld 2009 annoyed the hell out of Microsoft, and the company doesn't intend to sit idly by as thousands of potential Hyper-V users convene in San Francisco next week.
Sure, they will follow the show rules; Microsoft Corp. will have a 10-by-10 booth on the show floor and they won't demonstrate the new features and capabilities in Hyper-V, which will be available in Windows Server 2008 R2 in October. But will they talk to attendees about Hyper-V and undermine VMware's Stalin-esque policy of keeping the opposition out? You bet.
"When we saw the clause we called [VMware] to check on what we could do. We are only allowed to show products that complement VMware, so we won't be doing any product demos," said David Greschler, director of virtualization and management marketing. "But we will be there at the sessions at VMworld and we will be twittering (@MS_Virt) during the show, which is no longer an industry show. It is a VMware show."
At VMworld 2008 in Las Vegas, Microsoft did some guerrilla marketing to promote Hyper-V 1.0 by handing out poker chips with negative messages about VMware. I'm sure we'll see more of the same at the Moscone Center next week.
In fact, Microsoft has already started. On Thursday, the company put out a press release listing more than a dozen companies that saved over six-figures by moving from VMware to Windows Server 2008 Hyper-V and other Microsoft virtualization products.
Microsoft's cost savings case studies will probably catch some attention, especially in a poor economy. But VMware has about a 10-year head start in the virtualization market and companies that invested in VMware won't abandon that investment.
Knowing that, Microsoft included in Windows Server 2008 R2 Systems Center Virtual Machine Manager the ability to manage VMware ESX, VSphere and Hyper-V – eliminating a big reason VMware users might not try Hyper-V.
Microsoft is also playing the "easy" card. Greschler said adding VMware onto a Windows Server system, which already has Hyper-V built in, "is like having a car with GPS in it, but going out and buying a separate GPS system, and having to learn about that separate system. Hyper-V doesn't require a separate layer."
But whether the next version of Hyper-V with live migration and its other management features will be good enough to wow VMware users remains to be seen. At the very least, VMware customers will have another option, and will be able to use Hyper-V as leverage when negotiating prices with VMware.
August 25, 2009 1:54 PM
Microsoft announced the System Center Virtual Machine Manager 2008 R2 release to manufacturing (RTM) yesterday.
The release comes a month after the Hyper-V R2 RTM. Microsoft has been stressing that the biggest Hyper-V R2 benefits will come when used in conjunction with Virtual Machine Manager (VMM) 2008 R2, and this release shows that the two products are roughly on the same track. (VMM 2008 R2 will hit general availability Oct. 1, and Hyper-V R2 is expected to do so sometime in September.)
But it's important to note that Microsoft isn't targeting just Hyper-V users with VMM 2008 R2. The software will also support VMware vSphere 4.
---
August 20, 2009 7:24 PM
Eric Siebert should be commended for the blog he wrote today, calling on the major virtualization vendors to "stop bickering with each other … and work towards the betterment of virtualization."
Siebert, a virtualization expert and SearchServerVirtualization.com contributor, said the virtualization market should be more like sports: full of fierce competition, but also mutual respect and professionalism between competitors. He even illustrated his point with a photo of a UCLA player helping a crying Adam Morrison to his feet after Gonzaga's 2006 NCAA Tournament loss.
Unfortunately, for every touching moment like that, there's one like this:
Tensions run high in sports because of all the money on the line, and the same is true in the virtualization market. It would be great if Microsoft and VMware could be more civil towards each other, but let's look at the track record there:
The history speaks for itself. VMware won't be helping a crying Microsoft up to its feet anytime soon.
---
August 18, 2009 3:18 PM
Imagine seeing a car commercial where the announcer said, "Sure, the car doesn't have air conditioning, a radio or a trunk, but at least it doesn't spontaneously explode!"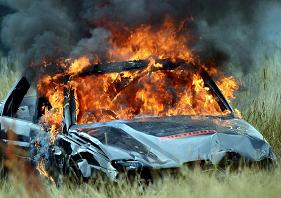 Would that make you want to buy that car? Of course not. But that's the approach Microsoft has taken in the latest round of its feud against VMware.
You may remember the VMware ESX 3.5 Update 2 bug, which wreaked havoc on users. They couldn't reboot virtual machines or run VMotion. And Update 3, meant to fix the problem, caused some VMs to uncontrollably reboot. In a new blog post, Hyper-V program manager Jeff Woolsey criticizes VMware for this incident, which happened more than a year ago:
---
August 11, 2009 5:17 PM
It's now less than three weeks away, and I am really getting excited for VMworld 1979.
Oh, I'm sorry. I mean VMworld 2009. You'll have to excuse my confusion. It's just that, ever since VMware announced the band playing the VMworld Party, I've had a little trouble figuring out what year it is.
If you haven't heard by now, here's the band: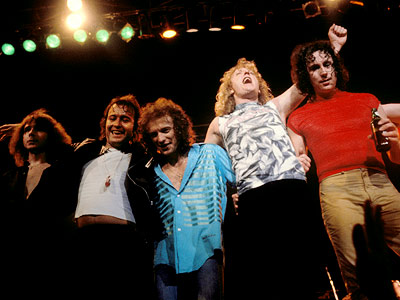 That's right. It's Foreigner.
After all, there's no better way to unwind after three days of virtualization than to hold your lighter up in the air and sing along to "I Want to Know What Love Is." Don't believe me? See for yourself:
---
July 27, 2009 3:08 PM
VMware is going to be a cloud company. A real cloud company.
That was the message at Thursday's New England VMware User Group summer meeting in Brunswick, Maine. Mike DiPetrillo, VMware's global cloud architect, described the one thing that will set VMware apart from Amazon, Google, Microsoft and other cloud providers: interoperability.
"These guys are completely proprietary," DiPetrillo said, referring to Amazon Web Services, Google and Microsoft Azure.
---
July 24, 2009 6:40 PM
EMC has owned VMware since 2004, but for the most part, the two companies have continued to operate separately. Very separately.
That may be changing.
---
July 22, 2009 11:37 PM
Microsoft released Hyper-V R2 to manufacturing today, along with Windows Server 2008 R2 and Windows 7.
The release to manufacturing (RTM) means the final code is available for partners to test and install on their hardware. Microsoft will make the software available for evaluation in the first half of August and offer it to customers with Software Assurance in the second half of August, technical product manager Oliver Rist said on the Windows Server Division WebLog.
Microsoft said at last week's Worldwide Partner Conference that Hyper-V R2 will be generally available in September, and the company is planning a launch event in November.
To be clear, there are two versions of Hyper-V R2: Windows Server 2008 R2 Hyper-V, which comes with Windows Server 2008 R2, and Hyper-V Server 2008 R2, a free, standalone hypervisor. The free version will still include many of R2's most sought-after features, including Live Migration.
For more on the new features in Hyper-V R2, check out this podcast with expert Greg Shields, which, completely coincidentally, we just launched today.
---
July 22, 2009 7:09 PM
You probably read the above headline and had a question of your own. Something along the lines of, "Colin, what have you been smoking?"
I know, it seems ridonklulous to think that Microsoft would give up on its Windows operating system — a product that dominates its market like few others in IT or any other industry. But in light of Microsoft's recent Linux outreach, it's a legitimate question.
---
July 17, 2009 6:40 PM
You may remember that back in February, the Burton Group released a hypervisor comparison report. And in that report, the only hypervisor to meet 100% of the firm's required criteria for enterprise readiness was VMware Virtual Infrastructure 3.5.
(If you don't remember, you can check out a full recap in our recent list of the top 10 server virtualization news stories of the year so far.)
Anyway, since February — but before we published that list — something changed. Another hypervisor has since met 100% of the Burton Group's criteria. And that hypervisor is Citrix XenServer 5.5.
---